Alexander Wang is not pleased with his status as a cool kid. As an iconic designer, mega-brand owner and university drop out, he is the epitome of all things edgy. Remember how he turned down a job with Diane von Furstenberg? Or how his collaboration with H&M crashed the website on the day of its arrival?
"I've always felt very uncomfortable with that. That stigma," he told Dazed with regard to his reputation for creating cool. "I'm intrigued by the girl who's underdressed or overdressed for an event. That kind of subversive, irreverent take on dressing or appearance…I don't like things too precious or too perfect or too balanced. There always has to be a tension or a friction, a juxtaposition."
In spite of despising that word, the only proper description for Mr. Wang's first European flagship store, in Mayfair, London, is cool. Having opened its doors to the public August 1, the retail location will house the entirety of Wang's men's and women's ready-to-wear collections, as well as the T by Alexander Wang and accessories range. Also sold there will be the designer's cheeky Objects collection, which contains various items reworked in his signature dark touch. The boutique is housed in a former post office, which was transformed into a sleek retail haven with the help of architect Vincent van Duysen.
A mix of minimalist, utilitarian and high-end contemporary design, the aesthetic of the store is meant to embrace the middle ground between vintage and modern – a line Mr. Wang walks elegantly in his own work. Architecturally, the space uses a number of non-traditional mediums, focusing on recycled rubber, chrome tubes and stingray leather. With fitting rooms lined entirely in suede, floors of exposed concrete and inset wool carpeting, the design concept for the store is centered around a variety of co-existing textures.
In addition to custom-designed furniture by Alexander Wang for Poltrona Frau and Vincent Van Duysen Architects, the store will feature sculptural works by artists Ben Storms and Gerard Kuijpers, serving as an exhibition of sorts.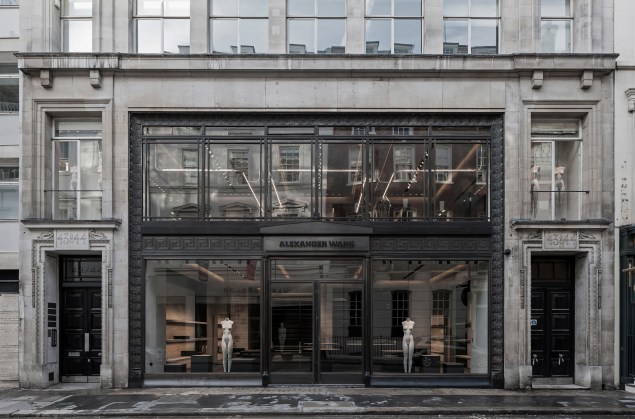 While his very first flagship store still stands in Soho, Mr. Wang, with the addition of his London location, now operates 24 stores. Evidently he is looking to serve as his own creative direction, re-branding "cool" via his own global expansion as a designer.
The opening of this store is rather timely, as Mr. Wang has just decided to focus more closely on his eponymous line, having recently parted ways with Balenciaga, where he was creative director for three years. Mr. Wang left the Kering-owned house on good terms. Kering's CEO François-Henri Pinault kindly and publicly thanked Mr. Wang "for his dedication and unique artistic contribution to the building of Balenciaga in a more globally recognized house" in a press release upon his departure.