It took the pretty, smiling 20-something brunette a long time to get to the front of the line at Radio City Music Hall. Picking up free TV-taping tickets, she was asked by a stern woman with a clipboard: "Is the rest of your party friends or parents?" "Parent," she answered, thinking it would get her better seats. She was dispatched to the left table; the girls in skimpy tops behind her who were bringing friends were sent to the right.
So, that's how I ended up with my college-student niece in the third mezzanine level up at Radio City, in nosebleed seats nowhere near cameras that might capture my demographic. It was the live broadcast of—somehow—the No. 1 show in the country, America's Got Talent. Though a big fan of some reality TV, I admittedly wasn't excited to be there, having gotten very far in life successfully avoiding ventriloquists. But I thought it was the sort of thing that visiting relatives from Ohio would think was really special.
It was the second live show in New York City of the ratings bonanza ("America's Got Talent Dominates," reported Variety, while Billboard noted the NBC megahit was the rare show this summer to get more than 10 million viewers a night.) Like all the talent competitions on TV, AGT markets itself as if it is uplifting programming about making dreams come true.
Radio City was a homecoming of sorts for me: I've been there before with my niece and her big sister to see the Christmas Spectacular; been there with my mother to see my first movie, The Odd Couple, in 1968. I was there to see six of the eight shows of the Grateful Dead at Radio City in 1980. Howie Mandel seemed anti-climatic.
Not to the audience though, who, to my amazement, hooted much harder for the host of Deal or No Deal than for other judges Spice Girl Mel B, Heidi Klum and even Sirius radio show juggernaut Howard Stern as they strode in.
What I didn't realize was that I'd brought my niece Rena to what is called in reality television a "results show." This is kind of like attending the episode of the Oprah Winfrey Show right after "Oprah's Favorite Things," where everyone gets a car. At a results show, they broadcast clips of all the performances from the previous evening while contestants shuffle uncomfortably on stage waiting to hear if they're being eliminated. It is as miserable to watch as it sounds. (And all the sadder because some of the contestants are children.)
The AGT acts are a vaudevillian mix of gifted soon-to-be Vegas headliners and those cruise-ship-type performers who spin in bed sheets suspended from the ceiling. To warm us up for their selection or dismissal, a bombastic carnival barker plucked two people randomly from the audience to dance "sexy" on stage.
"You're awful," he announced, setting the tone. When we didn't applaud enthusiastically for his jokes, he cracked, "That was Latinos-for-Trump loud," and explained to us educationally, "That was a good joke." I had a nasty feeling it was only going to get worse. Right on cue, he quipped: "We're going to be crushing some dreams tonight."
The parade of semi-finalists and losers, many in sequins, began. Failing is always hard, but failing in sequins is much sadder. It soon became cringingly obvious that 21st-century reality show etiquette is unclear: Do you smile gamely and pretend you can't hear as thousands of people chant the name of your competitor? What if you're only 10? And do winners hug the adjacent losers?
Beauty pageants, old hand at this, do a much better job: the loser is whisked aside and backwards as sash-pinners and girlfriends surround the winner. But maybe this embarrassment and disappointment is actually supposed to be visible?
The judges actually proved likable, intelligent and even surprisingly kind, though they were only given sound bites to make their cases. (This round was decided by audience votes cast online, by phone or by app.) "Your puppet's lovely," noted Mel B, a.k.a. circa-1996 Scary Spice, in a buttery English accent.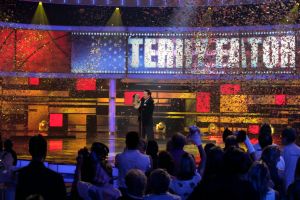 Audience members were told early on that we were expected to rise spontaneously to our feet for the introduction and exit of everyone. Amazingly, most people did as told. Sticking parents in the balcony isn't quite age discrimination, it turns out, it's just that the older you are the less willing you are to grant standing ovations on cue. I was unclear whether this is due to the laziness and inertia of middle-age or you simply develop a higher standard for rising off your ass.
The only full-scale performance of the evening was by Omi, who delivered his song-of-the-summer single "Cheerleader." All we could see from above was that he had a very nice hat. The woman directly behind us nonetheless orgasmed in the register of a dentist's drill, presumably hoping Omi would look up at her. Or seed her with his children. Or perhaps just take off his hat.
Eventually, some nice people were voted in, still in the running for a million-dollar prize. Some nice people were voted out. The ventriloquist made it through, arguable proof there is no God.
Throughout the event, the brutal barker had promised free gifts to the loudest yellers. It turned out to be two T-shirts cast randomly into the 6,015-person audience. My niece wondered if they read: "I came from Ohio and all I got was this lousy TV show."
America's got talent? Maybe. Kindness, not so much.