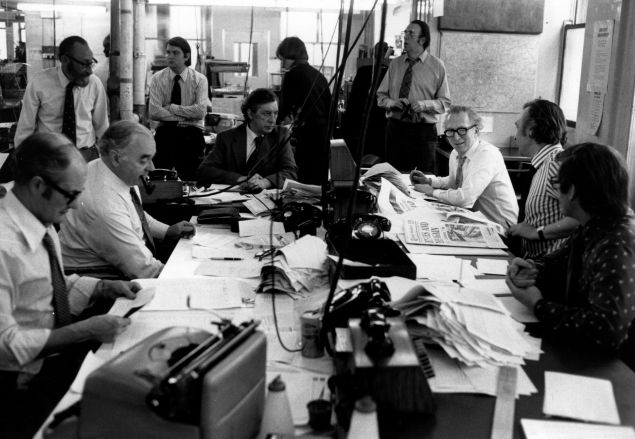 Journalists, understandably, will tell you there are too few of their kind left in the world. But considering how much they repeat each others' work, perhaps the truth is that we have too many of them.
Every day on Google News, you can find hundreds, often thousands of versions of the same news, sometimes when it's not even new. Why did the world need countless reports on the recent blue moon when the event—merely a calendrical oddity—is perfectly well-explained on Wikipedia? Did every media outlet on earth really have to write its own version of the story of that mysteriously colored dress? Editors send 15,000 journalists to each of the political conventions where nothing unexpected happens (well, unless Donald Trump shows up).
After newspaper newsrooms shrank by another 10.4 percent last year over the year before—the total workforce cratering to 32,900 from a 1990 high of 56,900—how can we still afford such inefficiency? Why does the industry produce so much duplication?
The answer, of course, is economic. The problem is the old, mass-media business model, which still sells advertisers volume: a thousand pairs of eyes at a time. As a result, every news organization thinks it needs its own take on any story so it can fill its own page and have a place for its own ad and get its own page view and earn its own pennies for each one.
How do they manufacture volume of content and traffic? Cats are one answer. The other is cheap rewrites of others' stories about blue moons, oddly hued dresses, and political horse races.
That model worked fine when there was a scarcity of publications, content, pages, and ads; the only place you could reach a critical mass of audience was with a small set of publishers and broadcasters, who had pricing power. It also worked well because of the myth of old, mass media: that all readers see all ads, so we charge all advertisers for all readers. Online, we know better.
At every opportunity, the net replaces scarcity with abundance. We know what happens to the price of a commodity in abundance: it falls toward zero. How do media organizations still relying on that old, mass business model adapt to losing money? As the joke says, they make it up on volume. How do they manufacture volume of content and traffic? Cats are one answer. The other is cheap rewrites of others' stories about blue moons, oddly hued dresses, and political horse races. And another is tacky tricks like telling you to click on this headline to change your life (spoiler: it never will).
The commodification of news and the devaluing of the volume-based advertising that supports it are made only worse with the introduction of new advertising technology. First, programmatic ads, which are bought and sold on algorithmically ruled digital exchanges, bring transparency and thus still lower prices to the ad market. Second, so-called retargeting advertising values data about individual consumers (when you look at a pair of Nikes on Amazon, have you noticed how they follow you around the web for weeks?) rather than the context that content provides. The net result of all this is lower and lower revenue for news media.
What to do? Close up shop and fire the journalists who are left? Of course, not. We do indeed need more journalists, not fewer. If I didn't believe that, I'd be a fraud teaching journalism school. But we don't need them to go out and copy each others' stories. We don't need them to convince themselves that the world is waiting for their "takes" on news we already know. (I will leave it to you to judge whether I am guilty here of just adding my take on others' takes.) We don't need them to go work for local TV and cover fires and flackery, or for cable news and repeat themselves 24 hours a day. We don't need to become curators of cats.
We do need to shift news from a news business based on volume to one based on value: unique value to the people and communities it serves. The salvation of this profession that I hold dear and necessary can come only from a flight to quality: doing the reporting that no one else is doing; serving people's needs with substance rather than momentary distraction; helping to improve our lives and communities; surprising, engaging, enlightening, and educating the public. We will measure our worth not with old, mass-media metrics that count pageviews, unique users, and eyeballs by the ton. It will come with measurements of impact and value.
It's true that one measure of that value is what some people are willing to pay journalists. I do take heart that my profession's pinnacle, The New York Times, now has 1 million digital subscribers and that the Financial Times—now supported in substantial proportion by its readers—is worth $1.3 billion. But these are the grand exceptions to all rules. Most publications simply aren't good enough to pay for and they provide too much that is repeated just a click away.
Media must still depend on advertising. To convince advertisers that news outlets are worth a premium over the commodity placements they can buy at ever-lower prices, media must provide an environment that brings unique quality, relevance, and utility to the public it serves. And that public must recognize media's value with its attention, engagement, loyalty—with a true relationship of mutual respect. Sustainability for news media cannot be built on copy cats. It must be built on quality.
Jeff Jarvis, a professor at the CUNY Graduate School of Journalism, is a blogger at Buzzmachine.com and the author of the books Geeks Bearing Gifts: Imagining New Futures for News, What Would Google Do?, and Public Parts: How Sharing in the Digital Age Improves the Way We Work and Live. He is cohost of the podcast This Week in Google. He was a creator and founding managing editor of Entertainment Weekly magazine and on the staff of TV Guide, People, the San Francisco Examiner, the Chicago Tribune, and the New York Daily News.