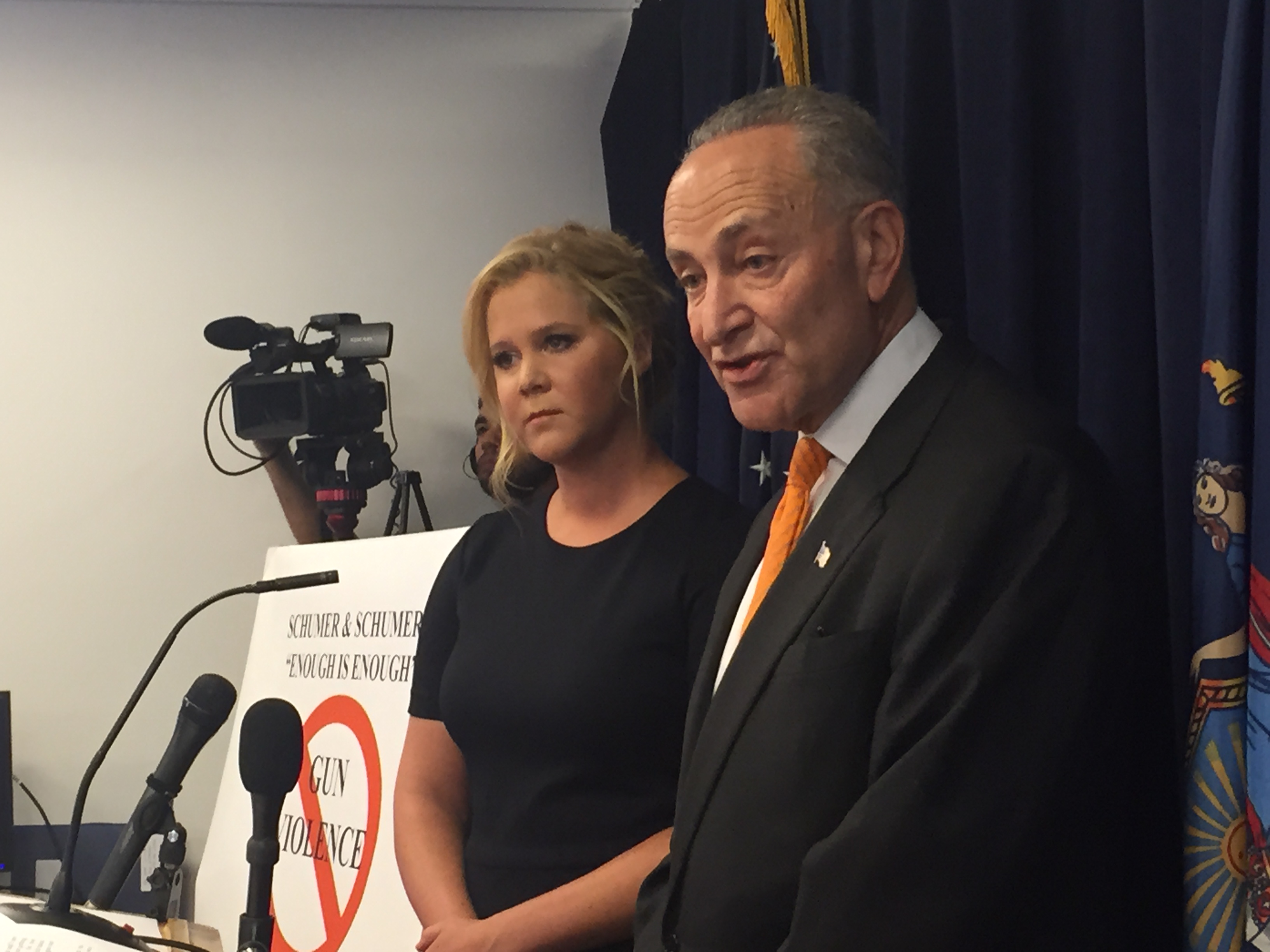 When comedian Amy Schumer got a call from her cousin Chuck—better known as U.S. Sen. Charles Schumer—she was hopeful it was about more than family gossip.
"I said, 'I hope you're calling me to work together about gun restrictions,'" Ms. Schumer said today at a press conference in Mr. Schumer's offices on the East Side of Manhattan.
He was, and today the unlikely pair—she the star of the raunchy Comedy Central show Inside Amy Schumer, he the man likely to ascend to leader of the Senate Democrats—rolled out a three-point plan to tighten restrictions on who can get access to guns. The plan comes several weeks after an armed man shot and killed two women, and wounded nine other people, during a showing of Ms. Schumer's hit movie Trainwreck in Louisiana.
"These shootings have got to stop. I don't know how else to say it. Maybe the worst of this is there is a common sense way to stop mass shootings. There are many ways," Ms. Schumer said, her voice shaky with obvious emotion. "For me, the pain I share with so many other Americans on the issue of gun violence was made extremely personal to me on Thursday, July 23 when—I'm not even going to say his name," she faltered for a moment. "He sat down for my movie Trainwreck at the Grand Theater in Lafayette, Louisiana. Two lives were tragically lost, and others injured. And I have thought about these victims every day since the tragedy."
When Ms. Schumer heard about the shooting—by John Russell Houser, who had a long history of struggles with mental illness and had been arrested but not convicted of any crimes serious enough to show on background checks—she was devastated. Now, she says she's angry, on behalf of the two women killed, Mayci Breaux, 21, and Jillian Johnson, 33.
"My heart goes out to Jillian and Mayci, to the survivors, the families, and everyone who was tied to the tragic, senseless and horrifying action of this man who shouldn't have been able to put his hands on a gun in the first place," Ms. Schumer said. "I'm not sure why this man chose my movie to end these two beautiful lives and injure 9 others, but it was very personal for me."
The plan—on which Ms. Schumer said she had significant input—has three prongs. The first is a piece of legislation from Mr. Schumer that would create monetary rewards for states that submit all necessary records into the background check system, and penalizes those that do not. The second prong is a push to get Congress to fully fund the Substance Abuse and Mental Health Services Administration, which has been threatened with $159 million in cuts in the proposed Senate budget. Third, the Schumers are asking the Department of Justice to study best practices in state governments for involuntary commitment of the mentally ill.
Mr. Schumer said his cousin told him she wanted to propose a package of reforms that actually had a chance of passing—and Mr. Schumer argued this one did, even as the gun lobby remains a powerful force in Washington. He said he believed the legislation was not extreme.
"I don't expect them to lead a parade in support of this legislation," Mr. Schumer said of the NRA and other such groups, "but if they could just back off their opposition, we could get it passed."
The issue of gun control is obviously a heated one politically—and celebrities often face backlash when they speak out on any political issue, let alone one this controversial. But Ms. Schumer, who has dealt with hecklers, complaint her comedy is not politically correct enough, and has used her show to take on many issues, especially surrounding gender, said she was ready.
"Yeah, I am expecting a backlash," Ms. Schumer told the Observer during the press conference with a small laugh. "And I'll handle it the way I've handled it the last ten years. I've had death threats and a lot of hate directed toward me. But I'm someone who—I want to be proud of the way I'm living, and what I stand for. So there was no question."
Ms. Schumer went on to say she hoped people could understand she wasn't saying she was against the second amendment—but that she was for "common sense."
"Amy's intelligence and her passion, it's genuine and it's deep," Mr. Schumer said of his cousin.
And Ms. Schumer said she wouldn't be backing away from the issue going forward, though she was unsure of what exactly her next steps would be.
"These are my first public comments on the issue of gun violence, but I can promise you they will not be my last," she said.