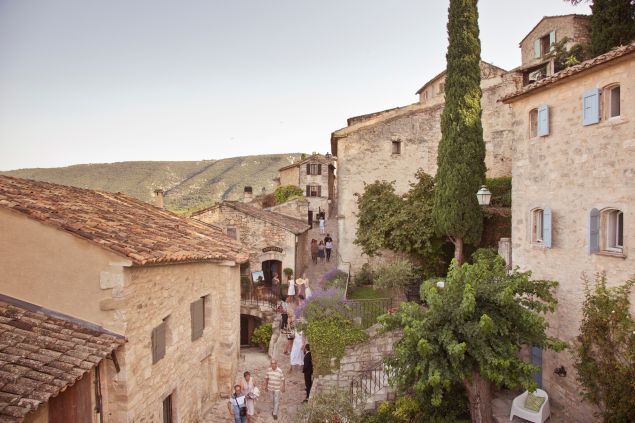 For a moment, forget about the Hamptons, Fire Island or the coast of Maine for a weekend getaway and dream bigger. How does Europe sound? Because it turns out that Lacoste, France is an extraordinary place to escape to. The only hindrance is that getting to Provence from New York City for a few days is more than just a little trek. Factor in a seven-hour red eye from JFK to CDG (plus a less-than-pleasant twirl through French customs), a three-hour train ride from Paris to Avignon and a 45-minute drive through winding hills and sharp curves to the medieval town. Then the summering has finally begun.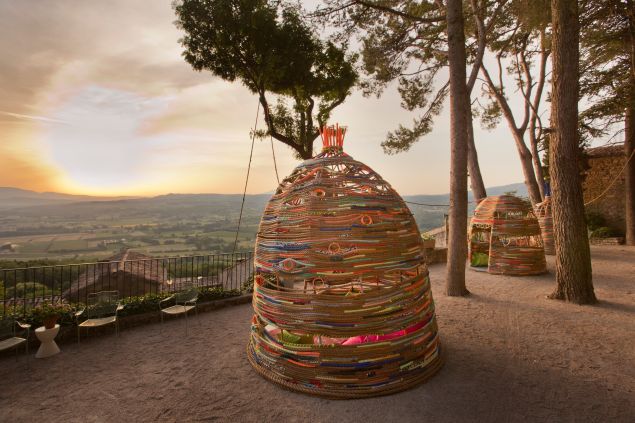 Once the fields of sunflowers and lavender and rows of vineyards come into view, all that travel stress simply vanishes. Especially when viewed from the tall overlook that the stone village of Lacoste provides. Devoid of stale city air and breezeless subway tunnels, it makes sense why artist Trish Andersen has chosen Lacoste over Brooklyn for the summer.
***
The ancient village is actually home to a study abroad campus for the Savannah College of Art and Design. This teeny French town is usually filled with jubilant architecture and fashion students, but notable guest speakers and professors are always on hand as well. This summer, Vogue's Lynn Yaeger and Paper's Mickey Boardman stopped by, as did Karen McCullah, the screenwriter of Legally Blonde and 10 Things I Hate About You.
However, Pierre Cardin just might be the most famous year-round resident. He spends a few days each week at his château that overlooks the town, which was once owned by the Marquis de Sade. "[Lacoste has] a culture of the past but is still very present," he told the Observer, giving Lacoste a real personality with his French lilt. "She's intact; she's not so disturbed by modern life. She's very open to the young people." Since Mr. Cardin made Lacoste one of his many homebases, he has fortified the cultural scene with the annual Lacoste Festival, which celebrates the arts each July. He also filled part of his château with various pieces of modern art and opened it up to the public.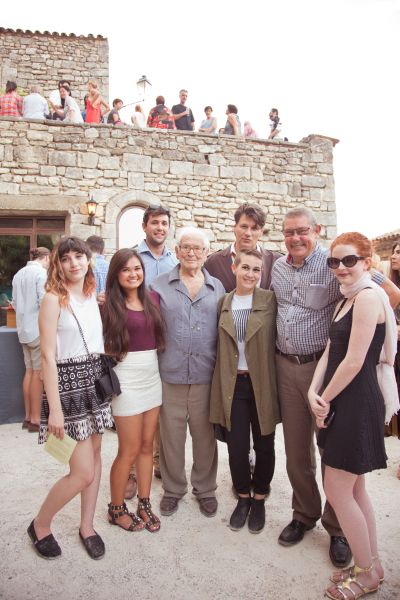 Again, we totally understand why Ms. Andersen, also a SCAD alumni, has chosen to escape to Lacoste for the summer. But really, what is she doing there?
***
Sitting in her cavernous artist's atelier on Rue Basse, the sloping main drag of Lacoste, Ms. Andersen explained that she was doing a residency of sorts at the school. "I'm not teaching a class at this point. I would blow it," she laughed. Instead she has hosted a few lectures about being a large-scale artist and working with clients. She is also working with the students to create installations and projects around the village.
When the Observer stopped by Lacoste for a visit in July, Ms. Andersen was putting the finishing touches on her first project of the summer: bories made from two miles of rope, wound with 500 yards of colorful fabric swatches. The original version of the domed dry-stone huts are ancient dwellings and can be spotted in fields throughout the Provence region. Back in the 19th century they were used to store tools, as outhouses or just a place to relax. The artist took a liking to them because she thought they were "magical looking."
Ms. Andersen's iteration of these ancient structures look as if they were made to be Instagrammed or as if they could be a feature of a hip boutique, sitting beside a rack of flowing caftans.
That vision actually isn't far off: "Throughout college, as a fiber student, all my products were really textural and detailed. Every fiber girl dreamed of working for Anthropologie." After graduation, Ms. Andersen made a beeline for New York to work at her dream store. That was where she learned to apply her fine art skills to a commercial application; she was able to create pieces of art that could provide a strange with an experience, without having to hang on the walls of a gallery.
After a few years of creating retail-friendly art at Anthropologie in Union Square, Ms. Andersen began delving into other projects, which included making a chandelier out of hair dryers for a Soho hair salon. She then partnered up with another SCAD alum, Maureen Walsh, to create a firm called Domestic Construction.
"One project I did was with Empire Entertainment, who was partnering with Bravo's Interior Therapy with Jeff Lewis and who wanted to turn 10 cabs into different themed rooms. Basically, it was like Pimp My Ride on crack." Other brands she's worked with include Google, Mercedes Benz and Microsoft. Ms. Andersen has also crafted experiences for Airbnb's One Night At program, through which she has decked out lavish pads, like a yacht docked off of Ellis Island.
Back in New York, her business has been on a summer sabbatical of sorts. "I have people who could run something there if I needed to, but most of my clients know I'm out of town," Ms. Andersen explained. "And I don't want to check my email," she added. She does have a few events lined up, telling the Observer via email that she's preparing a Gala at Carnegie Hall in October, followed by a wedding in Savannah just a few days later.
But for now, Ms. Andersen is living in the moment, and enjoying her summer vacation of sorts. "I'm here for a few months and I feel like it's really going to change my work and push it in a different direction," she admitted. "It will give me the time to think and experiment and kind of develop new plans and ideas, which is a really cool opportunity that SCAD has given me."