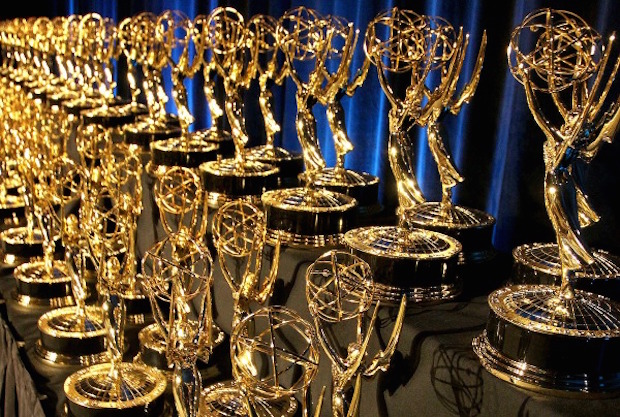 Dear Emmys,
I love TV. I mean, I really, really love it. Today's breadth of content and platforms on which to watch it has created a space where a little nerd like me can be their own Heisenberg-like god: I do it for me. I liked it. I'm good at it. It makes me feel alive*. I love watching TV with people, because I am clairvoyant in the realm of scripted narratives; which means that I can usually tell you what is going to happen three scenes from the one you are currently watching. Most people, for obvious reasons, hate watching TV with me. But that's all right…they are free to go watch TV by themselves. I will be fine, since I find the participants of say, Lifetime's unREAL, one hundred times more compelling than my "real" friends or family; most of whom, it should be noted, have yet to inadvertently-on-purpose orchestrate even one on-screen suicide for the sake of their reality show.
I love television so goddamn much. But as glad as I am to spend my entire adult life singing its praises, I cannot sit in silence through one more fucking night of its increasingly parsed and hyper-specific love letter to itself. That's right: The Emmys are bullshit. The Emmys are a new-age charter school that wants to tell every child it is so special just for showing up and not taking a giant shit on the floor, while glossing over the fact that their admissions process only started letting in applicants from different backgrounds like, last year. The Emmys are self-congratulatory, yes, but that's not my problem with them. I don't mind arguing over Best Actor or Best Supporting Actress. But the Emmys are terrible–and getting increasingly worse–because its justification that in order to be exemplary, greatness must conform to a certain box.
Look at the categories we're bogged down with this year. First you take care of the obvious stuff: Outstanding Series, Lead Actor/Actress, Supportings, Guests, Writing, Directing, Cinematography in both Comedy AND Drama (which is already an obsolete and arbitrary way of defining much of today's television's content). Then, thanks to anthology series like True Detective and American Horror Story, you get to go through all those positions AGAIN for the Outstanding Mini-Series or Movie. Sure, there was always this section of the awards to plod through while everyone sat there wishing it was the Golden Globes and they could just get wasted, but they were never supposed to be AS important.
Then comes the Variety stuff, because Late Night and comedy news has overtaken anything actually involving variety. (Until The Muppets come back on, that is.)
Then we get to this bullshit:
OUTSTANDING PRODUCTION DESIGN FOR A NARRATIVE CONTEMPORARY OR FANTASY PROGRAM (ONE HOUR OR MORE)

OUTSTANDING PRODUCTION DESIGN FOR A NARRATIVE PERIOD PROGRAM (ONE HOUR OR MORE)

OUTSTANDING PRODUCTION DESIGN FOR A NARRATIVE PROGRAM (HALF-HOUR OR LESS)

OUTSTANDING COSTUMES FOR A CONTEMPORARY SERIES, LIMITED SERIES OR MOVIE
Next year, I'm assuming they'll have to add an award for Production Design for a Narrative Period Program (Half-Hour or Less) so Natasha Leggero's Comedy Central show can get in on it.
Let's keep going:
OUTSTANDING CINEMATOGRAPHY FOR A MULTI-CAMERA SERIES

OUTSTANDING CINEMATOGRAPHY FOR A SINGLE-CAMERA SERIES

OUTSTANDING CINEMATOGRAPHY FOR A LIMITED SERIES OR MOVIE
Wait. Why does a Limited Series need a special category for its cinematography? Doesn't it either fall into single-cam or multi-cam, regardless of length??
OUTSTANDING SINGLE-CAMERA PICTURE EDITING FOR A DRAMA SERIES

OUTSTANDING SINGLE-CAMERA PICTURE EDITING FOR A COMEDY SERIES
Look at this point we're talking about editing. The comedy/drama component is a TOTALLY UNNECESSARY way to divide this shit up to ensure everyone gets a cookie.
And why does every reality show need it's own distinct box???
OUTSTANDING CINEMATOGRAPHY FOR REALITY PROGRAMMING

OUTSTANDING PRODUCTION DESIGN FOR VARIETY, NONFICTION, REALITY OR REALITY-COMPETITION PROGRAMMING

OUTSTANDING CINEMATOGRAPHY FOR REALITY PROGRAMMING

HOST, REALITY OR REALITY-COMPETITION PROGRAM

STRUCTURED REALITY PROGRAM

UNSTRUCTURED REALITY PROGRAM
What's the difference between…you know what, I don't want to know. I don't care. Guys, we still have hairdressing and choreography to get through, and then:
OUTSTANDING ANIMATED PROGRAM
Fine. This one works for me.
OUTSTANDING SHORT-FORMAT ANIMATED PROGRAM
?????? Robot Chicken can't just get nominated for Animated Program, we need to ensure it has its own sub-grouping?
OUTSTANDING CHARACTER VOICE-OVER PERFORMANCE
Another category for Robot Chicken to dominate. (The other contestants are from Family Guy or The Simpsons, and one nominee from Fox's Bob's Burgers.)
OUTSTANDING MAKEUP FOR A MULTI-CAMERA SERIES OR SPECIAL (NON-PROSTHETIC)

OUTSTANDING MAKEUP FOR A LIMITED SERIES OR A MOVIE (NON-PROSTHETIC)

OUTSTANDING PROSTHETIC MAKEUP FOR A SERIES, LIMITED SERIES, MOVIE, OR A SPECIAL
And lighting, sound editing, visual effects, technical coordination, stunt coordination, music, something called "OUTSTANDING SPECIAL VISUAL EFFECTS IN A SUPPORTING ROLE" (???????????)….all of these divisions containing even more subsets as we group them by Comedy, Drama and Limited Series….
Look, I know we don't have to sit through watching all of these awards getting handed out. A lot of them are actually handed out off-screen, at another–and one imagines sadder–celebration. No, not the Daytime Emmys. That's something else. But still. Still. Most of us have jobs. We try to do our best. We try for greatness, and settle for good enough-ness. But we don't get singled out for awards just because we went to work and did our jobs in a certain field that may or may not overlap, in varying degrees, to someone else's.
I'm not saying that we should cut out the Emmys entirely. But we're getting to a point where the awards themselves are so hyper-specific that they are all but meaningless. The more categories you have, the less you are able to convey that something is so special it has transcended above everything else in the medium. Form matters, sure, but we need to recognize diversity of form the same way we recognize diversity in people: by giving them the chance to win on their own merits and not because we created a special little box for them to go in. We are heading towards an Emmy year that has categories like OUTSTANDING SINGLE-CAMERA PICTURE EDITING FOR A STREAMING DRAMA-COMEDY and OUTSTANDING WEBISODE (NON-STRUCTURE) and GUEST ACTOR(ESS) ON A FX PILOT.
And at that point, you might as well take a drink and settle in, because this night is going to last you the rest of your life.
Love,
Your Audience
*"It" referring to my job critiquing other people's product, which involves 100 percent less risk than actually making something myself. Win-win!