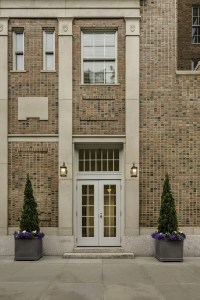 When Maurice A. Mann and his partners, a clique New York dubbed "shadowy," bought the Apthorp, a grand old building at 79th and Broadway, in 2007, a number of its well-heeled residents were less than pleased about the vertiginous rent hikes–and rumors that the new owners would take the building condo–that ensued. The rumors, of course, proved true, and Mr. Mann, the founder of Mann Realty Associates, soon found himself cut out of the deal himself, "betrayed" by the aforementioned partners, in his estimation. To add insult to injury, they wouldn't even let him buy an apartment there after the Apthorp got a luxury overhaul, and he settled instead for a $7.3 million unit at the nearby Laureate.
But perhaps Mr. Mann, whose father ran factories in Switzerland, Italy and Puerto Rico–the better to facilitate the production and import of men's handkerchiefs, ties and hats–has grown weary of of living in such close proximity to the edifice that once held  such promise for him. He's just picked up the duplex maisonette at 18 Gramercy Park South for $7.5 million, according to city records, operating under the cover of My Florida Home LLC, which appears to be based out of Mr. Mann's place in Fort Lauderdale.
Mr. Mann got a solid discount on the condo, which spent about seven months on the market, listed for $9.8 million. With a private entrance on Irving Place, on which the home occupies more than 100 feet, the unit has two bedrooms, a library and an expansive 3,746 square feet. (Should he want to–further–wow guests, the new owner can also escort them through an entrance off the white-gloved and oak-paneled lobby of the Georgian Revival building, which has been lately re-imagined by Robert A.M. Stern.) Though the condo is outfitted with most every luxurious material and tech doohickey you might imagine, its dining and entertaining space, complete with 17-foot ceilings, "serve as the residence's ultimate destination," according to the developer.