Maybe—like me—you witnessed #ArtsyOffsite dancing across your Instagram feed this past week. The NYC-based art start-up known as Artsy.net (the brainchild of mastermind millennial Carter Cleveland purporting to "make all the world's art accessible to anyone with an Internet connection") took their employees on a trip to Cedar Lakes Estate in upstate N.Y. And the result was highly photogenic. Artsy's quest to become the preeminent "online resource for collecting and educating," is a formidable one, but they seem to be trying awfully hard, and in many innovative ways. For instance: I'm still not sure if this was just a group of attractive people having a "summer to remember," or a peek into the future of arts branding. Maybe it was both. If you haven't seen these pics yet, be warned: You'll never look at your company's "Pizza Tuesdays" in quite the same light.
And without further ado: Camp Artsy.
The first hints of a mysterious "camp Artsy" started popping up at the end of July, marked with the alluring hashtag #ArtsyOffsite. Camp? For adults?? Pffft. I shrugged it off as some dolled-up training event that just happens to be near an idyllic body of water. No big deal.
Oh yeah, just look at these saps. Huddled together and slogging non-stop for Artsy slave-driver Carter Cleveland during the–wait, is that crusted salmon? OK, these guys might look clean and well fed, but they're still toiling in the heat of summer with no respite in sight.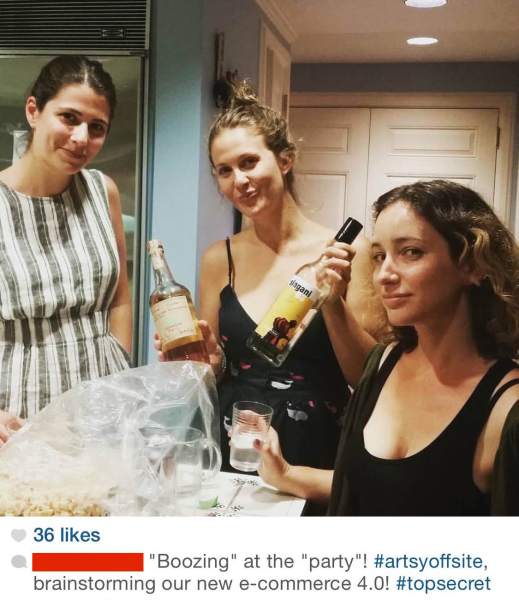 Cute girls with booze? Maybe they're cutting loose a little up there. So what? Wait a minute, some of these Instagrammers don't even work for Artsy. How "off site" is this? Either way, I'm starting to feel the FOMO!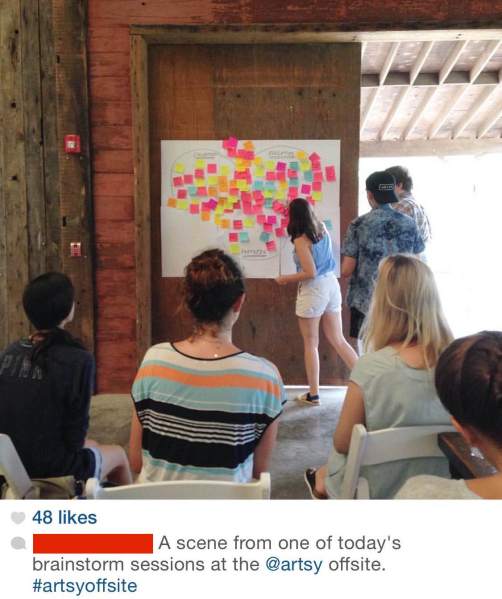 Phew. They're just up to normal job-related stuff. These suckers are obviously being forced to "synergize" and "ideate." Sure, that's a beautiful sun-drenched work cabin, but work is work right?
Oh come on! dammit Artsy, that's adorable. I'm sure these are just perks for the upper, upper management. The other 99% are definitely NOT doing this sort of thing.
Alright. Maybe they let a few underlings use the pool.
Free yoga classes. That's a nice perk. Sound body, sound mind, etcetera.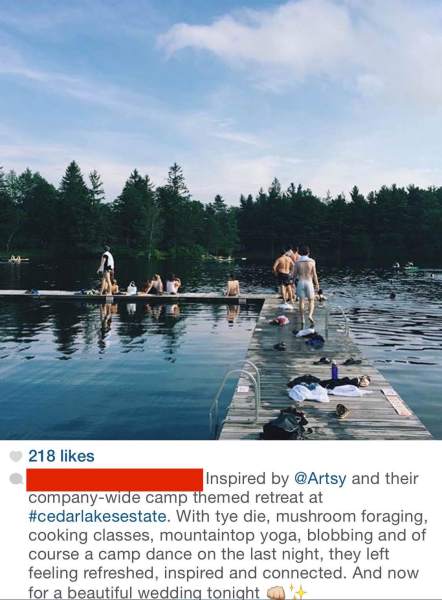 Egad! Not just free yoga, but also mushroom foraging, cooking classes, and a "big dance." On the other hand, how fun could "blobbing" be? Sounds gross.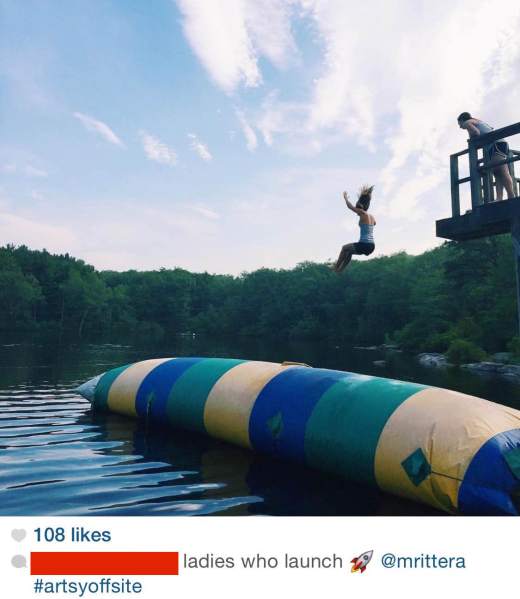 Oh wait. That's blobbing. That's pretty damn fun. I stand corrected. I'm starting to think that Artsy wants me to believe that they are a fun company to work for.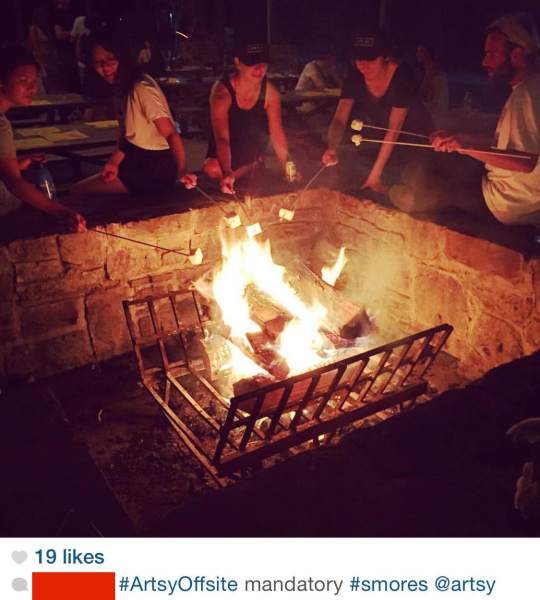 Campfire S'mores, Lampshade-on-head… OK Artsy, maybe things are getting a little too cliché at this point. Where's the guy playing "Heart of Gold" on an acoustic guitar?
This looks like a full-on 'Revenge of the Nerds' style party in the woods, down to the tube socks and Tri Delt shirt. I love how 'the gang' (as I've come to call them) is rallying around their big sparkly "A". Good times. I think I'll wander over to the office fridge and root around for some day-old pizza.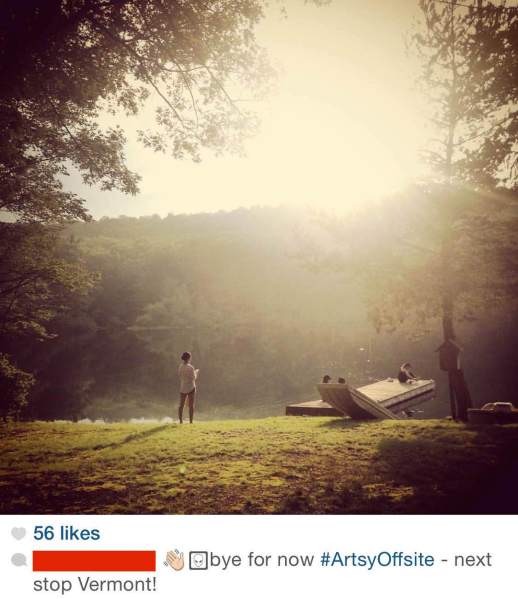 What a week it's been. I hate saying goodbye, #ArtsyOffsite. I have so many great virtual memories and more importantly, so many new virtual friends: Lampshade-girl, the guy in the Artsy T-shirt, and of course the guy that operates the Blob. But have we learned anything from our trip to Cedar Lakes Estates? Well, I've learned that you're only as good as your man/woman power, so taking care of them is not only good business, it's also great advertising in a field where people change jobs more often than they change their skinny jeans. P.S.—Keep an eye out for part two of this series: The Artsy 2015 Xmas Party. I will be crashing.