In 2014, the CIA carried out 25 recorded drone strike actions, killing between 114 and 183 people and injuring between 44 and 67, according to statistics from the Bureau of Investigative Journalism.
Now, Los Angeles-based artist Jonathan Fletcher Moore has taken that data and created an interactive installation titled Artificial Killing Machine that visualizes the attacks in real time.
The piece, which is currently shopping for interested curators, features a receiver that prints out the watchdog group's information on drone strikes, as they occur, simultaneously triggering 15 digitally-activated toy cap guns that fire off a single cap for each person reported killed. The idea is to highlight the effects of violence—violence that can otherwise remain abstract to Americans, as The Verge noted.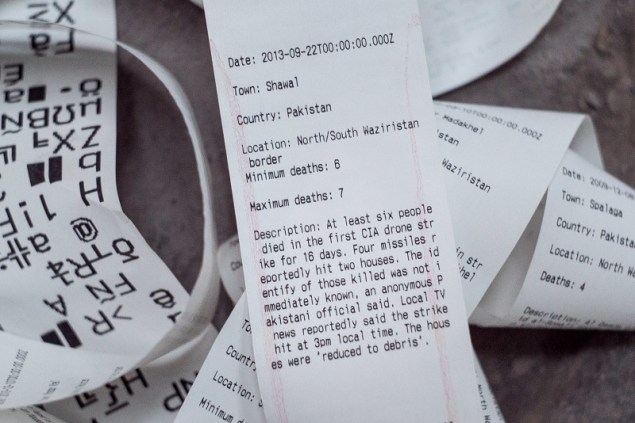 To do this, Mr. Moore's receiver chats back and forth with a public database of the Bureau's collected information, a website called Dronestre.am, created by artist Josh Begley. Mr. Begley's webpage is fully searchable and also updates a real-time Twitter account.
Mr. Moore has placed a chair beneath the cap guns that allow viewers to come face-to-face with the explosive installation (of course, they are toy guns).
The installation dangles from the ceiling, the toy guns, digital receivers, and paper tape print-out dangle from translucent wire above the sitter's head.
"The imagined existential risk," as Mr. Moore calls it, on his website, is meant to transform the faceless data into a jarring, human-scale, experience.
Artificial Killing Machine was shown at Future Gallery in Inglewood, Calif., earlier this year for the exhibition "This Machine Kills," and previously included in a group show at the Bo-Pi Liao Culture Center in Taipei in 2014 as a work in progress.