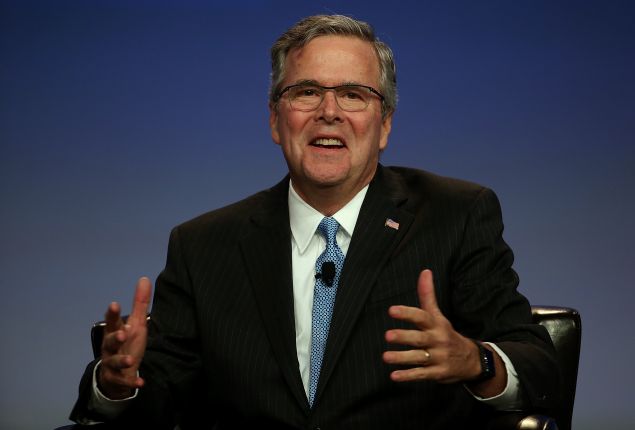 Queens Congresswoman Grace Meng and California Congresswoman Judy Chu tore into former Florida Gov. Jeb Bush for his claim yesterday that Asian people were responsible for the phenomenon of "anchor babies"—children born to foreign nationals on American soil, making the infants American citizens with the potential to gain legal status for their families.
Ms. Meng and Ms. Chu, both members of the Democratic minority in Congress, used the remarks to broadly attack the Republican presidential field and leadership in the Capitol during a conference call with reporters this afternoon. Mr. Bush, a top contender for the Republican presidential nomination, argued yesterday during a visit to the U.S.-Mexico border that his criticism of birthright citizenship was not directed at Latinos, but that "frankly, it's more related to Asian people coming into our country having children in that organized effort."
Ms. Meng quoted a passage from the Republican "autopsy" of former Massachusetts Gov. Mitt Romney's defeat in the 2012 election, which called for a "welcoming, inclusive message" to prevent Democrats from winning overwhelming segments of the minority population again.
"If slurring the children of immigrants, whether Hispanic or Asian, is their idea of the 'welcoming, inclusive message,' then the GOP has more, much more work to do than we originally thought," she said.
The congresswoman went on to attack House Republicans for preventing a vote on an immigration reform package that would have created a pathway to citizenship for many immigrants lacking proper paperwork, accusing the GOP majority of bowing to "angry voices." The comments from Mr. Bush—seen as the preferred candidate of the inside-the-Beltway Republican leadership—were a sign of a vein of racial prejudice running to the heart of his party, she said.
"It turns out those angry voices don't represent the fringe, they represent the establishment. So when someone like Jeb Bush speaks this way about immigrant communities, all Americans are right and should ask the question, 'Why does it seem so difficult for the Republican Party to treat communities of color with respect?'" Ms. Meng said.
Ms. Chu, who chairs the Congressional Asian Pacific American Caucus, echoed her colleagues' comments, and argued such viewpoints disqualify Mr. Bush from serving in the Oval Office.
"Jeb Bush's remarks yesterday are both derogatory and offensive. For him to triple down on such vile terms for U.S. citizen children born to undocumented immigrants shows how unfit for president he truly is," she said, accusing Mr. Bush of trying to win back any lost Hispanic support by attacking Asian-Americans. "This was even worse, pitting one group against the other, this explanation that this slur was primarily directed at Asian immigrants and babies is outrageous, and reveals how pathetic he and the so-called 'establishment' wing of the Republican Party really are."
Ms. Chu rattled off a list of Republican candidates that she asserted shared Mr. Bush's views, including Wisconsin Gov. Scott Walker, Florida Sen. Marco Rubio and Louisiana Gov. Bobby Jindal. Oddly, the list excluded real estate magnate and Republican presidential front-runner Donald Trump, who has been the most outspoken contender in the field on the issue of immigration and birthright citizenship.
Asked about this surprising omission, Ms. Chu parried.
"Both are offensive to the immigrant groups in this country," she told a reporter, referring to both Mr. Bush and Mr. Trump.
Federal agents have in fact raided so-called "maternity tourism" hotels in Ms. Chu's home state, where well-to-do Chinese women often choose to have their children so that they may enjoy American citizenship. The congresswomen did not deny that such facilities exist, but argued the Republican candidates' rhetoric remained offensive.
"By using the term 'anchor babies, they are stereotyping a whole group of people, creating this image in people's minds about immigrants," said Ms. Meng.
Mr. Bush's camp referred the Observer to a comment by Jinyoung Lee Englund, a member of the Republican National Committee's Asian-Pacific American Advisory Council.
"The sad reality is, across all ethnic groups, some people break or take advantage of the law trying to immigrate into this country," said Ms. Englund, arguing Ms. Meng and Ms. Chu are neglected the potentially unsafe conditions undocumented mothers endure. "I'd like to see the Democratic party focus more on the lives of the women and children at risk in some of these off the books and illegal 'birth or maternity tourism' situations instead of expending so much time, energy and money on trying malign Governor Bush."
Disclosure: Mr. Trump's son-in-law, Jared Kushner, is publisher of Observer Media Group.