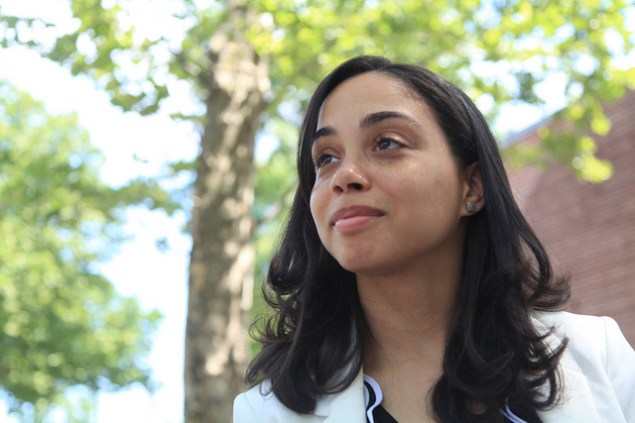 A Bronx assemblywoman will introduce a bill to fund future tests of cooling towers for Legionnaires' disease.
Latoya Joyner, a Democrat who represents neighborhoods impacted by the disease's outbreak in the South Bronx, said her legislation will allocate up to $50 million the New York City Department of Health and Mental Hygiene and the Department of Environmental protection to fund efforts to "continually" test cooling towers for the Legionella bacteria.
The Bronx outbreak, the worst in the city's history, has already killed 12. There are now 115 confirmed cases of the pneumonia-like disease, which is treatable but deadly for people with underlying medical conditions.
"Taking steps today to protect the well-being of our communities by instituting measures that can prevent the Legionella bacteria from resurfacing is the right course of action," Ms. Joyner said in a statement. "My bill will help ensure that resources and measures are in place so that future generations do not have to worry about this preventable disease."
People get Legionnaires' when they breathe in a mist or vapor containing the bacteria. The disease is not contagious.
In the Bronx, where the city has tested 39 cooling towers in the impact zone, it found legionella in 11 of them—about 30 percent. City officials said yesterday there was no way of knowing whether the same would be true if they tested cooling towers citywide. (City Hall has no exact count for the number of cooling towers in the five boroughs.)
Ms. Joyner's legislation comes as the City Council holds a hearing today on a bill that will require cooling tower inspections. Mayor Bill de Blasio issued an executive order last week mandating the testing and disinfecting of all cooling towers in the five boroughs within two weeks. Jamie Gilkey, Ms. Joyner's chief of staff, said the bill was not introduced at the behest of any elected official, including the mayor and governor.
Karen Hinton, a spokeswoman for Mr. de Blasio, said City Hall would be "reviewing" the legislation. "The mayor appreciates her hard work on this issue, and we look forward to working with her," she said.
Though Ms. Joyner's office said in a release the legislation will "take effect immediately," Gov. Andrew Cuomo would have to call a special session of the State Legislature to pass the bill before January.
Mr. Cuomo's office did not immediately return a request for comment.