Bachelor in Paradise is our reward for slogging through weeks of Kaitlyn, Shawn and Nick's nonsense. Join us, as contestants from The Bachelor and The Bachelorette seasons past stop being polite, and start getting real (drunk and crazy). 
A rose to Chris Harrison, a model of how to totally de-stress after delivering maybe six lines of speech throughout the entire Bachelorette season six months of truly vigorous hard work.
A rose to the 80 years of advancements in women's rights that went promptly down the toilet when Jillian announced she got breast implants specifically because she'd be appearing on Bachelor in Paradise.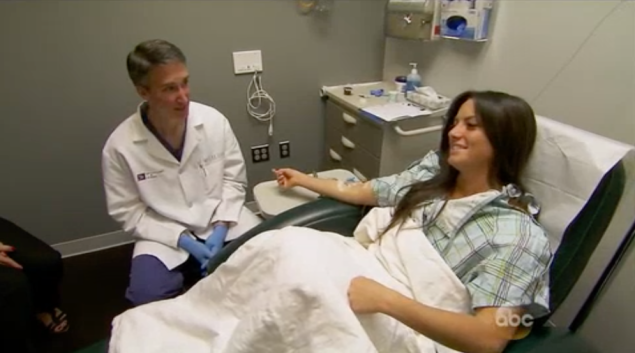 Then again, we first met Jillian on a show where 25 women fought viciously for the honor of marrying one random Iowan man. So, like, the toilet was already a'swirlin'.
Speaking of the aforementioned breast implants, a rose to every viewer who experienced a minor panic attack every time Jillian greeted a new Paradise arrival like this: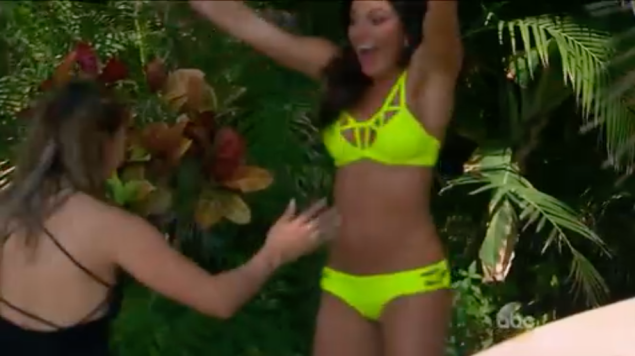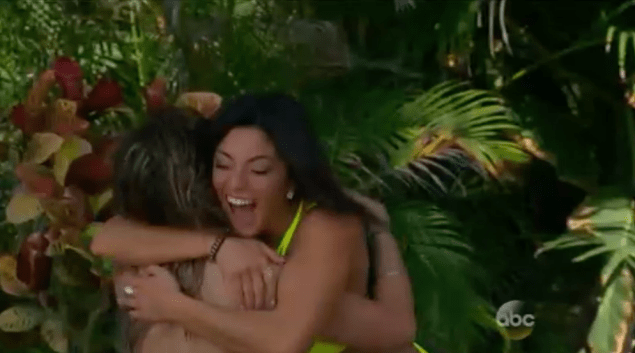 A rose to Scary Jared, who unfortunately filmed Bachelor in Paradise before appearing on The Men Tell All, and therefore arrived in Paradise with no understanding that this is not how one should groom the foliage on one's face: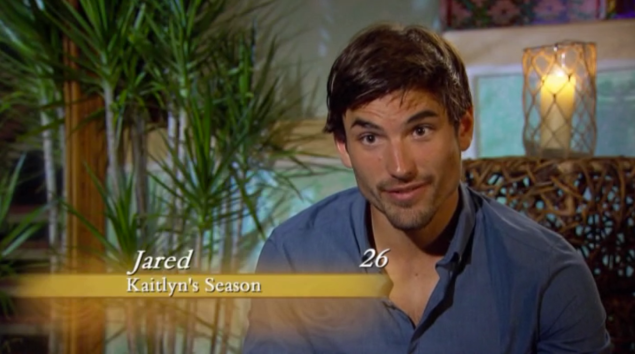 A rose to Virgin Ashley's sister, Lauren, who totally doesn't even go here, and yet who gets more action in her first two minutes in Paradise than Virgin Ashley has had in her whole life.
Actually, I'm taking that rose away because said action went down with Mikey, a self-described "alpha-" and "testosterone-driven male" and who regularly sports icky sweat stains in the valleys around his unnaturally-bulgy pecs.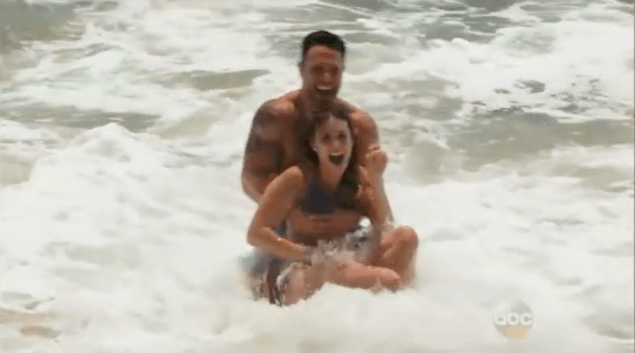 Wow, no roses to Jade for totally un-called-for self-righteousness. "I just don't see Lauren as the kind of girl guys want to marry," says Jade, a grown woman who willingly volunteered to spend three weeks on a sex island for the entertainment of American reality TV viewers.
A rose to what happens when The Bachelor becomes your whole life: You have so few remaining friends, your entire wedding party is comprised of desperate singles who stumbled upon your wedding by chance as they frolicked about in bikinis, desperately trying to bang each other.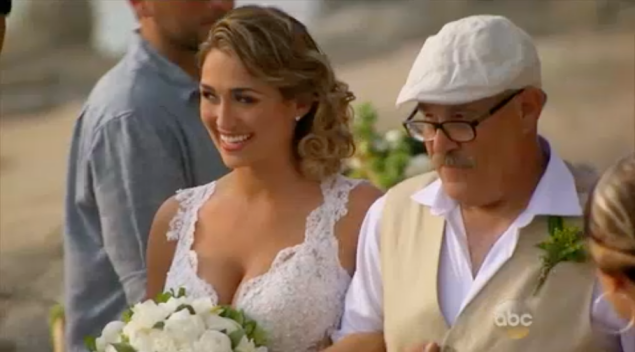 Then again, perhaps it wasn't Marcus and Lacy's involvement with reality TV that turned so many friends away from them, but rather that time they dressed as elves and did a Christmas photoshoot: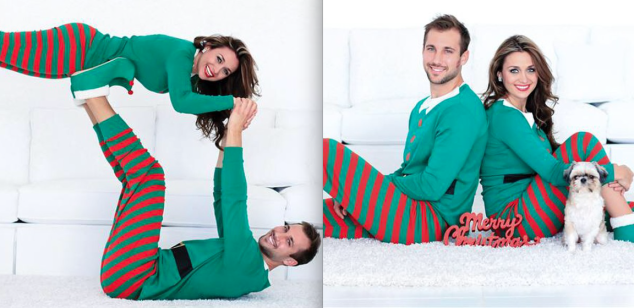 For realz, though, a trillion roses to Marcus and Lacy, because the more times The Bachelor results in a wedding—and not a break-up two nanoseconds after filming ends—the longer Chris Harrison can convince ABC his show has the teensiest iota of credibility, and the longer we can continue voluntarily incinerating our brain cells once a week.
A rose to a confession I must make: Ever since Kirk appeared on Ali's season of The Bachelorette, my dad and I have referred to him by one very specific nickname. What is it, you ask? Allow me to explain. On Ali's season, Kirk told a tragic sob story: that he was SUPER SICK for a long time, and no one could figure out what was wrong with him. He was basically on his deathbed when the diagnosis was finally made: mold. Mold in his house. All mold errything.
So from here on out, Kirk shalt be known by the nickname I've been using for him since the year 2010: Moldy Kirk. I can't help it.
A rose to Moldy Kirk for being totally consumed by something other than mold: passionate love for Carly.
This hook-up is also good news for Carly, who, as we learned from Chris's season of The Bachelor, recently dated a (possibly gay) dude who never once showed an interest in physical interaction of any kind.
A rose to our best hope, thus far, of this season of Bachelor in Paradise resulting in another marriage.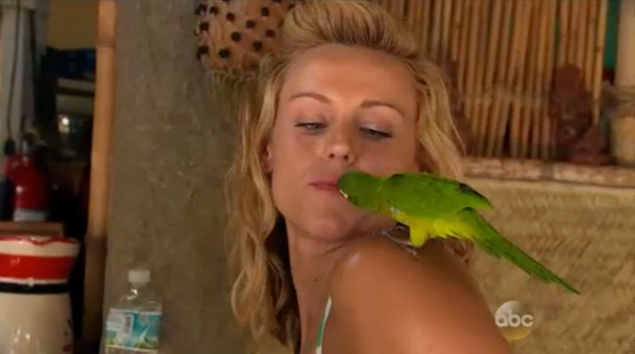 A thousand sympathy roses to Virgin Ashley, who has so little romantic experience, she a) thinks that "tell me about Kaitlyn—I feel like you're not over her" is a good way to initiate sex activities with Jared, and b) ranks their utterly chemistry-less date in the "top tier" of all the dates she's ever been on.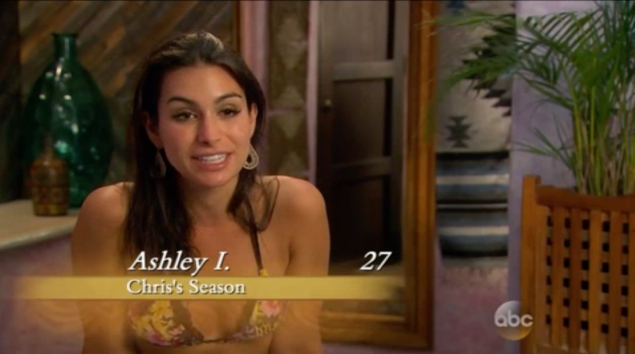 Uh, no roses to whatever BIZARRE editing decision resulted in us seeing Ashley S. carted off in an ambulance, with literally zero explanation of a) what's wrong with her, b) if she's coming back, and c) whether this is even a real emergency, or just Ashley S. getting bored and deciding it would be fun to fake death instead.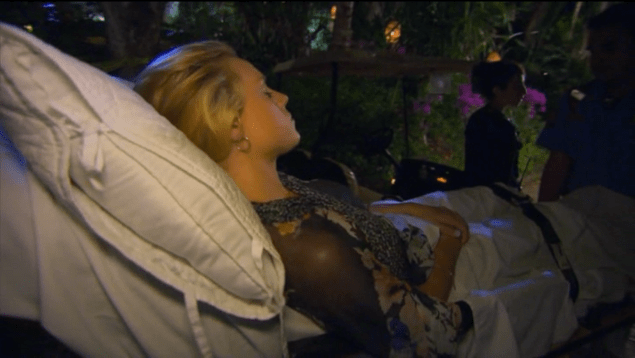 A rose to Jade, the first woman within a 50-foot radius of any Bachelor set not just to invite Tanner on a one-on-one date, but to acknowledge Tanner's existence whatsoever.
The two are super into each other, especially after Tanner declares he's totes okay with Jade's Playboy-modeling past. Tanner declares he has a better connection with Jade after one date than he had with Kailtyn throughout her entire season. Then they go in the water and lick each other's faces and stuff.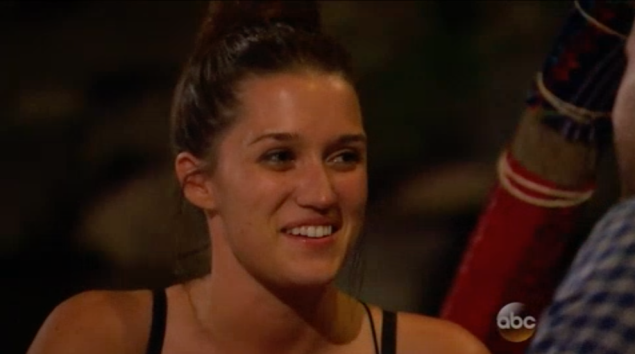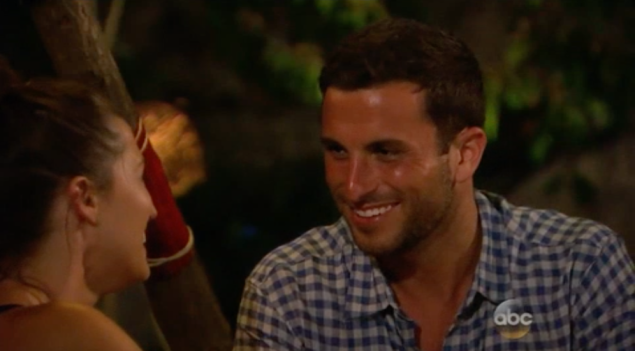 A rose to poor Claire, who's trying really hard to convince herself it's totally acceptable—nay, downright noble—to have signed up for a second round of Bachelor in Paradise.
"It would be easy to walk away," Claire tells Chris Harrison of her failed first jaunt in Paradise, "but one thing I never give up on is love."
A rose to ending homelessness, curing childhood obesity, and all the other productive things you could be doing tomorrow night—but that won't happen, because instead you'll be watching 947 more hours of Bachelor in Paradise. All hail the two-night season premiere.