Bachelor in Paradise is our reward for slogging through weeks of Kaitlyn, Shawn and Nick's nonsense. Join us, as contestants from The Bachelor and The Bachelorette seasons past stop being polite, and start getting real (drunk and crazy).
Roses to Mikey and Jonathan, the first casualties in Kentucky Joe's demonic path of tears and destruction. Despite both dudes' attempts to save Juelia from getting played, Juelia gives her rose to Joe. Jared and J.J. get roses from Virgin Ashley and Clare, respectively, which means Mikey and Jonathan are outta luck.
A rose to Des reject Michael, who crawled his way out of reality TV oblivion only to fail to win Tenley's heart and get sent right on back.
A rose to the totally un-staged way in which Kentucky Joe and Sam depart for their scandalous one-on-one date. It makes 100 percent sense that on their way out, they'd take a detour through the cramped bar area—the exact area where a weepy Juelia and all of her pals are currently congregated. And of course they'd be holding hands and laughing merrily throughout the entirety of said detour. This is a totally natural situation that would definitely happen.
But hey, a rose to the one bright side of Juelia getting totally screwed over: she'll never have to experience the shock of discovering Kentucky Joe's un-toned dad bod.
A rose to old Mrs. Crawley, mother of Clare, who likely winced and clutched at her pearls as the Bachelor in Paradise crew callously doused her Pottery Barn patio furniture in garbage juice and lured in a roving stray raccoon. "Do you want your daughter to find love or not?" they hissed, prying her iPhone from her shaking hands to use as a prop.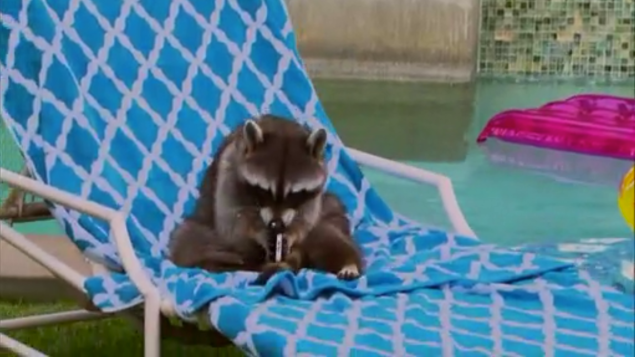 A rose to Jade, this season's most articulate cast member.
"I feel like these are feelings that are, like, on the road to feeling in love," she says of her blossoming relationship with Tanner.
A rose to the way you can track Moldy Kirk's discomfort by the frequency with which he says the word "like." For Kirk, the more it becomes clear that Carly has timed the couple's one-on-one date to her exact ovulation cycle, the more he uses the word.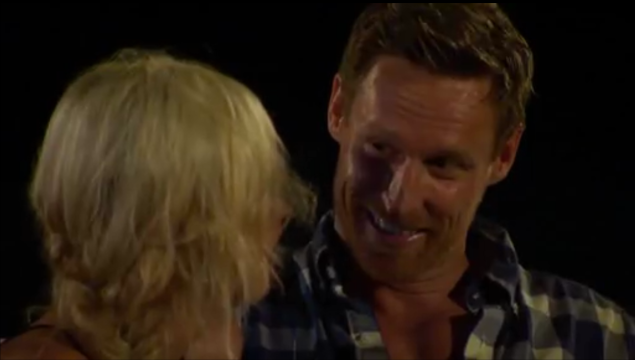 Meanwhile a thousand roses to Carly, who hasn't been touched by a man other than Chris Harrison in the past seven years, and who literally missed her brother's Ireland wedding to come to Paradise and find love, and who now be on the precipice of dump-age by Moldy Kirk.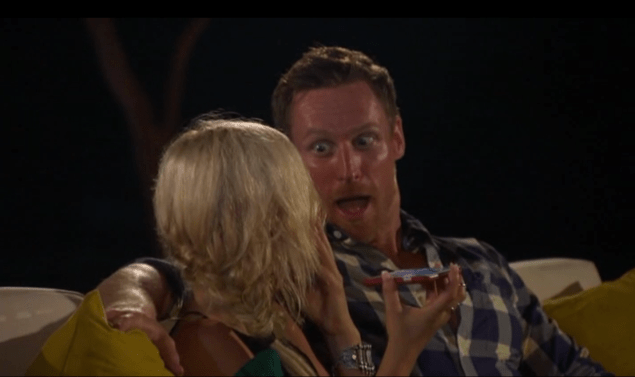 A rose to the phone call with Carly's brother Zak (another former Bachelorette contestant, in case you wanted to have your mind blown), which miraculously does the trick. Moldy Kirk realizes that Carly is welcoming him into her life, and all his insecurities about falling in love with a reality TV contestant he's known for three days completely melt away. He kisses Carly under some fireworks, and then treats her to a night in the ol' Fantasy Suite.
A rose to the biggest red flag in Dan and Ashley S.'s relationship: that he's turned off by the discovery that she has "emotions," because emotions are "taxing." Women, amiright???
On a nighttime beach walk, Dan tells Ashley S. he think they're moving too fast. Ashley S.—who's starting to fall in love with Dan—says she'll probs go home if Dan isn't into their relationship.
No roses to Megan, who says she's been cheated on in every relationship she's ever been in, and yet proceeds to give her date card to J.J., the one Bachelor in Paradise contestant known for cheating on his ex-wife on or around the exact moment she was birthing their child.
That being said, I do think J.J. has repented for his past mistakes (dude is unemployed and living with his parents), and he also seems pretty funny ("a garbage bag could ask me on a date and I'd say yes"). So I change my mind—Megan and J.J. can both have roses.
A rose to Scary Jared, who despite being a patchy-bearded restaurant manager from small-town Rhode Island, has somehow achieved the role of Ye Olde Wise Man of Paradise. So you say Kentucky Joe had been planning on banging Samantha since before Bachelor in Paradise even started filming? Don't worry, Jared's here to keep 'em honest.
Now that we know Kentucky Joe and Samantha were doing all sorts of phone sex before the show started, a rose to the most pressing question thus far: Why did Joe and Sam even come to Paradise?
Joe meticulously screwed over Juelia as though it was the ONLY FEASIBLE WAY he might ever get to insert his tongue seven inches down Sam's throat. Besides the free trip to Mexico and the shot at reality TV stardom, why not skip the three weeks on Sex Island and just meet up privately, away from cameras, crabs, and the heartbroken tears of Juelia, a widowed single mother?
Jesus Christ, a rose to whatever Bachelor in Paradise intern had to sterilize the entire hot tub after whatever in the name of Chris Harrison happened here: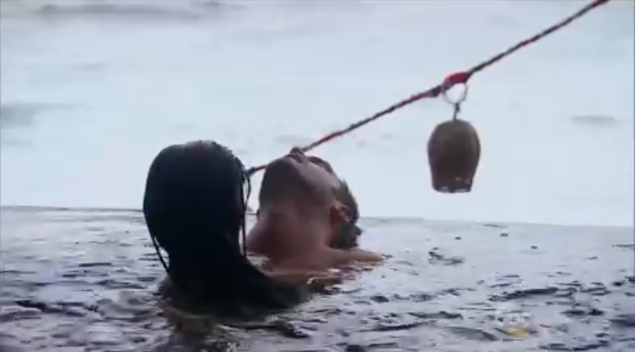 Finally, a rose to every viewer who's so sick of the Kentucky Joe-Juelia drama, they actually sided with Joe in the mandated group meeting, because at least he was working to make it end as soon as possible.
I obviously feel super bad for Juelia, but gurl: What are you gaining from making Joe, the mayor of Dicktown, apologize? Why not use this time to try and bang somebody nicer? I hear Dan's looking.