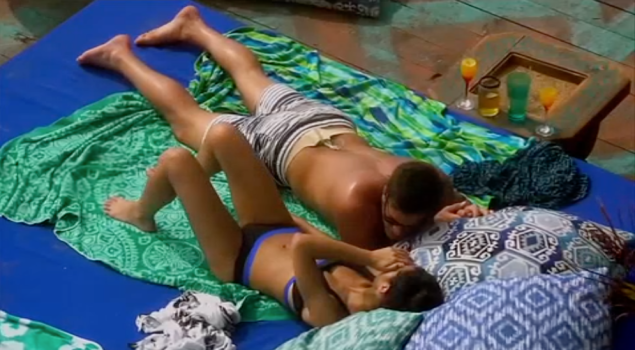 Bachelor in Paradise is our reward for slogging through weeks of Kaitlyn, Shawn and Nick's nonsense. Join us, as contestants from The Bachelor and The Bachelorette seasons past stop being polite, and start getting real (drunk and crazy).  
A rose to the veritable slip n' slide that is Dan's aggressively oil-slathered body.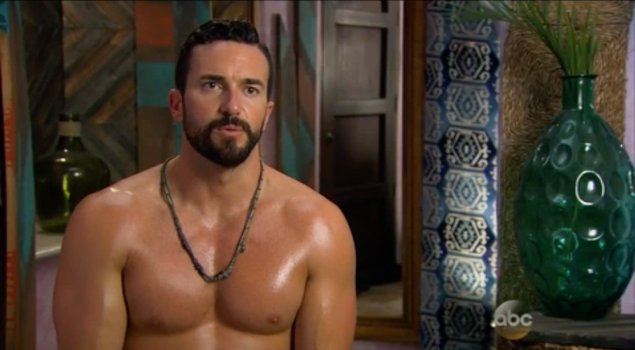 A rose to what's far and away the easiest solution to this horrific, record-breakingly-irritating, godforsaken Joe-Juelia drama: that Joe and Samantha leave the show and go do hot tub hand jobs someplace else.
If Joe and Samantha just want to be with other, why do they need to stay on the show? Do they think there's a prize at the end, like a million bucks, or a contract with Elite Model Management? (Anyone else still watching America's Next Top Model? Anyone?) Do they want a televised wedding on the premiere of Bachelor in Paradise Season 3? Do they want just want to chill more with Jorge the bartender? I need answers, because I'm one more "I swear we didn't do pre-show phone sex" away from driving a chopstick into my eye socket.
A rose to the only think I can focus on during Jared and Virgin Ashley's super awkward, mostly silent cabana chat: the fact that Virgin Ashley evidently scuba dived to the bottom of the ocean—or at least to the set of that Britney Spears music video—and retrieved the necklace the old lady threw into the ocean at the end of Titanic:
No roses to the dumb editing decision that resulted in rose ceremonies happening, totally anti-climactically, in the middle of episodes.
Anyway, here's how things play out. Josh the Welder gives a rose to Tenley, Kirk gives a rose to Carly, Jared gives a rose to Virgin Ashley, Tanner gives a rose to Jade, and Dan gives a rose to Amber. J.J. announces he's leaving Paradise to go be with an ex, but gives a rose to Ashley S. so she can stay and find love.
A rose to any man, woman, or raccoon in America who will step up and date Clare, because gurl is one more fruitless dating show away from a full-on mental breakdown.
A rose to what I can only presume is the real identity of J.J.'s beloved "girl back in Denver":
A rose to Juelia, who has no reason to cry ever again.
Not only did Chris Harrison grant Juelia's wishes and invite human beer keg Mikey back onto the show, but, in getting screwed over by Kentucky Joe, Juelia blessedly got to avoid a lifetime married to a literal demon: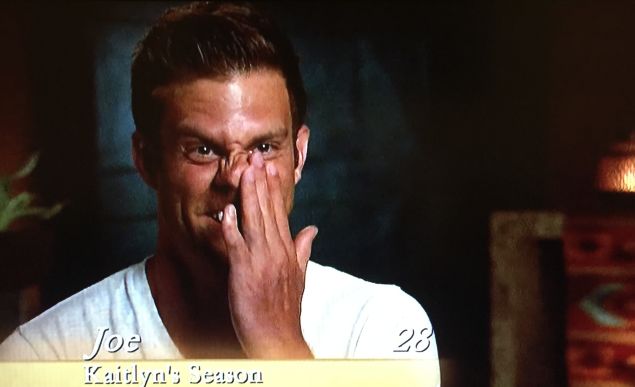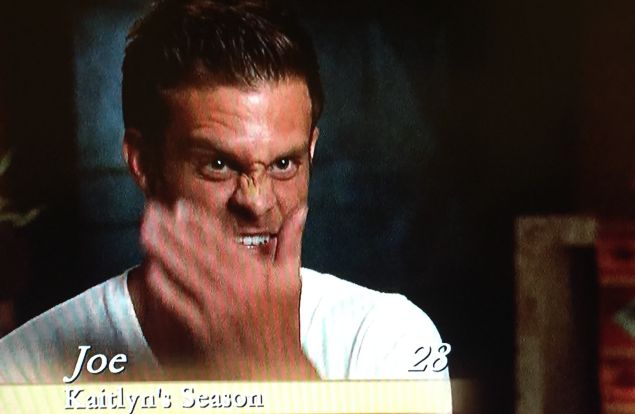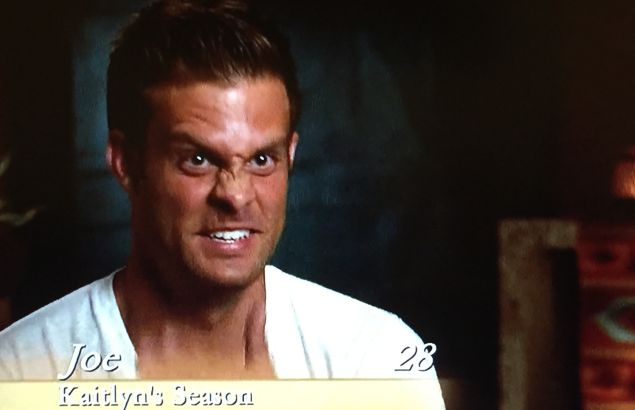 A rose to the devastating tequila shortage that's probably currently plaguing Mexico, a) because Tanner all but decimated this elderly farmer's prized agave plant…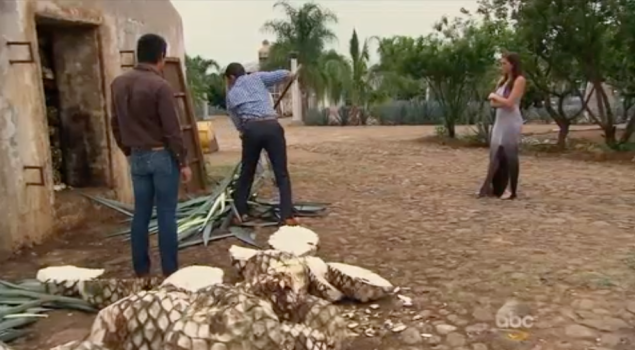 … and b) because Nick and Ashley S., after getting turned away from their private island, each consumed around 847 tequila shots at a local spa.
A rose to the very serious commitment Tanner requests of Jade: to be his girlfriend for the "rest of Paradise," and maybe "even after."
Jade accepts Tanner's proposal, and by the end of their one-on-one date in the Fantasy Suite, Tanner is already predicting they might leave Bachelor in Paradise as something "maybe more" than boyfriend and girlfriend.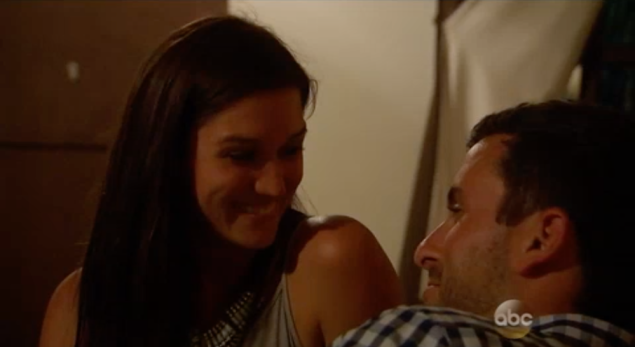 I know Kentucky Joe is a big ol' Kentucky dickhead, but a rose to everyone whose hearts were completely SHATTERED by the birthday cake Joe likely made himself under the gentle yet encouraging tutelage of Jorge the bartender. Imagine Joe squeezing those top two cherries onto the cake, even though they don't fit, because it's his birthday and he really likes cherries. Imagine him writing "Happy Birthday Joe" to himself. Imagine him positioning the two cherries on either side of the cake ~just so~, in a way that seemed artistic.
A rose to Sam for orchestrating the greatest Paradise-ception of all.
Sam led Kentucky Joe to believe that if he screwed over Juelia, he and Sam could make sweet, sweet love in the hot tub from now until the end of the three-week shooting schedule eternity. But what Joe doesn't know? Sam talked to Nick before the show, too. And when Nick shows up in Paradise, Sam dumps Joe as callously as Gone Girl. 
Is Joe a pawn in Sam's mission to get Nick? Or are Joe and Nick both pawns in Sam's mission to destroy the Bachelor in Paradise franchise from the inside out?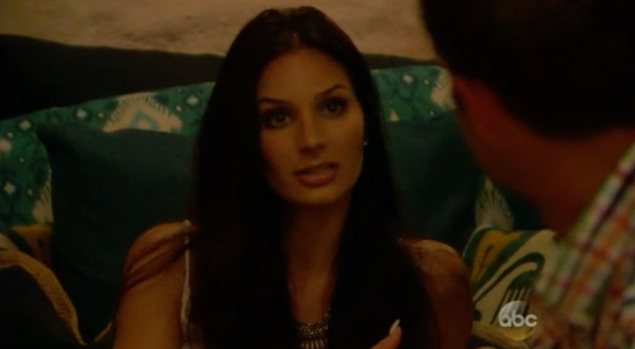 A rose to Bachelorette Kaitlyn, who had way more important things to worry about—namely, keeping her engagement to Shawn a secret—than this:
A rose to ABC revealing the next Bachelor tonight, but no roses to the fact that it requires us watching the god-awful programming that is After Paradise—a show so bad, even I find it hard to make it all the way through an episode. And like I said—I've watched all 22 seasons of America's Next Top Model.