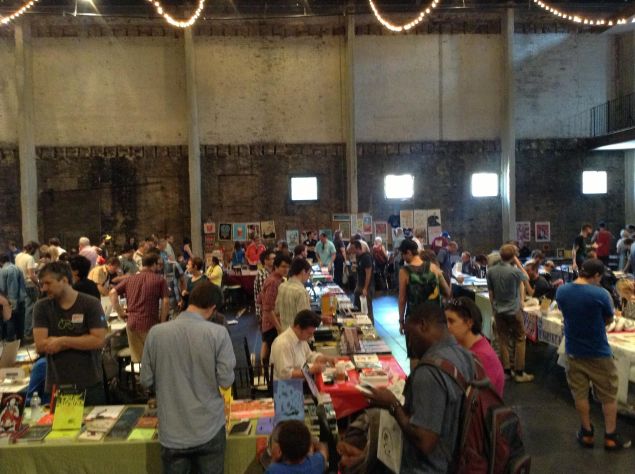 One need not look further than the recent blaring success of the Marvel franchise to see that comics are more popular than ever in the U.S. Over 130,000 people turned out to Comic Con in San Diego each year from 2012 through 2014, according to a recent year-by-year breakdown of attendance for San Diego Comic Con—the nation's largest Comic Con—by The Los Angeles Times. That's a lot of comics fans.
Alas, as Comic Cons have gotten bigger and more popular, fairs like San Diego, New York Comic Con, and Emerald City Comic Con have broadened their shows to feature much more than comic artists, including celebrity appearances and sales of high-end collectibles and video games.
Now, Minneapolis' Autoptic is turning the focus back to art.
Autoptic follows a similar model to fairs like the MoCCA Arts Festival and Brooklyn Zine Fest in New York, by focusing on independent artists. But Autoptic also maintains a wide range of crafts, artists and publishers, from printmakers to musicians and zine publishers to designers—more than 120 exhibitors in all.
The fair was founded in 2012 by a small group of Twin Cities-based cartoonists and small press comic publishers. It's small and only lasts two days, August 8 and 9, but the DIY spirit of the event is attracting some of the industry's biggest names. Special guests this year include Eisner award-winning graphic novelist Charles Burns, New York Times bestseller Jillian Tamaki, and multimedia artist Aidan Koch.
Artist and Autoptic organizer Jenny King spoke with Minnesota Public Radio News about the event, which features "Homegrown art out of people's kitchens, out of their sheds, their basements. That's what makes it very independent, and I think makes Autoptic very unique."
French comics organization ChiFouMi and the Minneapolis College of Art and Design will also host a residency for 20 artists and authors to collaborate on a 40-page publication in the days leading up to the fair. Mr. Burns will also artists Gabrielle Bell, Sammy Harkham, Dominique Goblet, among others, for a sketching and writing jam session for 10 days.
The best part? It's free. Autoptic is open to the public from Saturday, August 8 through Sunday, August 9, at Aria in Minneapolis.