The Thursday evening crowd filtering into Samsung's Soho Studio was not who one might expect to see at the unveiling of the latest tech gadget. But that should not have come as too much of a surprise; though some were certainly excited to test out the much-anticipated Galaxy S6 edge+ and Galaxy Note5, many were there for the event's more stylish attraction.
Gliding through the packed room in a nude dress, Aquazzura heels and sleek brown ponytail was likely one of the more fashionable people to have ever attended a tech product launch: Bella Hadid, up-and-coming model and younger sister of W September cover girl Gigi Hadid. Glittering Samsung smartphone in hand, Ms. Hadid drifted quietly throughout the room, occasionally pausing to pose for photos or take a selfie on her own personal device.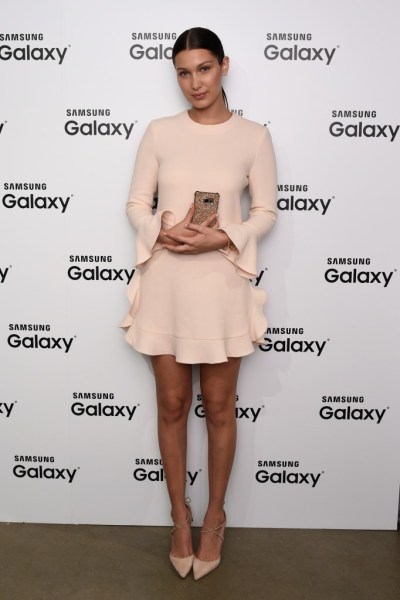 But Ms. Hadid was not merely there to experiment with the Galaxy S6 edge+'s admittedly terrifying selfie-taking features. She is also the cover model for Samsung's fall launch lookbook, a collection of editorial spreads shot by Steven Klein, advertising the tech giant's new products. Chinese model Xiao Wen Ju also modeled for the lookbook.
"I haven't seen many tech companies create a campaign that's this fashion-forward, so I loved being a part of it and bringing fashion and technology together in such a unique way!" Ms. Hadid said in a statement.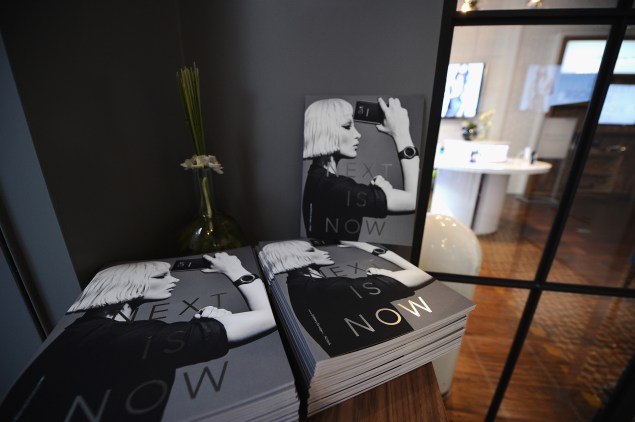 The lookbook is part of Samsung's ongoing mission to successfully blend fashion and technology, which has never been an easy feat. For proof, look no further than Google's ill-fated Glass—a project that not even a collaboration with DVF could make cool. Then there was the MICA bracelet developed by Intel and Opening Ceremony—a $500 piece of wearable jewelry that has Yelp and not much else.
The photos of Ms. Hadid, the press release said, are a continuation of Samsung's "long history of bringing fashion and technology together through innovative collaborations and fashion-forward technology. Instead of boots, hats and scarves, perhaps fancy smartphones are actually fall's must-have fashion accessory.