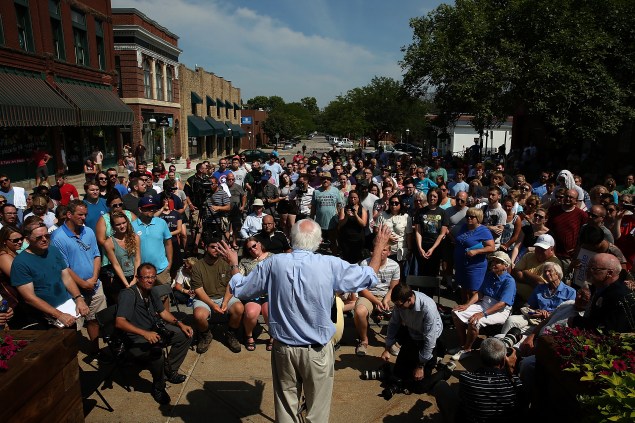 As of today, Vermont Senator Bernie Sanders has surpassed Hillary Clinton here in New Hampshire polling, 44 to 37. In the heat of August he is pulling crowds of 28,000 in Los Angeles and up to 30,000 in Oregon. Wait till school starts. He will be over 100,000 to college crowds by Thanksgiving. Then he will be declared by the Establishment, left and right, to be Emmanuel Goldstein, the singular "enemy of the people" of George Orwell's classic 1984. By then it will be too late. Bernie will have conquered America and will be on a Long March to conquer the world.
And what a world it will be by then; a world without Hillary or Thomas Jefferson. It will take a while to get our bearings. Without the personal and generational Clinton culture, we start fresh in our millennium. And the Bushes will go with them, historical anomalies likewise, holding us back, irrelevant to our times, product of fearfulness of new awakenings, fearful of what lies ahead.
The departure of the Clintons cannot be called this time "a vast right wing conspiracy" but I have heard rumors of conspiracy among Democrats who might be considered American patriots, who have, through all legal and Constitutional processes, indeed schemed to get rid of them. They are corrupt. They are shameless and scheming. They always have been. But classically, those who rise in the middle of a historic period—Clintons and Bushes in our time—do not survive to the end game and the new beginnings.
Every revolution needs its own printing press and this group and Bernie have one; Facebook (META) and its 1.49 billion monthly active users who reach well around the world. As will Bernie.
And we are there now, near the end and almost at the beginning. The rising paradigm fully born for the first time in our millennium appears to be a classical contrast between Bernie Sanders, Vermont socialist, fueling untamed youth on the left, and Carly Fiorina, former CEO of Hewlett-Packard, who has jumped her place in the Republican lineup to 2016 in less than a week, from the tail end at around 17th, to fifth.
That Democrats everywhere are dropping the name of their timeless Jefferson-Jackson dinner is a surprise, but should be expected with the new generation rising to Bernie. Mr. Jefferson never had a chance in America anyway and he knew it. It was always Alexander Hamilton's world.
We were never, since the Ohio presidents run between the Civil War and World War I, a nation of regions and motley republics as Mr. Jefferson proposed, the states "laboratories of democracy" as U.S. Supreme Court Justice Louis Brandeis suggested, and former Texas governor Rick Perry loves to quote. We are and have become instead a nation of ethnic and political tribes. And read today Tim Weiner's "One Man Against the World," on the "tragedy of Richard Nixon" and the age of the Vietnam war. Try to find Mr. Jefferson there. Ask instead today with Nine Inch Nails, "What have I become?"
Our world is not Mr. Jefferson's or Mr. Jackson's or even Hillary's and Jeb's anymore. It is "Lil B"s and Ellen's and that is not a bad thing. Because now we start again from scratch and everybody is included.
Ask Millennials this: Who speaks to them? Mr. Jefferson with his vision of mature rural states and republics? Mr. Hamilton and his vision of central planning and world economy? Or this manifesto, co-composed by John and Yoko of The Dakota, said to have been inspired by a Christian prayer book: "Imagine there's no countries . . . And no religion too." Surely the last. Millennials today are engrossed by the recent world competition of DotA and its 18 million dollar pot, they read the master Neil Gaiman and they vote for Bernie. There's is a world without walls, a world that we created or maybe a world that created us.
A contest between Mr. Sanders and Ms. Fiorina would bring together a rising world generation that feels as much at home on the beaches and sanghas of Thailand as it does climbing walls in Red Rock Canyon or in Brooklyn. Every revolution needs its own printing press and this group and Bernie have one; Facebook and its 1.49 billion monthly active users who reach well around the world. As will Bernie.
Ms. Fiorina, whose character rose to focus in the first debate and brought to mind the organizational old school of men like George Marshall and Dwight Eisenhower, will surprise. Marshall and Eisenhower without the war. And she will bring against Mr. Sanders the Lost Cause that is Jefferson.
It may seem a reach, but this contest brings to my mind the ideals of Chiang Kai shek, Americanized and Christianized leader of the Republic of China, running opposed to Mao Zedong, founding father of the People's Republic of China. Mr. Sanders may bring us a new, upgraded, universalized modification and synthesis of Trotsky, Lenin and Marx; a Millennialist vision of the One World, the New Man, the New Age. Brought to my mind because like China in 1949, we today lurch forward without tradition, without roots, without bearings.
That may not be a bad thing. It is actually kind of Tolstoyan. But maybe it is. Beginning in 2016 we will begin to find out.