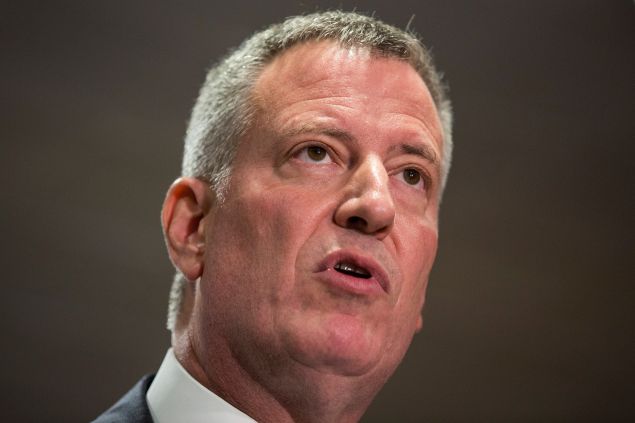 Mayor Bill de Blasio said in a radio interview today that he agreed that wealthy interests are driving negative news coverage of his administration, but argued New Yorkers would not allow that to impact their vote come 2017.
Speaking to host Ebro Darden on Hot 97 Radio this morning, Mr. de Blasio said he concurred with Mr. Darden's assessment that "there are people with a lot of money that don't want to see you get re-elected because you're for the common man." The mayor touted his universal prekindergarten program, afterschool programs for junior high school students, affordable housing construction, reduced stops and frisks by police and the lower overall crime rate—despite a summer spike in gang violence.
"I think you're right, that there is always misinformation," Mr. de Blasio said, adding that he was not worried about headlines trumpeting everything from increased shootings to rampant homelessness to nearly-naked women in Times Square affecting his re-election chances. "I think the people are smart. I don't think they're buying the hype. I think if they see things changing in their own lives, that's how you are polled."
Mr. de Blasio, who has not held town halls like his predecessors did, argued he was making direct contact with the populace. He offered no details on how or when he was doing this, but in the past has said he regularly speaks with people in his old Brooklyn neighborhood of Park Slope, and at the various local events he occasionally stops by.
"I've got to get out there and be with people, which is what I've always believed in, being in communities and talking to people directly," the mayor said. "This is what I say, look: my job is not to get lost in the noise, and to do the work and to produce things that change people's lives."
"These are big changes in people's lives. My job is to go out there talking to people about it, and make sure they're getting what they deserve," he continued.
Mr. de Blasio's poll numbers have steadily slid since he entered office, with a Quinnipiac poll finding earlier this month that 44 percent of New Yorkers disapprove of his job performance—an all time high. However, some have suggested such polls fail to take in a representative sample of registered Democrats.