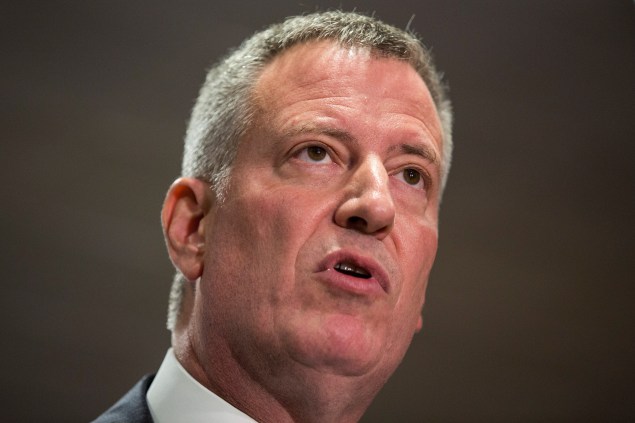 He may have the worst net approval rating of his career, but Mayor Bill de Blasio isn't sweating a bad poll.
The liberal mayor, a former political operative, said he doesn't pay attention to the fact that 44 percent of voters disapprove of his job performance, according to a Quinnipiac University poll released yesterday.
"Public opinion polls are not what I'm focused on," he told reporters at an unrelated press conference at City Hall.
He ticked off a few things he was focused on, like the $22 million mental health initiative he announced today and his commitment to building affordable housing. But it will take more to please voters, according to the poll.
For the first time, the same percentage of voters disapprove and approve of Mr. de Blasio's performance. 47 percent of voters believe he does not deserve re-election, compared to 41 percent that do. (A majority Democrats still want Mr. de Blasio re-elected, while almost all Republicans polled want him out of office.)
While Mr. de Blasio maintains he does not focus on polls, City Hall is plenty poll conscious. After the Quinnipiac poll was released yesterday, the de Blasio administration was quick to point out his standing was probably damaged by an onslaught of negative advertising from Uber, the e-hail giant. They also guided reporters to positives in the poll, like his strong standing among Democrats.
"What matters are results: crime is down 6 percent from last year's record lows, more affordable housing is being built than at any time in the past forty years, and the city has added more than 150,000 jobs since the mayor took office," said Wiley Norvell, a spokesman for Mr. de Blasio.