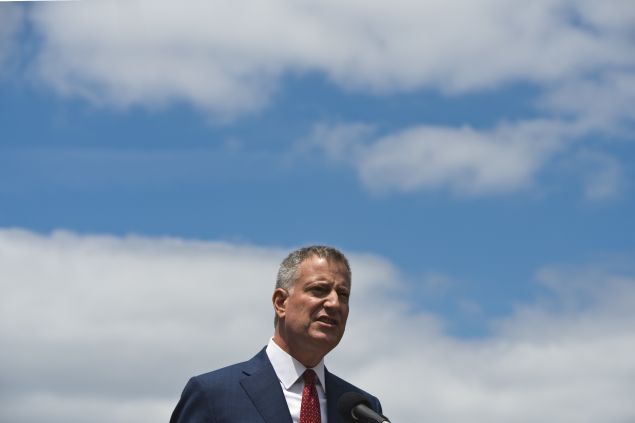 Ruben Diaz Jr. Hakeem Jeffries. Letitia James. Eva Moskowitz. Scott Stringer. Eric Adams. Don Peebles.
The list of Democrats mulling a challenge to Mayor Bill de Blasio is almost as long as the lines outside of Shake Shack. But Mr. de Blasio had a message for all of them today: bring it on.
"Look, lots of names are being bandied about," Mr. de Blasio said at an unrelated press conference in Queens today. "I'm gonna run on the issues and anyone who wants to run against me, God bless 'em and I'd like to see what they want to put up in comparison to that in terms of record of achievement on behalf of the people of this city. So, come one, come all."
In a rare move, Mr. de Blasio discussed at length the persistent rumors that multiple prominent Democrats are considering a primary against him in 2017. Mr. de Blasio has endured a series of setbacks and slip-ups during the past few months, including a bruising public relations war with Uber. His approval ratings continue to sag.
Ms. James, the public advocate and a Democrat thought to be an ally of the mayor's, refused to shoot down a report in Business Insider that she was considering a primary challenge. Mr. Diaz, the popular Bronx borough president, has not ruled anything out. Ditto Mr. Stringer, who makes a habit of publicly tweaking Mr. de Blasio and his agencies whenever he can.
Mr. Peebles, a millionaire businessman and donor to Mr. de Blasio's mayoral campaign, told the New York Post he thought Mr. de Blasio was "anti-wealth" and said he could self-finance a primary challenge. Ms. Moskowitz, the founder of Success Academy Charter Schools, did not dismiss rumors last year that she was also thinking about taking on Mr. de Blasio, her old rival from their City Council days. Mr. Adams, the Brooklyn borough president, has been candid about his own mayoral ambitions; only Mr. Jeffries, a Brooklyn congressman and consistent de Blasio critic, has said definitively he is not running for mayor in 2017.
But Mr. de Blasio, appearing a tad more combative this afternoon, gave reporters a glimpse into his own 2017 playbook, outlining all the first term accomplishment he would seek to emphasize.
"I'm going to run on a message that we created affordable housing, that we improved test scores in our schools, created pre-K and after school programs on an unprecedented level, reduced crime, reduced stop-and-frisk, created municipal ID's now close to a half a million people have them," Mr. de Blasio said.
Though some pundits have characterized Mr. de Blasio as a weak incumbent, he would still be heavily favored in any head-to-head match-up. His name recognition, ability to fundraise and support from influential labor unions would dwarf any rival's, and may ultimately dissuade any prominent Democrat from trying to unseat him. A crowded field of challengers would also be to his advantage.
Mr. de Blasio warned his elected official rivals against taking any move against him that could seem overtly political. "I think if it does start to change people's behavior, they should be careful because in the end the public is very discerning and obviously understands that people are doing things for the right reasons or not."
Mr. de Blasio also wasn't surprised that so many people want his gig.
"People with certain jobs typically look at the job above them and think about it. That's hardly new in human history. So that doesn't surprise me at all," he said. "It's part of the woodwork."