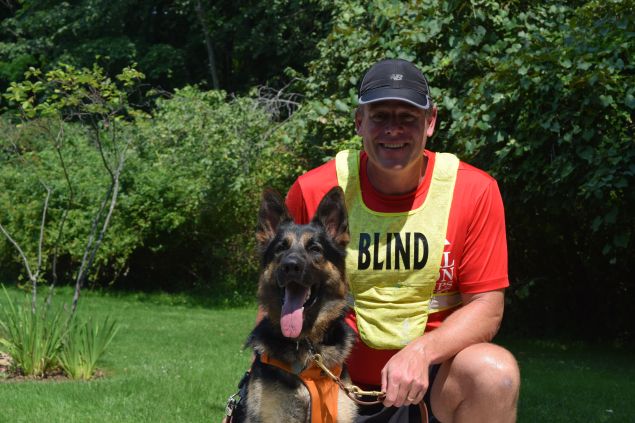 There was something extra special about one of the pups who graduated from a New York State guide dog school on Saturday. That's not to say all of the four-legged graduates at Guiding Eyes for the Blind, a nonprofit that provides guide dogs to people with vision loss and children with autism, aren't remarkable. But one of them, an energetic two-year-old German Shepherd named Klinger, is about to make history.
As far as Guiding Eyes is aware, Klinger is the country's first guide dog specifically trained to run with a blind athlete. After six months of training—including 200 miles of running practice—Klinger is now ready to go home with 48-year-old Richard Hunter, a legally blind former marine who runs marathons, ultra-marathons and Ironman triathlons. Besides helping Mr. Hunter with everyday activities like grocery shopping, Starbucks trips and taking his kids to school, Klinger will also guide his new owner on running routes around Mr. Hunter's home near Sacramento.
Mr. Hunter, who suffers from the degenerative eye condition Retinitis Pigmentosa, recalled the first time he and his soon-to-be guide dog ran on a bike path in Yorktown Heights, where Guiding Eyes is headquartered. Already having trained extensively with the nonprofit's staff, Klinger was able to smoothly guide Mr. Hunter away from various obstacles, including an oncoming bicycle.
"It was amazing," Mr. Hunter told the Observer over the phone. "I'd been anticipating it for so long. I was thinking, 'Oh my gosh, this is working. This is happening.'"
If his words sound tinged with disbelief, it's because guide dog schools have historically declined to train pups specifically for jogging. Some, according to Mr. Hunter, worry that if dogs are moving at a faster speed, they won't be able to react to sudden obstacles as quickly. Others fear the the running might hurt the dog's feet. This doesn't stop blind and visually impaired people from running with their guide dogs—it just means they're doing it without the dogs having been properly trained.
In lieu of guide dogs, some blind athletes run with sighted guides as partners. (Mr. Hunter is the founder of United in Stride, an organization that pairs blind and visually impaired runners with sighted guides.) Others choose not to exercise at all, because they can't find a consistent way to do so safely.
Guiding Eyes for the Blind embarked on this ground-breaking mission after Mr. Hunter ran into CEO Thomas Panek at the 2014 Boston Marathon.
Nine months prior, Mr. Hunter had nearly been killed when he was hit by a car while training on a tandem bike for the Lake Tahoe Ironman. The harrowing incident was an "exclamation point" on Mr. Hunter's need to be able to train safely. Though Mr. Hunter often runs with sighted guides, that day at the Boston Marathon, he put another possibility by Mr. Panek: jogging with a trained guide dog.
"I just need more ability to get out and run safely," Mr. Hunter said.
After some deliberation with the Guiding Eyes team, the program was a go.
Guiding Eyes' trainers selected Klinger because he genuinely loved running. "He's very excited when he sees his running clothes," trainer Jolene Hollister told the Observer, referring to the lightweight harness Klinger wears for jogging.
Ms. Hollister started training Klinger with one-mile runs, then built his stamina up to a 5k. Now, he's able to run a 10k at a nine-minute mile pace, three days a week. Ms. Hollister, who has vision, wore a blindfold to ensure that running with Klinger would be safe for Mr. Hunter.
Eventually, Mr. Hunter flew out from California to meet Klinger for himself, and the two became fast friends. They day we spoke, the pair had been doing some training in Central Park, and now a tired Klinger was napping at Mr. Hunter's feet.
Now that Klinger has finished guide dog school, he and Mr. Hunter will go home to California. "Klinger will be my training partner for shorter, slower runs," Mr. Hunter said. For the rest of his marathon training, he'll still use sighted guides.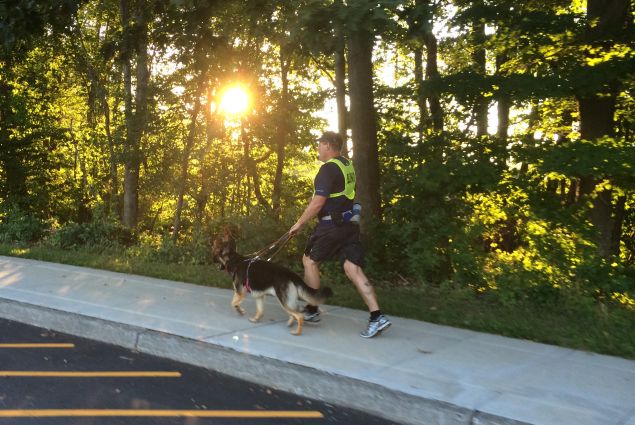 Running with Klinger will still take some getting used to. Mr. Hunter refers to the process as "vector running," for the way he Klinger guides him safely between one obstacle and the next.
"I'll say, 'Klinger, to the curb!' and he'll run to the curb. Then I'll say, 'Let's go,' and he'll go to the next curb, and stop to tell me where it is," Mr. Hunter explained. "If I'm with a normal running guide, they're talking to me verbally. Running safely with a guide dog, it's going to take a little bit of patterning."
If Klinger's training holds up back in California, he could become the first of many dogs trained to lead blind and visually impaired runners.
"As their story continues, we will evaluate how this team is doing, informing our work moving forward," Mr. Panek said. "We are hopeful their story will be the first of many success stories that inspire runners with vision loss to achieve their goals and do more than they may have thought possible."