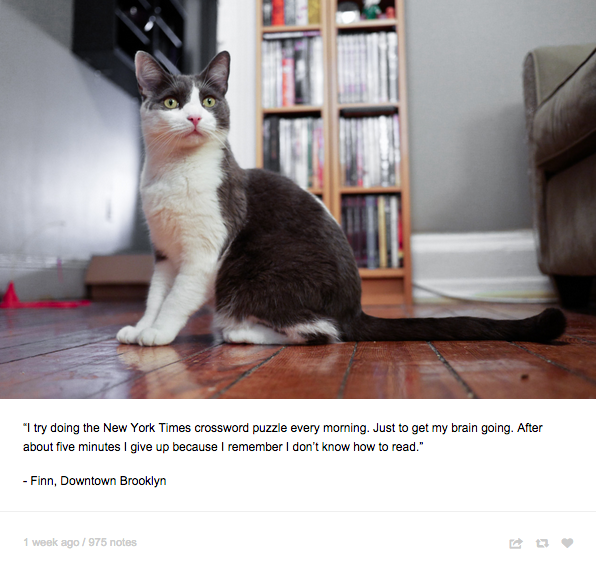 New York's resident cat lovers can find solace in a blog that's been gaining popularity this year.
"Felines of New York" began a few months ago as a Tumblr documenting the secret lives of the city's cats and has since spun off into a substantial project. Now, FONY has thousands of followers on
Instagram and Twitter as well and is even in the midst of becoming a book. The paperback—set to come out in November—is currently available for pre-order on Amazon.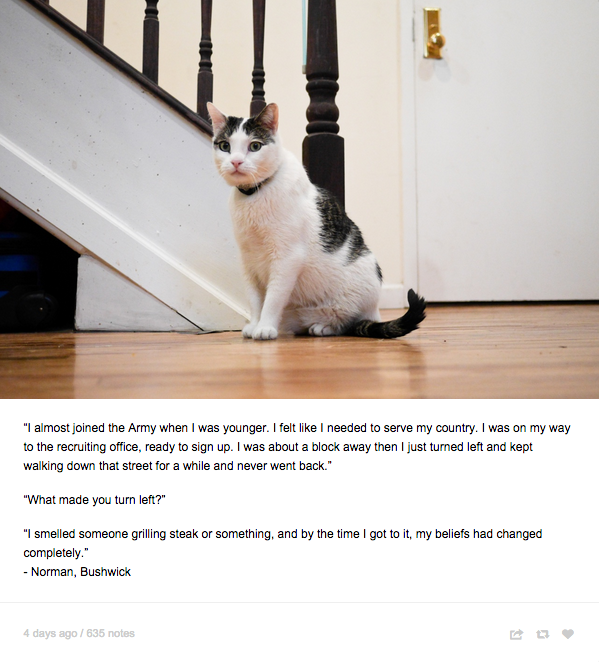 FONY is run by comic Jim Tews. He recently told MTV that he was inspired by the mega popular "Humans of New York."
"I like that site a lot, but sometimes it takes itself too seriously. It's funny to think about trying to get a touching, human story from a cat," he said.
It seems people love the concept behind the popular HONY blog but want something a little more light-hearted. Connor Toole and Alec MacDonald, the Elite Daily humor writers behind the satirical "Millennials of New York," were inspired by it as well but said they wanted something "a little less inspirational."
Mr. Tews said he opted for cats rather than dogs because they feel a little more aloof.
"Have you ever tried to take a picture of a dog? As soon as you squat down, they run over to you. It's way easier to photo an animal who's trying to ignore you," he told MTV, adding that cats seem to take themselves very seriously.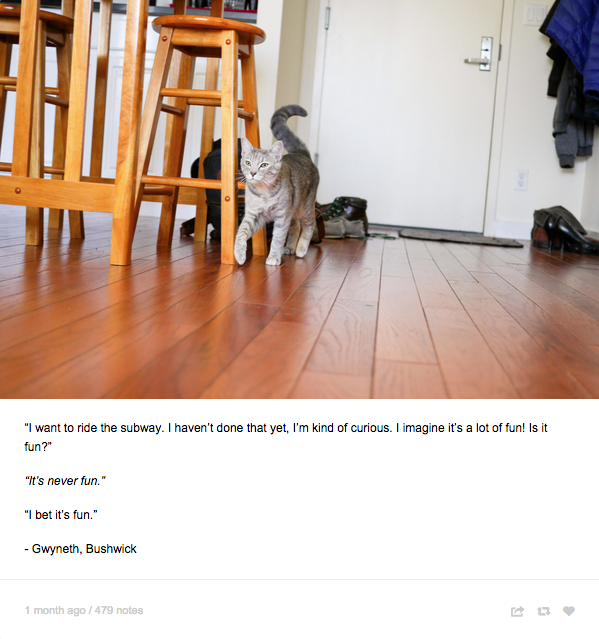 Cats from all of the different boroughs have been featured, but the majority are Brooklyn residents. At first, most of the photo subjects belonged to Mr. Tew's friends or friends of friend's, but he's since posted an open call for cat models on his social media platforms.
"If you live in NYC, have cats, and are willing to let a strange photographer into your home for a few minutes, please follow this link and fill out the form completely," he wrote on Tumblr.
The book will feature favorite cats from the blog and a bunch of new ones as well—100 in total.