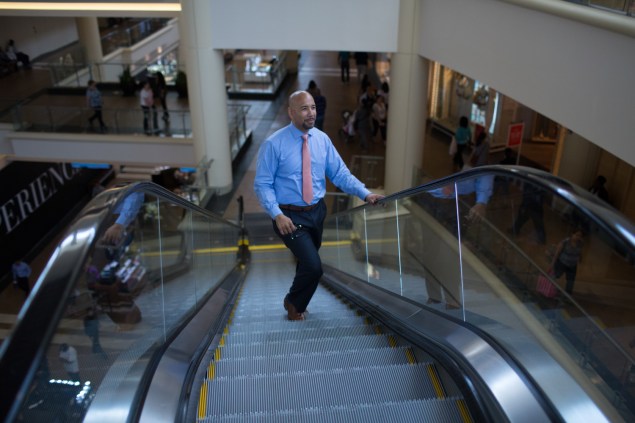 Some 400 finance and real estate honchos recently filled the Villa Barone Manor in the Throggs Neck neighborhood of the Bronx for the 17th annual "Bankers Breakfast." While the keynote speaker for the event was William Dudley, president and CEO of the Federal Reserve Bank of New York, the headliner was really the effusive 42-year-old emcee: Bronx Borough President Ruben Díaz Jr.
Tall and handsome, an obsessive weightlifter and basketball player (though a recent knee injury may sideline him for the foreseeable future), the borough president is not the most polished speaker: he sometimes stumbles over his words, makes odd pauses and grammatical errors. What seemed to captivate the crowd, got them to echo his exuberant "Buenos días," was the unbridled enthusiasm behind his delivery.
"This is our moment!" he boomed. "This is the time now where we show the world, not only do the negative stereotypes of the past for the Bronx don't apply any more, but we are progressing and we're going to show everyone else how it's done!"
Though just a few exits on the Cross-Bronx Expressway away, the scene seemed far from Soundview, the hardscrabble neighborhood where Mr. Díaz grew up, where he bounced on mattresses piled in empty lots and played with wheatpaste he used to help plaster the neighborhood over in posters for his father's many political campaigns.
Since the younger Mr. Díaz entered Borough Hall in 2009, the Bronx—long a byword for urban decay—has added about 15,000 jobs and almost 17,000 new apartments. Crime is at the lowest levels since the 1960s. Mr. Díaz is not shy about asserting where the credit belongs: "In the past, if we were being shortchanged and we were being overlooked here in the Bronx, it was just because our politics just wasn't as strong as it should have been."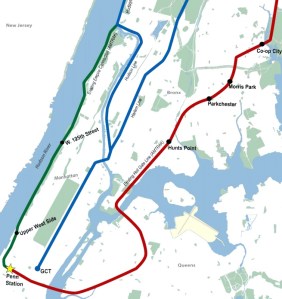 "Politics is all about relationships," Mr. Díaz later told the Observer from the front seat of his official black Chevy Tahoe SUV, and the borough president has plenty: with the Bronx political machine he oversees, with legislative leaders, with Gov. Andrew Cuomo and with developers who share his vision for a reborn Bronx. Those relationships have proved fruitful. Mr. Díaz is now the linchpin of a political alliance behind a $1 billion project with potential to transform the borough—four new Metro North stations running down its eastern corridor, estimated to bring in as many as 5,400 jobs and raise property values by almost $150,000—and perhaps catapult Mr. Díaz Jr. into Gracie Mansion.
Mr. Díaz's most important relationship may be with the man who spoke at the Bankers Breakfast immediately after him: new Assembly Speaker Carl Heastie, another Bronx native. There has been no vote yet on the MTA capital plan, which includes the funds for the new stations, and Mr. Heastie's perch will likely prove crucial in preserving the money through future negotiations.
The speaker promised more pork to come.
"When the borough president and other elected officials from the Bronx start to give us this laundry list of things that they want, instead of us always having to wonder how we were going to figure out to get it, I just call up the [borough] president and say, 'Mr. President, if that's what you want, you got it,' " Mr. Heastie said.
"In the past, if we were being shortchanged and we were being overlooked here in the Bronx, it was just because our politics just wasn't as strong as it should have been."
Mr. Díaz and Mr. Heastie served in the Assembly together for nine years. They sat next to each other in session in Albany, had adjacent offices, attended movies together every Monday and played basketball on Tuesdays.
"Some would call them the generation that grew up on hip-hop They have a sense of what the city was like then and what it's becoming," said former Bronx Assemblyman Michael Benjamin, who served with both men.
In 2008, Mr. Benjamin joined Mr. Díaz and Mr. Heastie in a political insurgency dubbed the "Rainbow Rebels," which overthrew then-Bronx Democratic machine boss Jose Rivera and installed Mr. Heastie in his place. When Mr. Heastie stepped down as party chairman upon replacing indicted ex-Speaker Sheldon Silver earlier this year, his successor was Assemblyman Marcos Crespo, a former intern in Mr. Díaz's office who took over his seat in the State Legislature.
A jaunt across the borough in the Tahoe from Villa Barone Manor brought Mr. Díaz to a press conference with another of his former Assembly colleagues, Bronx State Senator Jeffrey Klein. The event marked the construction of a $12 million pedestrian bridge over the Major Deegan Expressway.
Such infrastructure investments are possible despite Republican control of the State Senate thanks to Mr. Klein, who has served as the body's co-leader since his five-member Independent Democratic Conference entered into a power-sharing arrangement with the GOP in 2012.
Mr. Díaz, a veteran of the Assembly's transportation committee, collaborated with the senator to produce a report on the potential benefits of the Metro North expansion in 2013, and the borough president said he pitched the idea to the governor. Mr. Cuomo allocated money for it in his executive budget this year.
Construction of the stations is scheduled to wrap up around 2021, when Mr. Díaz would be ending his presumptive third term in Borough Hall, and likely looking toward his next office.
"We're the new Bronx. We've seen a renaissance," Mr. Klein declared at the press conference. "And one of the people I think most responsible for this renaissance … is our outstanding borough president." Once unimaginable facilities have blossomed in the "new Bronx," including a $269 million golf course, the 2.2-million-square-foot Bay Plaza retail development with a just-opened indoor mall and the sprawling 42-acre Hutchinson Metro Center office complex and its new 125-room Marriot Residence Inn. Mr. Díaz insisted on visiting them all.
He makes for a tireless tour guide—constantly pointing out the Tahoe's window, his glossy shaved head nodding excitedly as he notes top-rated restaurants, areas he has successfully pushed to rezone for new development, parks that he and his colleagues have refurbished from the overgrown wastelands of his youth.
Mr. Díaz described the Soundview of his childhood in one word: "tough." Remembering his role as "ambassador for the block"—that is, the corner of St. Lawrence and Gleason Avenues—Mr. Díaz told the Observer it was clear he was always meant to be a politician.
"If you sort of looked kind of out of place, let's just say I was the sort of representative to inquire why you were there," he recalled, laughing. "So I don't have any problem going up to a stranger and saying, 'Hi. I'm Ruben. What's your name, what brings you here?'"
***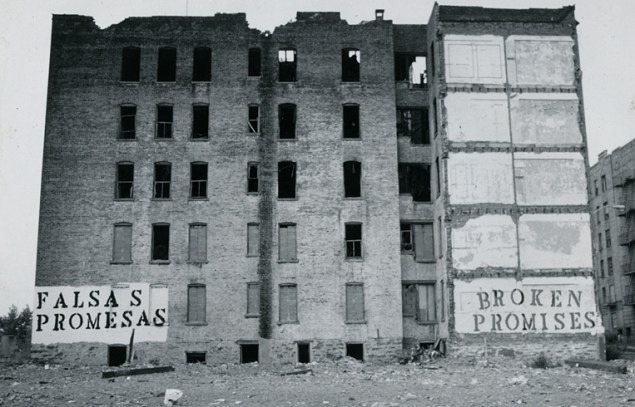 Nowadays, though, Mr. Díaz rarely needs to introduce himself.
"Mr. President!" "Hey, Ruben!" "Yo, Ru!" The shout-outs come on the street, at the mall, from people who spot him while his car is stopped at a light.
Borough presidents are typically viewed as figureheads. But a well-connected "beep" can still be a tremendous ally to developers trying to usher a project through the city's arcane Uniform Land Use Review Procedure. The borough president handpicks half the members of the local community board that first reviews a proposed project, submits his own letter of recommendation on the development and has a representative on the City Planning Commission, which subsequently considers the new construction.
The City Council has the final say on any zoning change or public land disposition, but it usually defers to the wishes of the local councilman—which is where Mr. Díaz's power in the County machine becomes crucial to a developer.
"If you conduct yourself in a certain way, if [real estate interests] know they can count on you, that you're a friend—or that, you know, it's not a good thing to have you against them—then everybody is willing to work, is prepared to work with you," Mr. Díaz said.
The borough president has cultivated an image as a pro-business Democrat and forged close relationships with Hutch Metro Center developer Joseph Simone and Prestige Properties' Sam Shalem. Yet shortly after taking office in 2009, he led the bid to stop Related Companies' effort to convert the hull of the Kingsbridge Armory into a mall, a plan that had the backing of then-Mayor Michael Bloomberg.
Mr. Díaz insisted that, as a subsidized project, the mall's future vendors should be obligated to pay at least $10 an hour to workers. Related balked at the proposal, and a public battle ensued, with mall supporters painting the borough president in the press as anti-progress.
"They had all their friends in the media come after me. And now we don't have a relationship," Mr. Díaz acknowledged—though he quickly struck a conciliatory note. "I'm open to having one in the future."
Related did not respond to calls for comment.
Mr. Díaz did not make the same demand of Prestige Properties during the planning of the mall at Bay Plaza—which he justified by pointing out that the Northern Bronx development received no public money—but asked that stores there hire locals.
To that end, Mr. Cuomo deployed his "Unemployment Strikeforce" to run jobs fairs for the project. The governor even put out a press release when the mall opened, urging shoppers to visit. Even as many Democratic leaders have butted heads with Mr. Cuomo of late, he and Mr. Díaz, who sat on the governor's 2010 transition team and co-chaired his 2014 re-election campaign, remain close.
The borough president said he bonded with Mr. Cuomo when the future governor met with him while campaigning for attorney general in 2006.
"We hit it off. What was supposed to be a half-an-hour, 45-minute lunch, we hung out, just the two of us, for almost two hours," Mr. Díaz recalled.
The topic of conversation? Emerging from the shadow of a larger-than-life father.
***
Mr. Díaz's father, an ordained minister born in Bayamón, Puerto Rico, was elected to State Senate in 2002 after a short stint in the Council—but, for two decades before that, Rev. Ruben Diaz Sr. was an incessant nuisance to the Bronx political machine, a "gadfly," as the borough president called him.
It was his father ("Papi") who gave Mr. Díaz his start in politics in 1994, by letting him run on his slate for the unpaid party position of district leader, back when "Rubencito" was just a 21-year-old with a
newborn son, no college degree and a $300-a-week job as a messenger for the City Council. (He later completed his degree at Lehman College, his father's alma mater.)
The socially conservative senator, who is reviled by many on the left, is today known for his hardline stances against homosexuality and abortion—positions his son has had to denounce, especially since publicly backing gay marriage in 2013. The list of his father's outrageous statements is long—stem cell research, for instance, was akin to "Hitler using the ashes of the Jews to make bars of soap."
Sharing the same name, the father-son bond might be the one relationship that will haunt Mr. Díaz as he steps up onto the citywide stage.
"That's what people say, that my positions will hurt my son," the senator told the Observer. "My shadow will be over him."
Some in the LGBT community disagree.
"I can only control what I say or do, the borough president can only control what he says or does. And to hold someone accountable for someone else's behavior is unfair, is inherently unfair," Bronx Councilman Ritchie Torres, an openly gay man who has at times defied the County machine, told the Observer. "I doubt there's going to be a liability."
The borough president is coy when talking about running for future office—"we'll see what happens"—but it is an open secret that he hopes to run for mayor in 2021, the same year that his presumptive third term in Borough Hall will end.
He will not be the first Bronx politician to aim to become the city's first Hispanic mayor.
(The last mayor produced by the Bronx machine was Joseph V. McKee, an ex-schoolteacher and assemblyman who served just 121 days in office after former Mayor James Walker resigned amid a corruption scandal in 1932. Late former Mayor Ed Koch was born in the Bronx, but his political career grew out of the Greenwich Village).
In 2001, Fernando Ferrer lost a racially contentious Democratic primary to then-Public Advocate Mark Green. In 2005, Mr. Ferrer tried again and won the Democratic nomination only to, in Mr. Benjamin's words, "run into the buzzsaw of Bloomberg's millions."
Mr. Ferrer's successor, Adolfo Carrion, also seemed a promising prospect. But in 2009 he took a job in the federal Department of Housing and Urban Development, before returning to New York in 2013 to make a lackluster bid for mayor on the Independence Party line.
But Mr. Ferrer's Bronx still bore the stigma of urban decay, while Mr. Carrion simply blundered. Mr. Díaz's Bronx is burgeoning, which former Bronx Democratic boss Roberto Ramirez suggested would prove crucial when making an appeal to the "economic engine"—Manhattan. Bridging the river has always been the chief challenge for outer-borough elected officials looking to win the mayoralty, especially for those from the Bronx, he said.
"This is about the person who has the ability to articulate a vision to the City of New York. That person will be the mayor," said Mr. Ramirez, now partner in the MirRam Group consulting firm, which also has ties to Council Speaker Melissa Mark-Viverito, who represents East Harlem and parts of the South Bronx. "The Bronx is ripe. The Bronx with the speaker to the New York State Assembly. The Bronx with the speaker to the City Council, the Bronx with a very charismatic borough president, the Bronx is ripe to have someone reach that highest level office."
Mr. Ramirez added that Mr. Díaz would have a strong shot even if Ms. Mark-Viverito, the only other Latino politician in the city with a comparably high profile, ran in 2021.
Angelo Falcon, co-founder of the National Institute for Latino Policy, argued that Ms. Mark-Viverito's close relationship with Mr. de Blasio would inhibit her ability to articulate an independent vision for the city, and that fatigue with the present regime would likely drag on her candidacy—despite her efforts to play up her differences with the mayor, most recently over the attempt to regulate Uber.
"The Bronx is ripe. The Bronx with the speaker to the New York State Assembly. The Bronx with the speaker to the City Council, the Bronx with a very charismatic borough president, the Bronx is ripe to have someone reach that highest level office."
"She's so tied to his administration, unless there's some major break down the road … it's going to be very hard to envision her as a candidate for [mayor]," he said.
Ms. Mark-Viverito, unlike Mr. Díaz, will be term-limited in 2017—which would leave her scrambling to stay in the spotlight if she wanted to aim at becoming mayor in 2021.
Mr. Díaz, on the other hand, Mr. Falcon deemed "a rising star" with a distinct identity.
"He's seen as a young man," he said. "A new voice in the community,"
Ms. Mark-Viverito told the Observer "nope" when asked last year if she hoped to replace Mr. de Blasio, though she would not be the first politician to change her mind.
***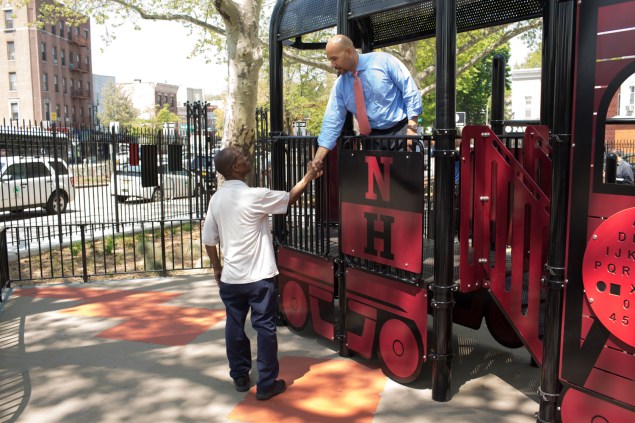 For now, Mr. Díaz's sights are on the Bronx: on the slated renewal of the waterfront in Port Morris, on the nine-rink ice skating center now coming to the Kingsbridge Armory, on the still-gritty streets of his native Soundview, where he makes his home even today.
"We're creating housing for Bronxites, we're creating jobs. That's the American Way, it's the way of New York City, it's the way of the Bronx," he told the Observer before his driver dropped him off at his co-op for the evening. "Why shouldn't we have all the things the other boroughs have? Why shouldn't we have them here?"
Please also read our profile of Patrolmen's Benevolent Association President Patrick Lynch.