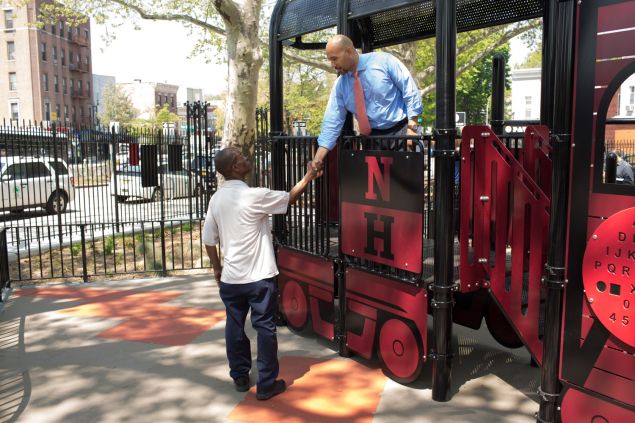 Bronx Borough President Ruben Diaz Jr. today lambasted NYCHA Chairwoman Shola Olatoye and her plan to put up new residential buildings on "under-utilized" NYCHA parcels in order to balance the authority's notoriously poor finances—with Mr. Diaz arguing that grassy, leafy spaces should be spared from any development.
The Bronx politician blasted out an email message this morning slamming Ms. Olatoye's proposals to rent or sell green spaces to developers to create a massive new revenue stream for NYCHA, which has suffered from decade of disinvestment. Such designs are at the heart of the NYCHA head's NextGeneration plan, which Mayor Bill de Blasio commissioned to deal with what he called "the worst financial crisis" in the authority's 81-year history, and to take the entity from hundred million dollar deficits to equally large surpluses.
"The tenants of NYCHA should not be treated like second-class citizens," Mr. Diaz said in the statement. "Despite the assertions of NYCHA Chair Shola Olatoye, these green spaces play a critical role in the everyday life of building tenants, especially children, and should be preserved. NYCHA's housing stock is already poorly maintained. Taking away light, air and green space from these tenants—taking away safe spaces where children play—would be an outrage."
Speaking to the Observer over the phone, Mr. Diaz noted he had supported and even put some of his office's capital funding to new development on public housing properties—usually referred to as "infill"—around the Bronx in the past. But he claimed none of those projects had used green space, which he argued is essential for healthy rest and recreation by NYCHA's oldest and youngest residents.
"That's where children go out and play, that's where seniors go out to sit and get fresh air," he said. "What's going to happen, we're going to take away sunlight and fresh air, and shrubbery and trees, and the ability to play near their home."
Ms. Olatoye's proposed program would use open space at the developments to construct 13,500 below-market-rate apartments—contributing to the mayor's ambitious affordable housing agenda—and 3,500 units for more upscale tenants. The Bronx borough president seemed to suggest that this plan would lead to untenable density and put incredible strain on public resources in the surrounding area.
"How many folks do we want to cram in?" he said, noting that more people would mean increased demand for police, fire, transportation, education and sanitation services. "There's a whole host of domino effects, a domino effect that would happen as a result of piling on where many of us think is already overcrowded."
It is unclear if a sustainable infill program would be feasible without sacrificing some grassy plots. The authority does possess 467 acres of parking lots at developments across the city, some of which have been converted to new housing in recent years, though in the past even suggesting a rate increase for spots has sparked outrage among tenants.
The authority's budget gaps have forced it to forego making repairs to buildings, and Ms. Olatoye inherited an $18 billion backlog in roof, brick and mortar, elevator and boiler work. NYCHA highlighted the extent of its shortfalls in a statement sent to the Observer, and emphasized its primary concern is compensating for years of lost federal and state funding and fixing up its infrastructure.
"Quality of life starts at home—an apartment free of mold, in a building that is clean and well-maintained, in a development that is safe, secure and connected to the community around it," a NYCHA spokesperson said. "We have to make tough choices and refocus on our primary responsibility of housing low-income New Yorkers. We owe that to our residents."
Mr. Diaz did not have specific proposals to make such an infill program that did eat any greenspace workable, but recommended a more piecemeal approach to idea, arguing that NYCHA must include both residents and local elected officials in the planning process.
"I think this should be a case-by-case scenario," he said. "We need to be deliberative about where we do this."
Ms. Olatoye has recently faced hostile receptions from public housing tenants, many angry about misconduct by their neighbors, long waits for repairs and poor clean-up and ground maintenance.
She has also become a target for political rivals of Mr. de Blasio. Comptroller Scott Stringer, one of the mayor's top critics in city government, has issued audit after audit of NYCHA attacking what his office argues is systemic dysfunction that began under previous administration but has continued under Ms. Olatoye—though the authority has disputed many of his findings.
In an exclusive story earlier this month, the Observer reported that Brooklyn Congressman Hakeem Jeffries' office hosted a meeting in July between a housing organization that has called for Ms. Olatoye's resignation and local politicians. Sources present at the meeting told the Observer that the organization, known as the Metro Industrial Areas Foundation, laid out a plan to dedicate all infill space at NYCHA to senior housing—which would undermine Ms. Olatoye's NextGeneration plans.
Mr. Jeffries is rumored to be considering a challenge to Mr. deBlasio in the 2017 Democratic primary. Mr. Diaz also has well-known ambitions toward Gracie Mansion, and sharply criticized the de Blasio administration's handling of the deadly Legionnaire's disease outbreak in his borough."
Updated to include comment from NYCHA.