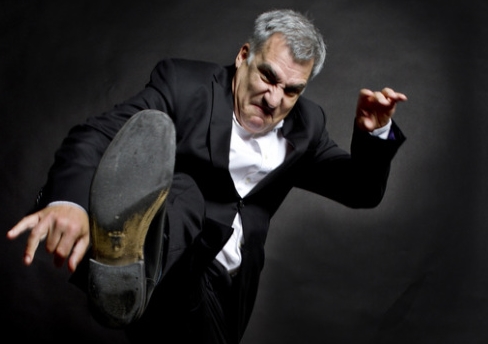 Lewis Schaffer was the barker for the Boston Comedy Club. It was his job to do whatever it took ­nag, nudge, and beg—to get customers into Boston, which no one would confuse with the relatively highbrow Caroline's or The Cellar, which was right around the corner. Boston was a dive, where fights broke out mid-set. If Lewis wasn't the city's best barker, he was certainly the most memorable. In addition to barking, Lewis worked the door and served as the club's emcee, a role he prospered at with his outrageous antics.
Lewis started barking at Pip's, the legendary Brooklyn venue, where Andrew Dice Clay made a name for himself. When Lewis hit the stage at Pip's, however, rowdies relentlessly taunted him, telling him he was gay. Eventually, Lewis embraced the heckling. "Lewis Schaffer!" he declared, as he pulled on the lapels of his signature blue blazer. "Not gay!" Delirium ensued, and that became his signature line. Lewis was on to something.
When Lewis took the Boston gig, he continued to play the sexuality card. Declaring himself to be the "Princess of Third Street," Lewis told anyone and everyone to "let the love flow" and that they were mmmdelicious in an alluring tone. Lewis raised his fist in salute and cooed "handsome black man." Among other peccadilloes, Lewis confessed that he had been evicted from his apartment because more than 40 percent of its contents were pornographic. He didn't specify exactly what kind of material. Intermittently through out his set, Lewis would always return to his signature line—regardless of how contradictory that might have seemed: "Lewis Schaffer,­ not gay!" he'd repeat like a parrot, provoking pandemonium at times.
No one, audiences and fellow comedians included, knew what to make of Lewis, whether he was a freak, fairy or fraud  or all of the aforementioned. It didn't matter. He had the hooligans howling, and he seemed to make everyone a little bit more open minded.
Lewis earned praise from The Hollywood Reporter, and he took his act to Australia for a tour. Perhaps it was only a matter of time before the world discovered the Princess of Third. It's not unprecedented for a comedy club door person to go on to bigger and better things. Sarah Silverman barked for Boston. Neal Brennan, who went on to co-create The Dave Chappelle Show, barked there as well. Chris Albrecht, once The Improv's door person (and later its manager), eventually produced genius at HBO. Sam Kinison and Marc Maron worked the door at LA's Comedy Store.
But while things did seem indeed promising for Lewis, his Boston's gig was unraveling. Lewis was pissing off a lot of comedians, not the easiest bunch to manage mind you, with his sometimes overbearing, mother-hen demeanor. Eventually, the talent turned on the Princess. Lewis says that Dave Chapelle and Jim Gaffigan tried to get him axed, and Louie CK took his conspicuous, annoying clip board and slammed it.
Amidst the uprising, Lewis resigned. "I was making people hate me because I was so involved there," says Lewis. "And I didn't want to bark for customers on the street any more. I wanted to be treated like a real comic, whatever that was, and leave the job without being fired, for once in my life."
And then, sadly, Third Street was without its Princess. Eventually, Boston closed its doors.
Ultimately, Lewis left the country for a new start in England. Hey, it worked for Bill Hicks, why not Lewis Schaffer. He married a woman, who was from there, and they had two boys. Lewis retired from comedy to take care of the kids. Alas, the Princess of Third got his fairy tale ending—and off into the sunset he went.
But, sadly, ultimately, Lewis only found darkness.
The love ceased flowing, and the marriage ended, leaving Lewis heartbroken and homesick. With his boys in the picture,
returning to the States wasn't an option. After four years away, Lewis returned to his first love, comedy. But making a comeback in this new, relatively strange land wasn't easy. When Lewis evaluated his act, he realized that he had less than ten minutes of material. Lewis needed an act. Fortunately, Lewis just had to be himself: The eccentric American abroad.
The Princess of Third eventually became the International Man of Misery.
As he was in the States, Lewis was fearless on stage. He over-shared with audiences and once again played the sexuality card, with, uh, some changes. "I'm proud to be gay because I wasn't born gay." declared Lewis. 'I've worked at being gay!" Lewis talked about his internal turmoil and confessed that he was rubbish, which the Brits appreciated, well, mostly. Lewis admits that he¹s unpredictable on stage, and that he can turn any room silent at any moment. While he doesn't always guarantee laughs, Lewis always delivers spectacle.
These days, Lewis regularly tours England, and he has a weekly show at the Leicester Square Theatre. Lewis also has a weekly radio show, replete with a catchy custom theme song.
Back in the States, fifteen years ago, Lewis just wanted to own a block. Now, he¹s trying to conquer a country. In addition to comedy, Lewis is organizing an annual parade and is trying to save ten acres of woods in his neighborhood, Nunhead. Alas, the love is flowing Lewis' way. "What I do is considered interesting," Lewis explains. "Failure is interesting."
Jon Hart is the author of Man versus Ball: One Ordinary Guy and His Extraordinary Sports Adventures.
Watch Lewis Schaffer perform
[youtube https://www.youtube.com/watch?v=Kz-COBZTMAQ]