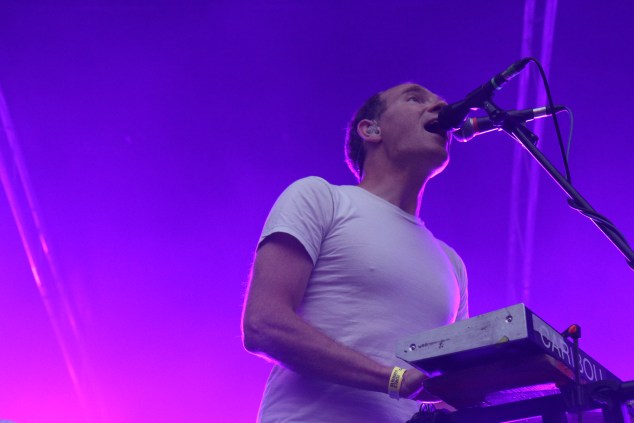 O hear me, chill children of the electronic dance! Lower the fists you pump into the night sky, remove the flower crown that has slipped over your ears, and listen: The record industry was doomed from the moment we discovered how to share music online, but in the early 2000s those smarmy marketing types transformed live shows into their strongest revenue stream. While recorded music was making less and less dough, the concert festival megalith grew ever larger. Inevitably, artists who never would have played live before took their music to county fairs and the Capital One Hippodrome™. Even this aging raver could observe the rate at which EDM crept over from Coachella's ever-expanding Sahara dance tent, out onto the manicured polo grounds and toward the main stage. Paragraphs from the L.A. Times on the enchanting, sacred geometry visuals of this DJ or that at Coachella were plentiful. "Forget the music," they went so far as to say! But such experience tourists were never really about the music in the first place, were they?
Last night wasn't a premiere or a revelation of Caribou's abilities—it was a victory lap.
Maybe live music can be both electronic AND real. A new breed of electronic acts have found that hiring a drummer and handing them a sampler is an efficient way to let sterile, sleek sounds feel warm and real again—SBTRKT, Odesza, Disclosure, et al.—so hey, don't be too hard on yourself for getting fooled. Just know that the king of all that noise is a musician from Canada named Dan Snaith, better known as Caribou. And he's on a whole other level from those click-track trustifarians.
Caribou first amazed this old fogey when he came through to the upstairs room of Cambridge Massachusetts club The Middle East. That was back in 2007, when Mr. Snaith was touring Caribou's Andorra album, loosely electronic music rich with the psychedelic AM radio sounds of crackling paisley. The bass guitar popped, and two drummers faced each other at slight angles, forming a percussive prism, while projection-mapped visuals spread over the band to transform Mr. Snaith's face. In effect, those visuals were his mask. In reality, this was not electronic music being fleshed out with some live instruments—this was live music that didn't shy away from the textural and dynamic strengths that electronic flourishes can provide. Caribou exercised the balance delicately. There was nobody on his level back then.
And there still isn't. You've got other electronic acts finding the groove by embracing guitars and taking on drummers who can actually play, like Tycho, but Mr. Snaith still stands in a world of his own. Any worries about Caribou's seeming descent into EDM with the club-ready vibe of last year's Our Love were for naught—pushing against Mr. Snaiths' looping synth samples and mechanized vocals is an intrinsic warmth, courtesy of Ryan Smith, Brad Weber and John Schmersal who fill out the drums, guitars and various sampled textures that underscore Caribou's thump. Whether Mr. Snaiths' dalliances into more dance-floor-friendly territory are an extension of his DJ side-project Daphni, a natural evolution of his sound, or his submitting to the sonic zeitgeist isn't quite clear. But either way, it's groovy and it's real.
We caught Caribou in the electronic purgatory of Webster Hall last November, and the new tunes were just as potent, just as palpable as the classics. Fast forward to last night, to the band's free SummerStage show at East River Park's amphitheater. Last night wasn't a premiere or a revelation of Caribou's abilities—it was a victory lap.
All the Our Love songs killed in that crowded space, a veritable fire hazard, with all the aisles and exits packed with adoring electro-hippies. "Back Home" is still this enfeebled dinosaur's favorite off the new album, that arpeggiated riff swelling into a baroque bridge before the drums rip into the sort of solo you'd expect from a veteran jazz musician.
Our Love's title track began the set, while single "Can't Do Without You" closed, each endlessly groovy and loop-laden. The latter was particularly impressive, with Mr. Snaith gradually generating each layer to stack on top of the previous ones. There was no cacophony or discord, only harmony. In such sublime, pristine moments, his doctorate in mathematics and his love of LSD seemed compatible.
During the outstretched jam of encore "Sun," young mothers danced with children on their shoulders and hipster maidens blew bubbles. We've come a long way as a culture from the music-themed camps at Burning Man. May more artists seek the elusive harmony between musicianship and dance music. In the meantime, we will continue to wiggle our asses, and not lose any brain cells in the process.