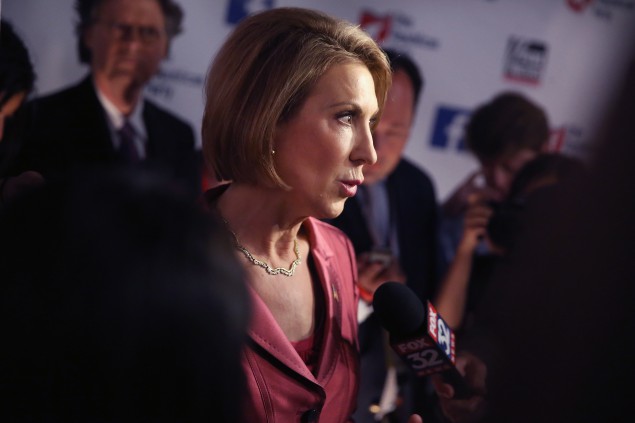 A reporter for the New York Times described the scene as fearful and exhilarating all at once. Even danger was possible as politicians, reporters and spin casters swirled together in the excitement, as if the river song of history was finding its time. And maybe it was. Those at the "children's table" were passed over. Even now, their names are drifting away. But one name stood out: Carly Fiorina. Her commentary on Israel and the Iran agreement exactly 40 minutes into the 5 o'clock debate brought a defining moment:
"On Day One in the Oval Office, I would make two phone calls. The first one would be to my good friend, Bibi Netanyahu, to reassure him we will stand with the State of Israel. The second will be to the supreme leader of Iran. He might not take my phone call, but he would get the message, and the message is this: Until you open every nuclear and every military facility to full, open, anytime, anywhere, for real inspections, we are going to make it as difficult as possible for you to move money around the global financial system."
Eloquent, impassioned and urbane, smart and brave without bluster, she showed herself to have the best presidential chops of any of the contenders not only in these two debates and in this presidential cycle, but in a long time coming.
She comes out of the shadows now and brings with her new thinking; the kind of thinking for which the night might be remembered; the rise of a distinctly Western conservatism and the rise of the CEO presidential candidate.
And just in the nick of time as in our times, the biggest questions arise; questions that will shake the world and our century. A CEO president may best be able to face these hurdles because from Priest River to the Rio Grande, trouble brews in the heartland. There is a disturbance in the Force. And most every issue the next president faces—abortion, immigration, gay marriage, executive privilege and much more—has a Constitutional component. But does not necessarily have a Constitutional solution. It puts legal constraints on a president from the legal and political establishment and creates discord. So maybe a CEO can figure something out.
The questions that arise today go to the core of our nation's being. What are states and regions to do when centralized government becomes the enemy of their most ancient and cherished moral and religious traditions?
Establishment politicians are paralyzed by these questions. They are bound and shackled by orthodoxy and tradition. Possibly the CEO can find answers outside the box.
This debate season might be recalled in time as the moment when conservatism busted out. It cast off the old coat, which impeded progress. The new conservative is CEO, business manager, man of enterprise. Or woman of enterprise, and Carly Fiorina, as former head of Hewlett-Packard, clearly manifests the archetype.
"I think we are in an age where people are looking for a non-politician," Craig Crawford, Communications Director for former Virginia senator Jim Webb, said this past week on The Alan Colmes Show. Even Democrats are catching on. They hope to entice Howard D. Schultz, chairman and CEO of Starbucks, to run for president.
"We can put America back on track on a growth level and a growth rate that we've never seen in the history of this country," former Texas governor Rick Perry said in the 5 pm debate. "Manufacturing will flow back into this country. It just needs a corporate executive type at the top that's done it before."
The key phrase there, "corporate executive type" seemed to be suggesting Ms. Fiorina. Mr. Perry had said earlier that he would be delighted to have her on his ticket as VP. Maybe Ms. Fiorina will consider Mr. Perry to be her VP.
And for a second time in the debate Mr. Perry sang the praises of Ms. Fiorina.
"I will tell you one thing," he said, "I would a whole lot rather have had Carly Fiorina over there doing our negotiation than John Kerry. Maybe we could've gotten a deal where we didn't give everything away."
In her closing statement, Ms. Fiorina said she is "not a member of the political class."
The "big" debate might have taken all the oxygen out of the room. But in the other room it remained civil, sane and unpretentious. Everyone at the "children's table" was capable of running the country. All were fully qualified to be chief executive; distinguished governors from Louisiana, Texas and New York among them. South Carolina Senator Lindsey Graham's closing statement brought authentic tears to the eyes.
That cannot be said about all present at the other. But the contrast created between professional politicians and the CEO was clear and it became increasingly clear that Ms. Fiorina was the rising avatar.
Next there will be only one debate. Ms. Fiorina will rise now to the center of the stage as others fall away.