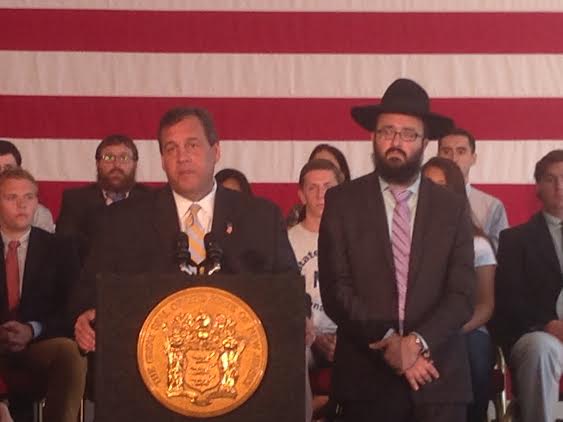 NEW BRUNSWICK – Governor Chris Christie partnered with Jewish leaders today at Rutgers University to call on the New Jersey congressional delegation—particularly U.S. Senator Cory Booker—to oppose the Iran Nuclear deal.
"This cannot be about politics," said Christie as he stood before a crowd at the university's Chabad House. "[Booker] can't be accepting of the idea that a bad deal is better than no deal."
According to the Governor, the deal with Iran presents an instance of President Barack Obama and his administration being "in over his head." For Christie, Booker is an "important member of his party" and it is up to him to "look the president in the eye" and oppose the Iran deal if congressional opposition is vetoed, something the president has promised.
The decision by Christie and a Jewish group called the World Values Network to hold today's conference follows a similar event last week from U.S. Senator Bob Menendez at Seton Hall University. There, the Democrat rejected the current Iran deal.
Now, Christie and Jewish leaders want Booker, who is also a Democrat, to follow Menendez's lead. According to Christie, the deal would present a direct national security threat to both the United States and Israel.
"Congressional delegates need to supplement the moral clarity this president lacks," Christie said.
Booker's close relationships with both Obama and the Jewish community have put him in a tight spot regarding this deal. Obama says it is the right choice to prevent a nuclear Iran. Some Jewish groups, however, say it would be detrimental to Israel. So far, Booker has yet to take a public stance on the deal and has, instead, said he is considering its merits and weighing his options. Even so, he is considered to be a likely 'yes' vote.
Another speaker at today's Rutgers event was Rabbi Shmuley Boteach, who called Booker a "soul friend" of his. The two met when Booker was studying at Oxford University and became president of the Jewish organization there.
"We simply cannot participate in legitimizing Iran's vow to annihilate the state of Israel," Shmuely said. "I have faith that Senator Cory Booker, who has enjoyed one of the warmest relationships with the Jewish community of any elected official, will not vote for this nefarious deal."
According to Booker's spokeswoman Silvia Alvarez, the senator is "pending countless hours reviewing the deal, consulting with independent experts, discussing the deal with New Jerseyans, and participating in classified and unclassified briefings."
"Senator Booker will make his decision on the Iran deal based upon what he believes is best for America's national security regardless of political pressure, lobbying, or theatrics," Alvarez said. "The Senator's decision will be derived from thorough and thoughtful analysis of all the facts, evidence and information as well as from consultation with a wide and diverse array of experts."
In order to override the veto Obama has promised in the face of Congressional opposition, enough members of congress need to be opposed. This means that politicians like Booker from the President's own party are integral if the veto is to be shot down.
According to Christie—who says he also counts Booker as a friend—today's event was about "persuading someone" who he feels is "legitimately undecided."
Governor Christie has gotten criticism as of late for a lack of focus on his home state due to his presidential campaign. While today's event is of importance in New Jersey both because of the impact congressional votes could have on the final outcome and New Jersey's high Jewish population, the Iran deal is considered a national security issue. Christie, as governor, does not get to officially weigh in on the issue. He said he felt compelled to comment today because he is the governor of New Jersey and it is his "obligation to express that this is not a political issue as the leader of the Republican party in this state."
When asked how he would proceed with the deal if his presidential aspirations came to fruition in 2016, Christie said, "Over the past six years the people of New Jersey know that when I think something is a bad deal, I act on it. That is exactly what I would do."
Congressman Leonard Lance, who hosted a forum on Iran earlier this month, was also in attendance. Leaders of prominent Jewish groups like NORPAC President Ben Chouake and President of the Rabbinical Council of America Shalom Baum were also present.
While inside of the Chabad House, Christie's calls for an end to the Iran deal received cheers and applause, the atmosphere was notably different outside where a small group of protestors came together to express dissatisfaction with Christie's stance.
About 12 members of New Jersey Citizen Action, the Coalition of Peace Action and students help up signs like "Christie is wrong on Iran" and "Bruce Springsteen hates warmongers."
According to NJ Citizen Action Program Director Ann Vardeman, the small group was asked to leave the public sidewalk in front of the event and move a block away "where you couldn't even see anyone."
"Chris Christie is dangerously wrong on the Iran agreement," Vardeman said in a statement. "He is leading us on a path to war in a blustering attempt to save his failing presidential bid."
Inside the building, a "Christie 2016" sign dominated the left side of the room. A giant American flag towered behind the stage.
"President Obama has the audacity to look Americans in the eye and say 'This is the best deal we could get," Christie said. "This is the best deal he could get, not the best deal America can get."
Main criticism behind the deal comes from the lifting of sanctions which many say will give Iran resources to become a nuclear power.