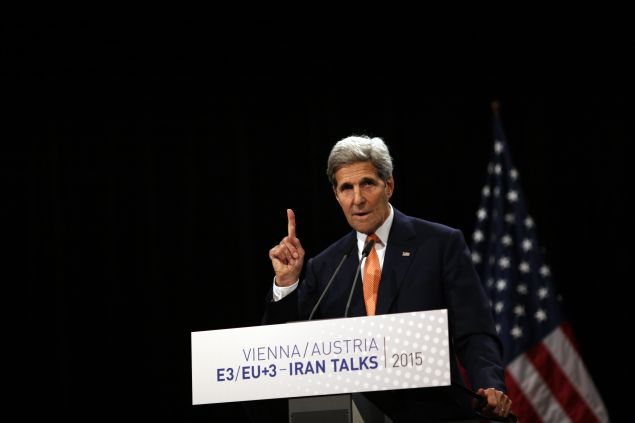 Three members of New York City's congressional delegation announced today they would vote in favor of the Obama administration-backed Joint Comprehensive Plan of Action on Iran—which will ease sanctions on the Islamic theocracy in exchange for a decade-long pause in its nuclear weapons program.
Brooklyn Congresswomen Nydia Velázquez and Yvette Clarke and Queens Congressman Gregory Meeks dropped their official statements late this afternoon—all stating that they would support the plan, which Secretary of State John Kerry helped broker with diplomats from the European Union, Iran, Russia and China. All agreed that the arrangement was the surest way to prevent Iran from threatening the Middle East with atomic oblivion.
"After several weeks of briefings, analysis, consultation, and conversation, I have come to the conclusion that the Joint Comprehensive Plan of Action is the most effective means by which the United States and her allies can achieve the goal of preventing the Iranian regime from obtaining nuclear weaponry," Ms. Clarke said in her statement.
Supporters of the deal argue that Iran is just months from creating weapons-grade uranium at any of its 19,000 refining centrifuges, and that only the agreement can stave off such a development for a decade or more. Opponents argue that the arrangement could allow Iran to develop atomic weaponry in secret, and—with a rejuvenated economy thanks to the end of the international embargo—develop a ballistics system capable of striking American and Israeli targets with nuclear warheads.
Mr. Meeks appeared to argue that rejecting the agreement would leave the situation spiraling out of control.
"Rejecting this deal would be a consequential and confounding mistake, and a return to the status quo or worse," he said.
And Ms. Velázquez argued that a military strike against Iran would harm the United States, Israel and the region as a whole, while not stopping the pariah nation from becoming a nuclear power.
"A U.S. strike on Iran would be costly, causing significant loss of American life, likely lead to attacks and loss of life in Israel, yet would only postpone Iran's nuclear weapons development by a few years," her office wrote. "Clearly, a strong, enforceable diplomatic solution is far superior."
Ms. Clarke, Ms. Velazquez and Mr. Meeks all represent majority nonwhite districts containing a politically active religious Jewish minority population. However, the sect Ms. Velázquez represents is anti-Zionist and thus unlikely to side with the Israeli politicians who have lobbied against the agreement.
Congressman Jerrold Nadler has drawn considerable rancor from religious Jewish groups since he became the first New York City congressman to come out in favor of the deal earlier this month. Bronx Congressman Jose Serrano also backed the deal last week.
Queens Congresswoman Grace Meng and Bronx Congressman Eliot Engel have announced their opposition to the deal, as has Manhattan Congresswoman Carolyn Maloney and Long Island Representatives Steve Israel and Kathleen Rice.
New York Senators Charles Schumer and Kirsten Gillibrand have split on the issue, with Mr. Schumer having announced he would vote no on the plan and Ms. Gillibrand stated that she would vote yes.
Harlem Congressman Charles Rangel, Queens Congressman Joseph Crowley and Brooklyn Congressman Hakeem Jeffries have yet to announce their decisions. The New York City delegation's lone Republican, Daniel Donovan, voiced opposition to the plan during his campaign for his Staten Island-based seat earlier this year.
But even if Congress decides to reject the arrangement, most observers believe opponents would not be able to muster the votes to override an inevitable veto of their resolution by President Barack Obama.