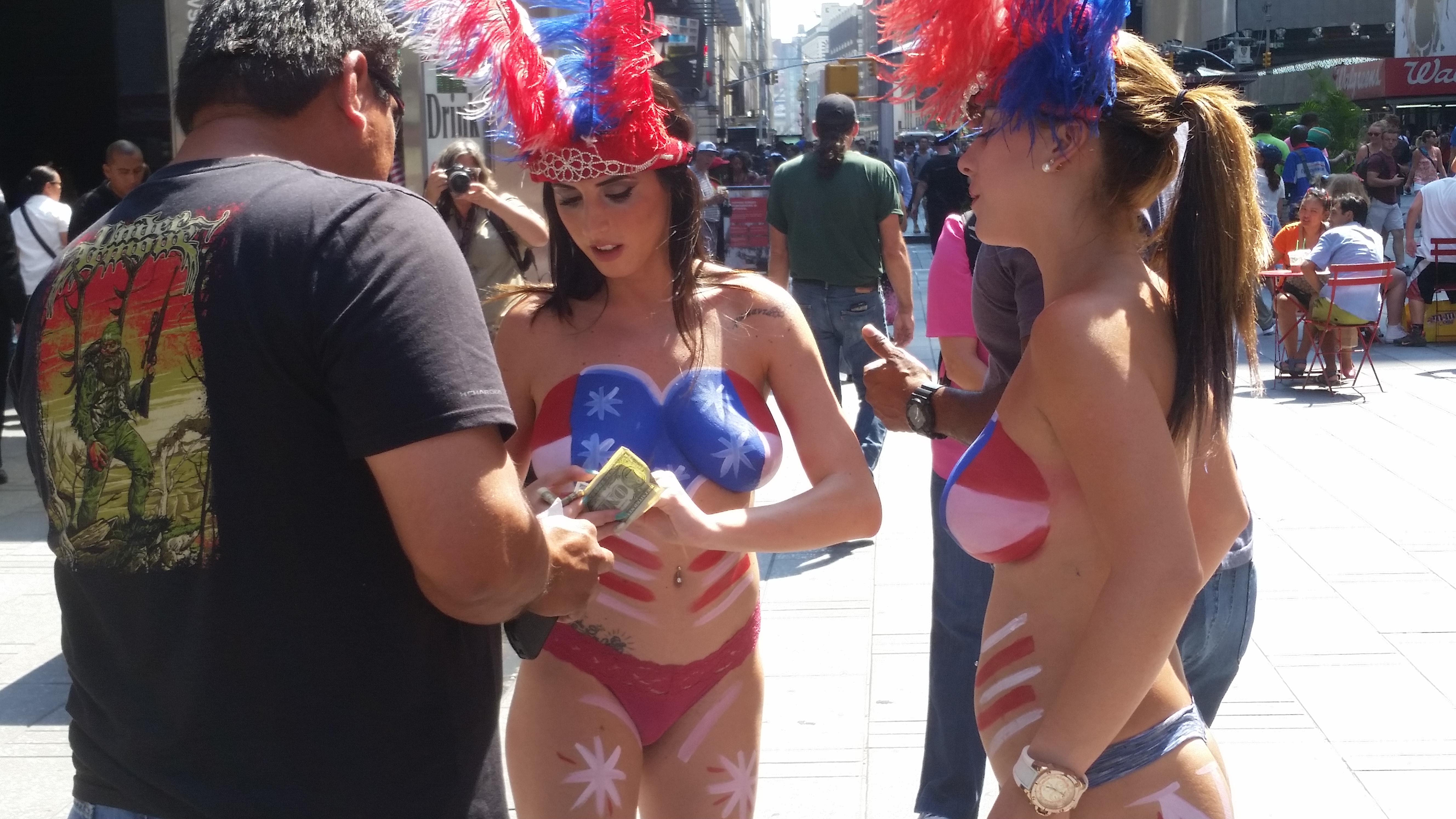 While the bare breasts of Times Square's painted ladies seemed to have shocked some officials, City Planning Chairman Carl Weisbrod—often credited with cleaning up Times Square the first time around—is a bit non-nonplussed.
"There's nothing in Times Square that ever surprises me," Mr. Weisbrod told reporters today after giving a talk at New York Law School. "I'm used to seeing a whole range of activities."
Mr. Weisbrod led the 42nd Street Development Project, tasked with ridding Times Square of smut and crime and turning it into the tourist-friendly destination it is today, and has been named co-chair of Mayor Bill de Blasio's new task force to curb the "topless individuals" and costume characters who demand tips in exchange for photos.
The task force—which has not yet met and which Mr. Weisbrod said isn't fully formed, though it's supposed to report back to City Hall by October—is considering several options to regulate the desnudas and Elmos, among them ripping up the Times Square pedestrian plaza and opening it up to car traffic.
"It's a unique place, and as you know, when the plazas were first built, they didn't come through any sort of public review process whatsoever," Mr. Weisbrod said. "So I think under any set of circumstances you just sort of have to look and see how they function, what the issues are in Times Square and come up with a set of recommendations."
The idea is favored by Police Commissioner Bill Bratton—who argued this week that traffic accidents on the streets surrounding Times Square had increased, despite studies showing decreased traffic accidents in Times Square since the creation of the plazas. Asked more generally about whether he supported pedestrian plazas—something of a darling of modern city planning—Mr. Weisbrod said it depended on the location.
 "I think you have to deal with each of these on their own—you can't make generalizations on anything," he said. "Particularly you especially can't make generalizations on Times Square. It's a unique place. It's complicated place."
Mr. Weisbrod noted the location is a transit hub, home to businesses and retail, home to the theater industry and home to unique rules for signage: "How all of these fit together is really unique to this one extraordinary place we have, which is known around the world."
But the idea of tearing out the pedestrian plaza was met with scorn by planning types, many elected officials, and Times Square business groups. Asked if he was surprised by the harsh reaction, Mr. Weisbrod was again unmoved.
"I've worked in Times Square for a long, long time. A pin can drop in Times Square and it reverberates, because it is such a center of attention," Mr. Weisbrod told the Observer.