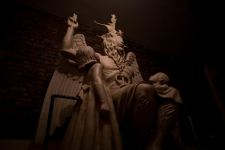 Congressional hopeful Alex Law announced a contest Monday for campaign contributors to win a certified Gold edition of Ice-T's 1991 album Original Gangster as part of a promotion with the Blue America PAC. 24 year-old Law is running for sitting congressman Donald Norcross's seat in the first congressional district, and has proclaimed himself a supporter of Bernie Sanders for president.
In a release, Law said classic rapper and current Jersey resident Ice-T's frank and confrontational approach to racial inequality and the United States' history of aggressive policing are an inspiration for his own campaign's attempt to bring candid discussion of drug policy, over-incarceration and institutional racism to the fore in New Jersey.
"We imprison more people in this country than any nation in the history of the world," said Law in a statement. "Disproportionally, many of our imprisoned population are African-American males. Even more heart breaking, victims of police violence are similarly disproportionally made up of the same community."
"As I fight against corruption and conservative policy here in South Jersey, I can't help but take inspiration in his courage through adversity," said Law of the rapper and of his choice of Original Gangster for the prize.
All contributors to Law's campaign will be eligible for the framed Gold record.