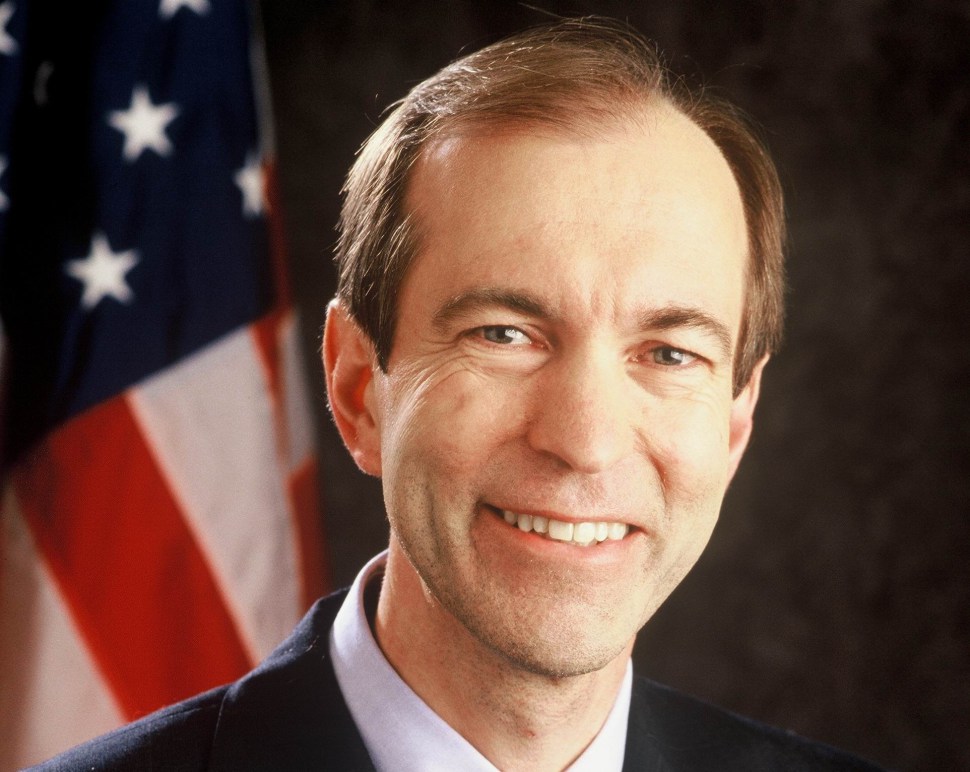 Rep. Scott Garrett (R-NJ5) is an embarrassment to his party, and he's an embarrassment to the conservative ideals on which he's based his political career. And now it turns out, he is also a hypocrite. While Mr. Garrett has refused to pay required dues to a party organization because it backs gay candidates, yet he accepted contributions from groups and individuals who have made equality for gays and lesbians their life's work.
Mr. Garrett, a seven-term member of the House who fancies himself a small-government libertarian, hasn't quite figured out that the essence of libertarianism is the pursuit of personal liberty – the freedom from government intrusion in all aspects of life. Yes, libertarians want low taxes, the elimination of social welfare programs, fewer government regulations on industry, and free trade. But they also staunchly support personal liberties – freedom of speech, second amendment rights, separation of church and state. Oh, and the most personal of liberties: the ability to have consenting personal relations with whomever one chooses.
That's one reason why Mr. Garrett's recent comments that he didn't support the National Republican Campaign Committee because it works to recruit gay candidates are so hypocritical. And it is why Garrett needs to resign. Failing that, House speaker John Boehner (R-OH8)should remove Mr. Garrett as chairman of the Capital Markets Subcommittee to demonstrate that Mr. Garrett's brand of bigotry has no place in the national Republican party.
In addition, the Republican county party chairs in New Jersey's fifth congressional district need to recruit and support a primary challenger to Garrett (ironic icing on the cake: a nice young gay Republican, with Wall Street connections). Mr. Garrett's presumptive Democratic challenger, Josh Gottheimer, a Microsoft executive and former speechwriter for Bill Clinton, should work to capitalize on the hatred Garrett has spewed, partnering with gay rights organizations to erode Garrett's chances of winning a new term in 2016.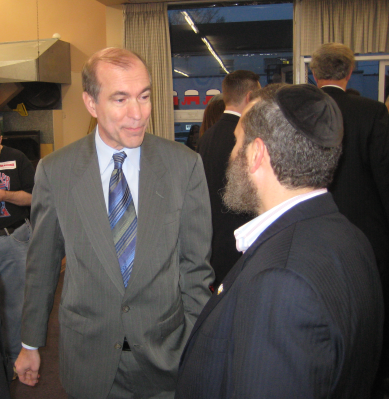 Republican lawmakers at the closed-door meeting where Mr. Garrett made these comments angrily reminded the congressman that the NRCC doesn't back any candidates in primary campaigns and that it doesn't discriminate against candidates because of their sexual orientation. They have largely denounced his remarks.
But Bob Yudin, chair of the Bergen County Republican Organization, which is home to over 70 percent of Garrett's constituents, attempted to rationalize Garrett's comments telling The Record's Washington correspondent Herb Jackson, "Scott Garrett is just practicing his religion. He is deeply religious. His belief is that marriage is for a man and a woman and a man should not lie down with a man."
Mr. Garrett is not "just" practicing his religion. He is attempting to impose his beliefs through a vile and antiquated form of hatred and bigotry. Mr. Yudin must denounce Mr. Garrett's stance, making it clear that there is no room for bigotry and discrimination in the Republican Party in New Jersey.
But Mr. Yudin is failing to acknowledge the depths of Garrett's hypocrisy. Garrett refused to pay his RNCC dues because they recruited and supported gay candidates. But when advocates for gay rights contributed to his campaigns – nay, bankrolled his campaigns – his "religious" beliefs in God almighty conveniently took a back seat to his need for the almighty buck.
Did Mr. Garrett ever refuse a contribution from individuals and entities that supported gay rights?
From his Federal Election Commission filings, it sure doesn't look like it.
The only reason Mr. Garrett remains the embarrassment of the New Jersey congressional delegation is that he has successfully fended off qualified challengers in many elections because he sits on the powerful Financial Services Committee that regulates Wall Street, making him a darling to the moneyed hedge fund set. As of his last Federal Election Commission quarterly filing ending June 30, Garrett had more than $2 million in his campaign account.
Garrett's religious beliefs were not so strong that he refused campaign contributions from the likes of Paul Singer and the bundled contributions from employees of Singer's hedge fund, Elliott Management.
Mr. Singer, a true libertarian, was at the forefront of New York's political battle to legalize gay marriage (he won), contributing over $250,000 to New York politicians in the process.
In 2014, Mr. Singer, his employees and their spouses contributed over $90,000 to the Scott Garrett Victory Fund. Mr. Singer and three Elliott Management executives, Jonathon Pollack, Keith Horn and Bonnie Loeb each contributed an additional $5000 to another Garrett PAC, SCOTT PAC. And still other Elliott Management executives have contributed thousands to Garrett's campaign directly, according to the FEC and the Center for Responsive Politics.
Mr. Singer founded and contributed over $4 million in the past two congressional election cycles to the American Unity PAC, a "Pro-Freedom, Pro-Republican" super PAC that is "focused exclusively on protecting and promoting candidates for the U.S. House and U.S. Senate who support freedom for all Americans, regardless of their sexual orientation."
Mr. Garrett apparently had no objections to Mr. Singer's stance when Mr. Singer was bundling hundreds of thousands of dollars in contributions to Garrett's congressional races.
Mr. Singer's position on gay rights was spurred by his son's coming out to him at age 21 in 1998. At the World Economic Forum in 2014, journalist Fareed Zakaria asked Mr. Singer if he used his influence on politicians to push a pro-gay-marriage agenda. Mr. Singer's response: "I don't try to proselytize," he said. "But they know that winning is better than losing."
It is time that Mr. Garrett learned that lesson, and Mr. Singer can and should make that happen by demanding that his contributions and the bundled contributions of his employees be returned by Mr. Garrett.
Similarly, Mr. Garrett never turned down a contribution from KPMG, one of the "Big Four" auditing firms. KPMG's PACs and employees have contributed tens of thousands of dollars to Garrett. KPMG has been at the forefront in supporting gay rights, particularly for its employees. It added "sexual orientation" to its Equal Employment Opportunity policy in 1993. It began benefits to same-sex domestic partners in 1999, well before many other companies.
According to KPMG's website, the company is "developing and implementing an overall strategy to increase LGBT employee and partner recruitment and retention."
Recruitment and retention of gays and lesbians. The very same behaviors that Mr. Garrett found so objectionable when undertaken by the RNCC were somehow more palatable when they were undertaken by a company writing him big fat checks.
Mr. Veihmeyer: Demand that money back. To enable Garrett to keep the funds that your company and employees contributed is an affront to the work for equality your firm has prided itself on. It is an affront to the 1200 LGBT employees of KPMG.
Mr. Garrett has the absolute right to be anti-gay, though in 2015 in a state like New Jersey, it is hard to reconcile that belief with being elected to Congress. But if Rep. Garrett is going to be anti-gay, and if he is going to rationalize those beliefs as based in his faith, he should have been rejecting the money that comes from groups and individuals who support gay rights.
Funny how "religious beliefs" can be so ambiguous.
To accept that money while repudiating the values of the contributors is a mercenary betrayal, an absolute form of hypocrisy. And an individual who commits these offenses is not fit to serve in the U.S. House of Representatives. It is time for Mr. Garrett to be able to practice his religious beliefs in the privacy of his own home, and leave the national arena.
Mr. Garrett's contributors have a responsibility to make this happen, not just by stopping the fundraising and by ending the contributions, but by demanding refunds of donations already made. Anything less demonstrates a tacit approval of Garrett's hate-filled homophobic agenda.
So: Elliott Management, KPMG, the American Banker Association, Annaly Capital Management, Bank of America, Citigroup, Capital Group Companies, New York Life, PNC, HSBC, JP Morgan Chase, TIAA-CREF, Price Waterhouse Coopers, Brown Brothers Harriman, Yankee Propane, and others who contributed to Garrett's campaign should demand refunds of their contributions. Employees and patrons of these companies should demand that the firm repudiate Garrett.
In doing so, they will demonstrate that while Mr. Garrett has the right to practice his religious beliefs, their corporations do not support his brand of hatred, bigotry and discrimination, and that it has no place in New Jersey, in the Republican Party, or in Congress.
Brigid Callahan Harrison, Ph.D. is Professor of Political Science and Law at Montclair State University, where she teaches courses in American government and state and local politics. A frequent commentator in print and electronic media, she is the author of five books on American politics. Follow her on Twitter @BriCalHar.