Hollywood superstar Brad Pitt has arranged a special private tour, according to The Daily Mirror in London, of the wildly popular two-acre art installation "Dismaland," an elaborate and sour take on Disneyland erected in the South of England by anonymous artist Banksy. It opened last week in economically distressed seaside town Weston-super-Mare, and has since generated lines and global publicity.
Among the most talked-about and dark elements in the twisted theme park is a sculpture of the dead body of Cinderella thrown over her crashed pumpkin carriage as paparazzi snap away, widely seen as a comment on Princess Diana's death.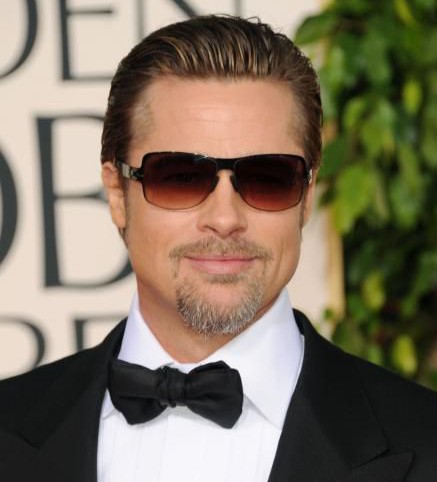 The popular British tabloid declines to name its source for the celebrity-visit information—and, note, this is a newspaper whose website offers video on "Child Claims UFO is Stalking Him" — but Pitt is known to be a serious collector of art and design, and of Banksy works in particular. He's attended several art fairs and even shopped the 2009 Art Basel fair with one of the most active and influential art collectors in the world, Eli Broad. Pitt is known to own works by Banksy, Neo Rauch and Dutch designer Jeroen Verhoeven. And when Pitt shows up, he usually buys, according to one prominent art fair manager.
Interestingly, Pitt is one of the few collectors with the cash, likely inclination and space (Chateau Miraval, his estate in La Val, France) to move and display the town-sized work after it closes to the public Sept. 27.
Of course, this assumes that one would want a Little Mermaid pond that approximates a toxic bog anywhere near an award-winning rosé vineyard, but that's another matter.
Surprisingly few people we know have seen Dismaland so far, and some argue it's something of a hoax from a artist famous for them.
For example, Dismaland's website reportedly crashed when thousands attempted to buy tickets at 3 pounds apiece—but it appears to have never worked anyway. That said, many doubted the existence of the installation at all, until Instagram, Getty and CNN photos and footage of the dystopian "bemusement park" began to emerge.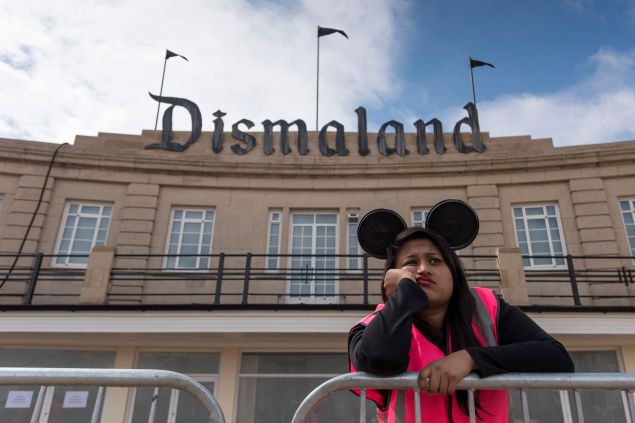 Prankster and anarchist Banksy is apparently a local, and got his (her, or their) start about two decades ago in the Bristol area, initially opting for anonymity to avoid prosecution for creating street art and eventually becoming famous for being anonymous.
The constant speculation about who he is has made him one of the most unique players in the sizzling contemporary market. (Artists Damien Hirst, one of many artists who has work on display at Dismaland, Mr. Brainwash, various Brit graffiti taggers and art dealer Steve Lazarides are just a few of the many guesses as to Banksy's identity).
Mr. Pitt and the artist(s) go back nearly a decade: In 2006, his "Barely Legal" exhibition in Los Angeles (marked by a live elephant painted red with gold fleurs-de-lis) was attended by Mr. Pitt and Angelina Jolie.