Ten-year-old Natalie was ringing a bell triumphantly as she hung from the ceiling of the Long Island City gym. Surrounded by a circle of fellow, pint-sized CrossFit enthusiasts, she had just expertly scaled a hanging rope using the J-hook method—wrapping her ankle around the rope and twisting it into a step, of sorts.
That J-hook is why Michele Kelber, owner of Gantry Kids functional training gym and renowned expert on all things CrossFit Kids, insists her tiny kettlebell-swinging, tire-flipping charges wear tall socks—to prevent their bare ankles from rubbing directly against the rope when they climb. Ms. Kelber pointed to a scar on her own leg. "You get that because the rope goes across your leg, if you don't have something in between," she said.
Eight-year-old Marta bounced over to describe the colorful knee socks her mother buys for her at LittleMissMatched, a whimsical girls' clothing shop on Fifth Avenue. Her favorites, she said, are the pairs with smiley faces and squiggly lines.
Ten-year-old Acadia piped up with her own functional training outfit requirement: a simple T-shirt that "doesn't really have that many designs," she said. "I have some shirts that have pearls on them. It distracts me when I'm doing a handstand and it goes in my face."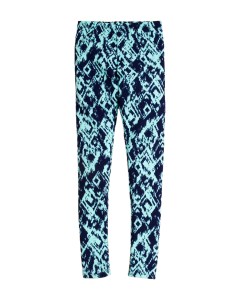 Working out is not just for grown-ups anymore. With kids jumping on the exercise train—everything from CrossFit and yoga to SoulCycle's teen classes—there is a growing demand for sporty gear in small sizes. Forget almost-grown-out T-shirts and too-short jogging pants for Saturday morning gym sessions or even Saturday afternoon shopping and play dates. Activewear is the new look, even for the under-5 set.
"It's an untapped market," Ms. Kelber said of CrossFit-specific clothing for kids.
Athleisure, as it is known in the industry, is a growing market segment for boys and girls in the city's biggest adult-fashion stores, according to Anya Deweerdt, Bloomingdale's fashion director of men's and young world. "We're seeing an increasing number of active silhouettes in higher-end fabrics such as wool and cashmere being worn both on and off the playground," she told the Observer via email.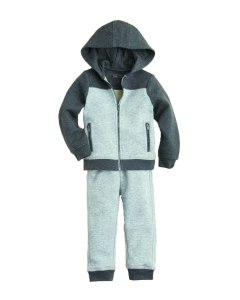 Casualwear giants long associated with the yummy-casual-mummy contingent such as Vince, Splendid and Vintage Havana are three of Bloomingdale's most popular brands now making high-end athletic-inspired clothes for kids. They join actual sportswear brands such as Adidas, Puma and Nike in making cool clothing, in every sense, for sporty and none-sporty tykes.
Sneakers, too, are "definitely a must-have," Ms. Deweerdt said, with some of the most popular styles coming from Converse, Supra and Nike.
As for the kids' favorite items, Ms. Deweerdt has noticed "hoodies, crew-neck sweatshirts, and banded bottom sweatpants for boys and printed leggings and sneakers for girls" are especially popular.
At Saks Fifth Avenue, it's all about Gucci's kids' shoes—in particular, the brand's sporty leather sneakers. There are high-tops in chocolate brown emblazoned with the brand's GG print and others made from white, pebbled leather with a green-and-red stripe detail on the side.
"The mothers and fathers love the idea of these sneakers for themselves, and so they want to dress their kids in them as well," Saks fashion director Colleen Sherin told the Observer.
There is another reason for the appeal: "They look so cute in small sizes," Ms. Sherin added. "It just makes everyone laugh."
Saks has also seen a big seller in Fendi's drawstring sweatpants for kids, accented with the label's adorable monster imagery. "Even though it's more casual and relaxed, it still is elevated," Ms. Sherin said. "It's not sloppy sweatpants. It still is a pulled-together look."
Ms. Sherin doesn't think of athleisure as a fad. "It's not even a trend at this point—it's a lifestyle change," she said. With more and more New Yorkers making fitness an integral part of their daily routines, "Activewear has just become part of peoples' lives."
"It all trickles down," Ms. Sherin said, eventually reaching even those who might need a step stool to reach the stationary bike seat.