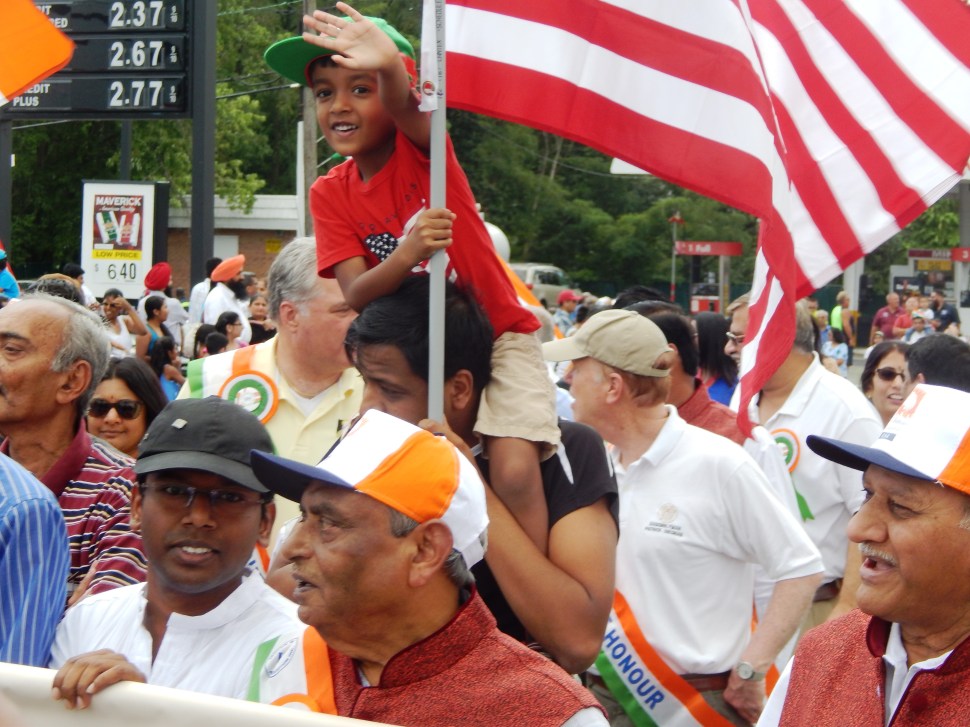 EDISON – You almost get the sense that if Bobby Jindal had shown up on a float at today's 11th annual Indian Independence Day Parade he'd have heard boos. The Indian American Louisiana governor running for president in the 2016 Republican Presidential Primary just doesn't engender a lot of love here among his fellows at an event that feels, in the middle of it with drums driving and synthesizer-enhanced sitars twanging, like the biggest Indian extravaganza going on right now on planet earth.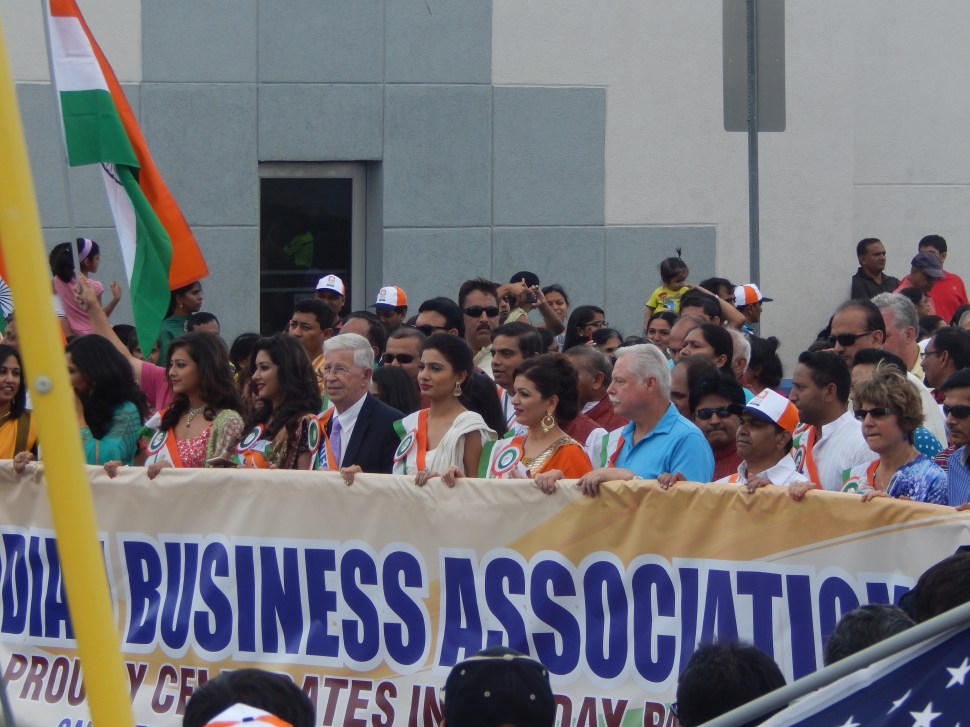 It's a New Jersey collision course of cultural influences, with American flags dueling and complementing the equally vigorously waved Indian flags, a white stretch limo lurching up and depositing a bevy of Bollywood beauties into the parade, and Irish American Woodbridge Mayor John McCormac leading the way up Oak Tree Road  in this county where Asian Indians account for 12.93% of the total population. A lot of the people PolitickerNJ approached lean Democrat and so simply dismiss Jindal – struggling to get traction toward amid a tangle of second tier candidates – as the member of the wrong party. But others in the vicinity of the Indian Business Association (IBA) generally proclaimed a lack of knowledge or interest about the Southern governor.
"Chris Christie," said Sarvesh Bharayar when PolitickerNJ asked him what he thought about Jindal.
"Christie," said Rahul Sharma.
Ashok Patel?
"Christie," he said.
In a clump of bodies draped with Indian flag motif sashes a few yards away, state Senator Sam Thompson (R-12), the Midlesex County GOP Chairman and a Christie ally, stood elbow to elbow with some of the leaders of the IBA.
In another group of IBA members, there were shrugs for Jindal and then adamant negative comments about the sitting New Jersey governor.
"Not Christie," said one man, calling the New Jersey an absolute nonstarter.
Why no passion for Jindal, the son of Indian immigrants and the first Indian American to
run a serious candidacy for president?
Speaking on condition of anonymity, one Indian American noted the ungenerous reception Jindal received earlier this year when he appeared at Madison Square Garden . Part of it has to do with the fact that Jindal is not a Hindu but a Roman Catholic, the source said. He's simply not accepted on religious grounds. There is also a perception in the community that Jindal has spent a political lifetime backpedaling from his South Asian roots.
Bankag Bariki didn't completely dismiss the assessment, but he also feels it is unfair for people to judge Jindal based on his religion.
"Nobody is Indian in this country who would run for president," he said. "They are Indian American and they're only part of America. Bobby Jindal grew up here, and not in a place like Edison [which has a diehard Indian population]. Who could expect him to have a strong HIndu influence?"
Kaushal Parikh hasn't decided yet on a candidate for president and, unlike others, doesn't dislike Jindal. He just doesn't have any special connection to the southern governor of Indian descent.  "I like all of them," he said. "I like people not parties, so I like Christie, Jindal, Bush, Clinton. I really like all of them."
The source who spoke of the sense in some quarters of betrayal older generation Indians feel for Jindal still doesn't diminish pride among others. But it's pride that does not rise to passion for a presidential candidate.
"It's kind of like a dream come true for the son of Indian immigrants to run for president," said Himanshu. "Jindal is a very well known surname in India. But I am more interested in issues than any one candidate. I would like to see someone do something about the immigration crisis in this country. I have been here for ten years and I  am not a citizen. I can't vote. I like the steps Obama took in the direction of immigration reform but we need more."
Up at the head of the parade, McCormac walked with a band of his running mates.
He wasn't focused on presidential politics.
"It's going to be an eight-week sprint after Labor Day," said the mayor, who's up for reelection along with four at-large councilmembers and a candidate in the 3rd Ward. "We'll be running on our record from the last 11 years – a record of 1000s of new jobs, improving quality of life and creating stable finances in town."
There was off-the-record growling about the IBA and its preference to support a float, for example, highlighting Newark Central Ward Councilwoman Gayle Chaneyfield Jenkins over others, a choice backed, apparently, by sheer business interests. Mild backbiting always accompanies that powerful core of IBA men who organize the event.
All the 2017 gubernatorial hopefuls apparently received invitations to march in this year's parade, but only one appeared in gear atop a slow-moving float: veteran state Senator Ray Lesniak (D-20).
Edison Mayor Tom Lankey walked behind the parade banner alongside Thompson with other recognizable faces hovering nearby, including Assemblyman Pat Diegnan (D-18), Assemblyman Craig Coughlin (D-19) and Edison Councilwoman Sapana Shah. Assemblyman Raj Mukherji (D-33) attended this year's parade, and so did U.S. Rep. Frank Pallone (D-6).
"Long live India," the sidewalk onlookers shouted at Shah, who waved back and responded in kind, finding McCormac at the front end, the two of them galloping at the head of the manifold.  Official estimates placed the attendance at 38,000.  The over 20 floats, among them offerings by the Edison Democrat Organization, Air India, TV Asia, Oxigen, Investors Bank, and the SriVari Balaji Temple, finally landed in India Square in Iselin.
"The success of today's parade is due to the efforts of many, including our sponsors and volunteers" said Dhiren Amin, president of IBA.