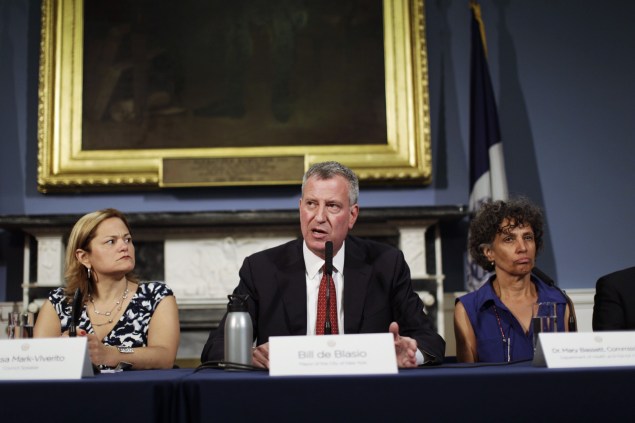 Once again, just as Mayor Bill de Blasio was about to make a big announcement, Gov. Andrew Cuomo got in his way.
In City Hall's Blue Room, Mr. de Blasio was sitting alongside Speaker Melissa Mark-Viverito, Health Commissioner Dr. Mary Bassett, and other top officials to outline legislation to create a system that would register, inspect and clean the cooling towers atop buildings across the city—which were ground zero for a deadly outbreak of Legionnaires' disease in the South Bronx that has now killed 12 people.
In Midtown, Mr. Cuomo was holding a press conference at his office on criminal justice issues. But—after last week saying the state was "taking matters into our own hands" by offering free cooling tower testing—Mr. Cuomo eventually jumped off-topic to offer his own update on Legionnaires' disease.
While Mr. de Blasio was rolling out his own city plan to tackle the illness at press conference that was pushed back an hour and wound up being held at the same time as the governor's, Mr. Cuomo was saying he didn't know what the mayor was up to, but that it really ought to be the state that does that kind of thing.
"People are getting sick, people are dying," Mr. Cuomo said. "This can't happen again. We have to have a statewide system, statewide protocols."
Mr. de Blasio, unsurprisingly, did not agree: "The City of New York obviously takes responsibility for our own people. We're going to pass the laws and rules we need to protect our people we're going to do it right now."
It was just one of many signs of continuing division between Mr. de Blasio and Mr. Cuomo. Mr. de Blasio announced that two new cooling towers in the Bronx had tested positive for Legionnaires' disease. At the same time, Mr. Cuomo said three new cooling towers had tested positive.
Mr. de Blasio was referring to cooling towers inside the so-called "impact zone" where the outbreak has been contained. Mr. Cuomo was referring to three buildings outside that zone. But the main takeaway was that, yet again, the state's governor and the mayor of its largest city were not on the same page—offering dueling figures during a public health crisis.
When the Observer asked whether the two men's figures meant that five new cooling towers in total had tested positive, Mr. de Blasio would only discuss those in the impact zone—and that every cooling tower in the city would be cleaned, anyway, thanks to an order from Dr. Bassett issued last Thursday.
"With all due respect to what anyone else is doing, we're trying to be very consistent with the information we're giving you. We have a very clearly delineated impact zone, you've seen it on maps before, we're happy to go over it, that is where the outbreak is. That's where the focus is," Mr. de Blasio said. "The entire rest of New York City will be covered by the commissioner's order. Now, if the state has used its resources to identify specific sites, we'll work with them right away to address those sites, but that is a separate matter entirely."
A spokesman for Mr. Cuomo told the Observer that the state's health commissioner, Dr. Howard Zucker, got the information about the three new cooling towers this afternoon and called Dr. Bassett, leaving her a "detailed message" and asking her to return the call. (Mr. de Blasio's office said that message arrived during the press conference, so Dr. Bassett and others learned of the three new cooling towers from the press, who asked about it after other media tweeted the figures from Mr. Cuomo's press conference.) Dr. Zucker then passed along the information in a note to Mr. Cuomo, who offered it to the public. During that announcement, Mr. Cuomo argued testing outside the impact zone was needed.
"We will be extending our testing, because obviously it's outside the area, and obviously there are more buildings," he said.
The disconnect is reminiscent of differences between the state and city during a case of Ebola last fall—when Mr. de Blasio and Dr. Bassett urged calm but were taken off guard when Mr. Cuomo appeared at a press conference with New Jersey Gov. Chris Christie to back an aggressive plan for quarantining doctors.
Yet again, while Mr. Cuomo said last week that the Legionnaires' outbreak was like a science fiction movie, Mr. de Blasio has sought to downplay the risks—growing frustrated with questions about how many towers had tested positive.
"I can try saying it as many times as possible, and I think people just have to try and listen hard here: We have had situations where legionella has appeared before and there has been sickness, but nothing like this," Mr. de Blasio told the Observer. "We've had sickness and people got better in most cases obviously. But we've also had legionella in buildings, in cooling towers, that had no impact whatsoever. It is a form of pneumonia. I think if it was called pneumonia we'd be having a different discussion."
That form of pneumonia has now sickened 113 people, and has dominated news coverage for days. But the outbreak appears to be waning: no new patients have become sick since August 6.
In the Bronx, where the city has tested 39 cooling towers in the impact zone, it found legionella in 12 of them—about 30 percent. Mr. de Blasio and Dr. Bassett said there was no way of knowing whether the same would be true if they tested cooling towers citywide.
"We have no idea what would be found if we tested every cooling tower in the city, but in areas where there are no cases, there's no evidence that they are driving an outbreak. There's only one outbreak, the very large one, going on in New York City right now. It's tailing down, as we can see, it was located ins several identified areas in the South Bronx, we have found the cooling towers and we have cleaned them," Dr. Bassett said. "And the clear message to all of us is that cooling towers need to be maintained and they need to be kept clean, and the need for testing is secondary to the need for maintaining them and ensuring that they are well-maintained and kept clean."
Despite Dr. Bassett's assurances today, Mr. Cuomo defended his decision to step in last week.
"I am comfortable with the state's action. I think we were, have been aggressive. I think the aggressiveness was called for," Mr. Cuomo said. "It was a very dramatic action by the state, and I think we all agree it was what was called for."
Mr. de Blasio was loath to answer any questions that sought to place this episode within the larger context of his relationship with Mr. Cuomo, a fellow Democrat who has thwarted several of his priorities in Albany and whom Mr. de Blasio has described as vindictive.
When a reporter asked whether it would have been better to hold a joint press conference so that reporters weren't just asking the mayor to respond to differing information from the governor, Mr. de Blasio said the query was political.
"You can ask political questions or personal questions, I'm just not going to entertain those," Mr. de Blasio said, adding the health officials from each level were working together well.
The spat seemed to spread beyond just Mr. Cuomo and Mr. de Blasio. Bronx Borough President Ruben Diaz Jr.—a Cuomo ally whom the governor has praised for his response to Legionnaires'—did not attend the mayor's press conference, though he did not in a press release issued during the event that testing for Legionnaires' had been his idea. Sitting beside Mr. Cuomo, Congressman Hakeem Jeffries—an increasingly vocal critic of Mr. de Blasio and rumored 2017 primary challenger—attacked the city Health Department as apparently unprepared when the epidemic struck.
"The issue in the Bronx is a troublesome one, and there's been extraordinary leadership, I think, from Bronx Borough President Ruben Diaz, as well as Governor Cuomo, I won't on what has taken place as far as City Hall, but it does seem to me that the Department of Health was caught off-guard," he told reporters.
At City Hall, meanwhile, Councilman Corey Johnson, chair of the health committee, offered a defense of Dr. Bassett and her department and offered a criticism of those who were "whipping people up in a frenzy," a thinly veiled criticism of the governor.
"We have the best health department in the country, and the best health commissioner in the country, and what you have seen in each of these outbreaks is a calm, cool-headed, fact-based way of communicating with the public and reassuring New Yorkers about what steps they need to take to get the resources they need," Mr. Johnson said,