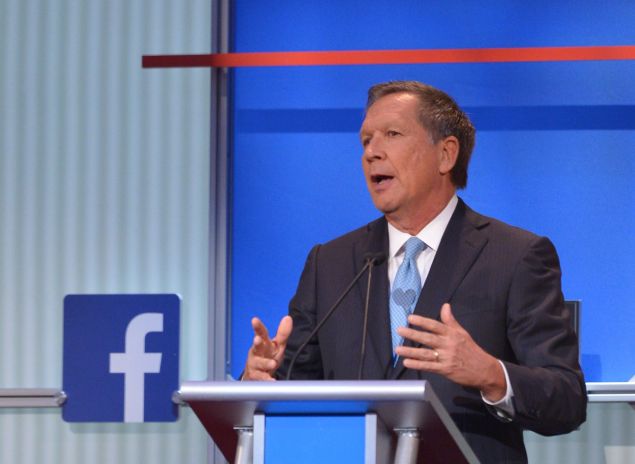 In another year, perhaps, a former Republican senator from New York could have endorsed a former Republican governor from New York running for president.
But George Pataki is finding out endorsements, even from old allies, are hard to come by.
Former Sen. Al D'Amato, who served during Mr. Pataki's first term in the 1990s, announced today he is endorsing Ohio Gov. John Kasich for president, depriving Mr. Pataki of at least one endorsement he theoretically was in the running for.
"We Republicans need to capture the White House and in order to do that, we must win Ohio," Mr. D'Amato said in a statement. "John Kasich is the only candidate who can assure us of that victory."
Mr. D'Amato cited Mr. Kasich's tenure in Congress as a factor in his endorsement. Mr. Kasich served as an Ohio congressman when Mr. D'Amato chaired the Banking Committee in the Senate. "Look at his success leading the work to balance the federal budget—it hasn't been done since he left the Budget Committee," he said.
"He knows the Pentagon, understands the military, and understands the need for strength as well as a better managed Defense Department," the former senator added.
Unlike Mr. Pataki, who last governed New York in 2006 and is barely registering the polls, Mr. Kasich's campaign in on the upswing. After an energetic performance at a televised debate this month, Mr. Kasich is now viewed as a top competitor in New Hampshire, an early voting state where Mr. Pataki has campaigned constantly. Like Mr. D'Amato, Mr. Pataki and Mr. Kasich are regarded as moderates in a party that has veered to the right.
The endorsement is awkward for Mr. Pataki's camp. David Catalfamo, a top aide to Mr. Pataki's presidential campaign, also worked for Mr. D'Amato's powerful lobbying firm, Park Strategies. Park Strategies' Albany office is filled with as many as a dozen former Pataki staffers.
"I'm just thrilled that the great Alfonse D'Amato is joining my team. I'd be content to just go out to his favorite pasta joint with him and listen to his stories, but that he's going to help me and my campaign is incredible," Mr. Kasich said.
A spokesman for Mr. Pataki did not immediately return a request for comment.