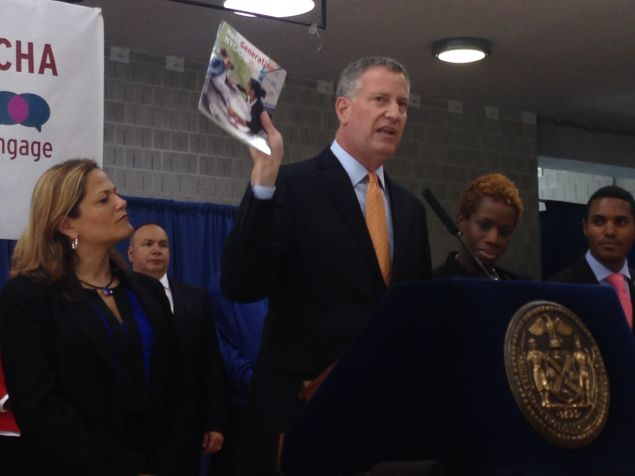 Mayor Bill de Blasio today rebutted criticisms of his proposal to build 17,000 apartments on open parcels of New York City Housing Authority property, arguing such construction is essential to relieving the city's affordable housing drought and making perpetually cash-strapped NYCHA solvent once more.
Speaking at a press conference celebrating the start of an $87 million roof repair project at the Queensbridge Houses—the largest public housing project in the nation, according to the administration—the mayor pushed back on attacks on his housing authority Chairwoman Shola Olatoye and the "NextGeneration NYCHA" plan she commissioned for him. Critics, including Bronx Borough President Ruben Diaz Jr., have argued that NextGeneration's development provisions could cost NYCHA residents precious green space and badly strain city resources and infrastructure.
"I think what's going to make this plan something that people will embrace is that it's going to overwhelmingly create affordable housing, which everyone knows we need in this city, and it's going to create a lot of new resources to fix problems in the development where it's located," he said. "Problems that in many cases have been going on for decades, and people really want solutions to."
Mr. de Blasio repeatedly emphasized that 13,500 of the new apartments would rent for below-market-rate, and that the city would plan construction in concert with residents—two things he said were missing from former Mayor Michael Bloomberg's proposal for "infill," which would have focused mostly upscale development on NYCHA space. The liberal mayor also stressed that new construction would create revenues that would other wise be unavailable to the authority, which currently runs deficits of hundreds of millions of dollars each year, and has a $17 billion backlog in repair work.
"In every case we'll be working with residents of the development and the community," Mr. de Blasio insisted. "Where there is additional housing being built, there will be capital dollars created to fix problems that exist in that development. The residents are going to help us decide what that money goes to. For example, they may want their elevators to be replaced, they may want a new security system. Whatever it is, we're going to focus on the needs of the residents."
The mayor even promised that any parking or recreational space sacrificed to new construction would be restored in some form to residents.
"We're going to make sure any facilities that people have, whether it's parking, playground, whatever a development, are made whole, even if it means someplace else in the same development. We'll make sure people have the same amenities," he said. "We obviously will account for any infrastructure needs."
He did not elaborate on the details of how such adjustments would work.
Ms. Olatoye, who was not present for today's event, and her reign at NYCHA has been a target for Mr. de Blasio's political rivals. Besides Mr. Diaz, Comptroller Scott Stringer and Brooklyn Congressman Hakeem Jeffries—who, like the Bronx borough president, are rumored to be mulling a 2017 primary challenge to the mayor—have critiqued the housing authority's operation in the past year, and a group linked to Mr. Jeffries has gone so far as to call for her resignation.
Mr. de Blasio, nonetheless, stated his confidence in his chairwoman has not changed.
"I think our chair, Shola Olatoye, is doing a great job, I support her fully," he said.
The roof project at the Queensbridge Houses will use $60 million of a $300 million outlay the city made for NYCHA in its budget this year, as well as $27 million in federal funding. Mr. de Blasio said that the city has yet to see a penny of the $100 million the state pledged to allocate to NYCHA in budget negotiations earlier this year.
"We still have not heard from the state." he said. "We have not received a plan and we would very much like to get that plan."
"A hundred million from the state would make a huge difference. We would like to see that money sooner rather than later," he continued.