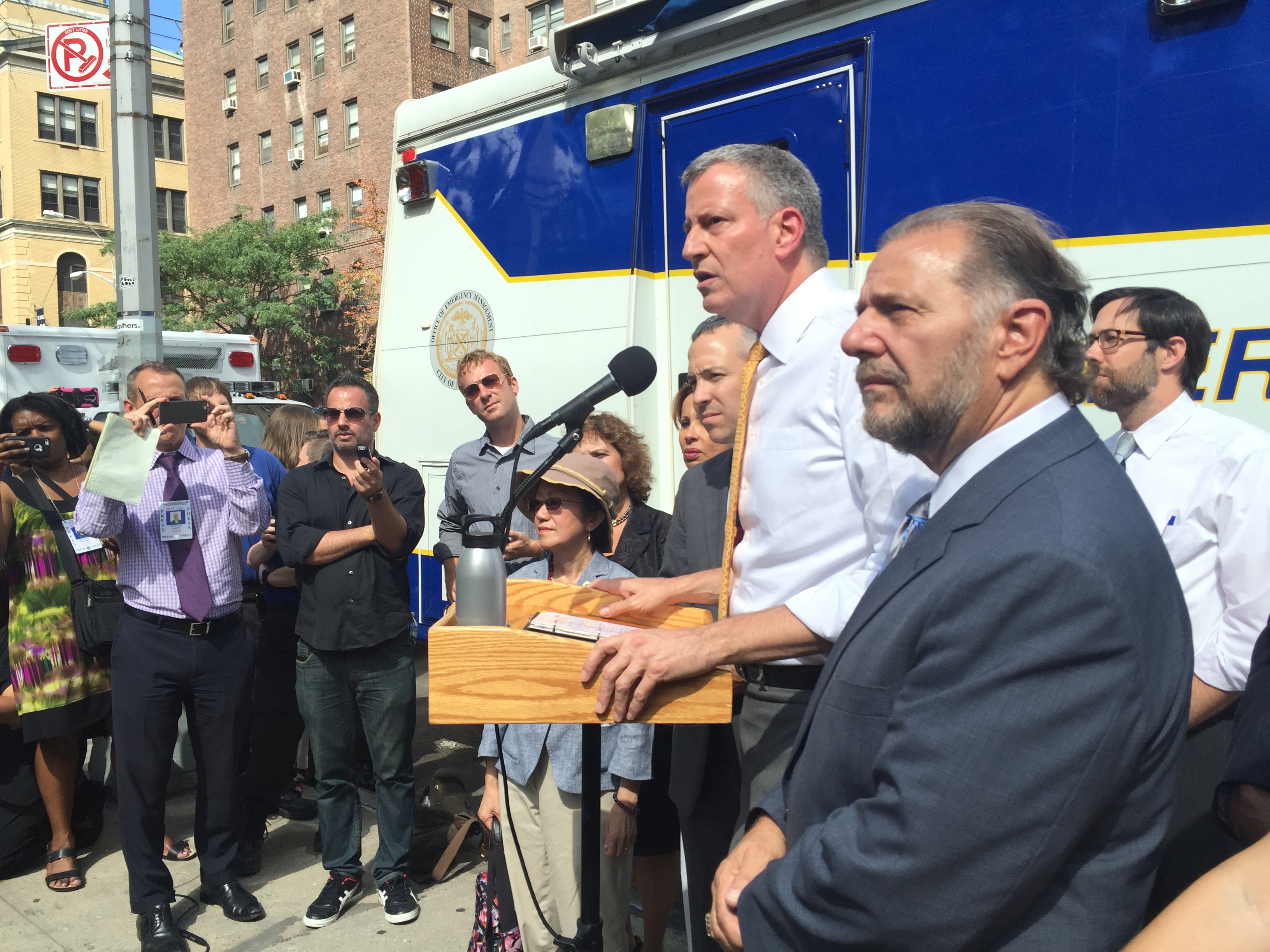 In the wake of the shocking shooting deaths of two Virginia journalists on live television, Mayor Bill de Blasio today said the nation needed to act on the "challenge of mental health" and to curb the availability of guns to those with such problems.
"We can't kid ourselves: if we're not addressing gun regulations and we're not addressing mental health, is it a shock that these horrible things happen?" Mr. de Blasio asked during an unrelated press conference in Chinatown today. "Sadly, we're going to have to brace ourselves for more."
Mr. de Blasio's comments come a day after Alison Parker and Adam Ward, two journalists at Roanoke television station WDBJ-TV, were shot by a disgruntled former colleague during a live broadcast. The woman Parker was interviewing, Vicki Gardner, was also shot but survived and is in stable condition. The alleged shooter, Vester L. Flanagan who worked on television under the name Bryce Williams, also took video of the murder and uploaded it to Twitter and Facebook before shooting himself as police closed in on him.
"It's senseless and it took two wonderful young lives," Mr. de Blasio said. "I think people are feeling such a deep connection to these two young, promising people whose lives were literally snuffed out before our eyes."
The NYPD has increased police presence at media locations in the city, but Mr. de Blasio said there had been no threats of a copycat attack or of any other crimes that might be broadcast live or uploaded on video.
"It was deeply disturbing, and obviously the work of someone who was profoundly troubled and should have had mental health treatment a long time ago," Mr. de Blasio said. "We have not gotten an alert as to a specific copycat problem. We have NYPD protection up for media outlets as a precaution."
They mayor has previously called for better gun control regulations—noting that guns from other states with more lax laws often make their way to the city for crimes, as was the case in the slaying of a police officer earlier this year—and his wife, Chirlane McCray, has made access to mental health services a signature issue as first lady. Mr. de Blasio recently rolled out a plan for dealing with mental illness, dubbed "NYC Safe."
Today he cited other cases of people with mental illness being able to access guns to commit horrific crimes: the Sandy Hook Elementary School shooting in Newtown, Conn.; the theater shooting in Aurora, Col., the shooting of former Congresswoman Gabrielle Giffords in Arizona.
"There is a reality int his country right now where people who are not mentally stable, either with a specific grievance in their mind or no grievance whatsoever, are simply using guns that they shouldn't have to begin with and shooting people randomly," Mr. de Blasio said. "I believe there are some systemic answers to that problem: real gun control legislation that addresses availability of guns to people with mental health problems and criminal histories, et cetera. And obviously, a pervasive approach to mental health services—something we're starting to act on in this city. We're gonna have to go a lot farther."
The mayor, who has had his battles with the press, also said he wanted to express "solidarity" with journalists, on whom he said the killings must have been particularly difficult.
"I think everyone is feeling it, but the people who work int his profession are feeling it particularly strongly," Mr. de Blasio said.