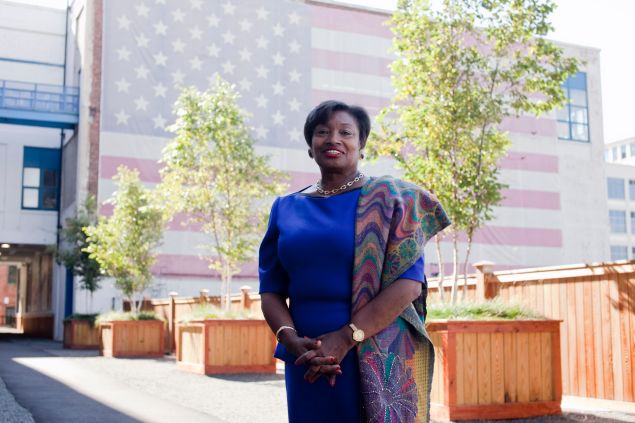 Andrea Stewart-Cousins, leader of the State Senate's Democratic minority, today dismissed the Women's Equality Party that Gov. Andrew Cuomo created last year as unnecessary, arguing that Democrats are the party that represents female concerns.
Speaking on the Capitol Pressroom radio show, Ms. Stewart-Cousins praised her former colleague Cecelia Tkaczyk—an upstate Democrat who lost her bid for re-election to the State Senate last year—and indicated she sympathized the ex-legislator's efforts to become chairwoman of the party and remove the leadership the governor helped install. Nonetheless, the Democratic leader argued that the Democratic Party is and should continue to be the vehicle for advancing women's rights.
"I think that, as a Democrat, I've always thought that Democrats do the best with women's issues. And why the Women's Equality Party, I'm not sure," the Westchester Democrat told host Susan Arbetter. "I'm a Democrat, I will remain a Democrat, I think that women should be happy with Democrats and what we are doing for women."
The Cuomo-created WEP platform is dedicated entirely to the passage of the 10-point "Women's Equality Agenda"—which would codify an array of anti-discrimination statutes, as well as unfettered access to abortion services. The latter has been a sticking point for the current GOP majority in the State Senate, which has passed the other nine points. The Democrat-dominated Assembly has voted in support of the entire package.
The governor received a little more than 50,000 votes on the line in last November's elections, meaning it will receive a row on the ballot for the next four years. Leaders of the party have said that almost 400 local elected officials have expressed interest on running on the line this fall.
Many politicos, including Mr. Cuomo's 2014 Democratic primary rival Zephyr Teachout, have alleged that the creation of the Women's Equality Party was a cynical ploy to draw liberal votes away from the similarly initialed Working Families Party. The labor-backed WFP has excoriated the governor for his fiscally conservative policies despite endorsing him for election twice.
Mr. Cuomo, and the two women who helped him create and promote the party—former Council Speaker Christine Quinn and Lieutenant Gov. Kathy Hochul—have denied such allegations.
Ms. Tkaczyk, who has changed her registration from Democrat to the WEP, reportedly hopes to create a larger anti-discrimination agenda not linked to a specific policy proposal, a cause Ms. Stewart-Cousins endorsed.
"The reality is, if we're going to have a Women's Equality Party, I think it's good that women are involved, and I think it's good we support the broadest possible issues in terms of women's equality,' she said. "The fate of the Women's Equality Party will, will be seen"