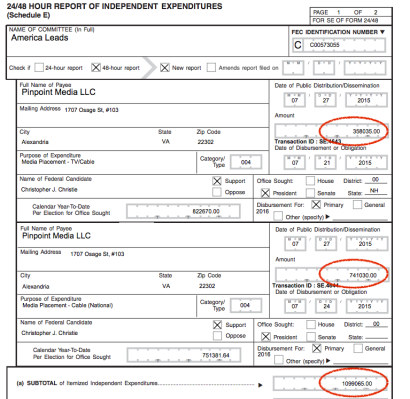 A couple weeks ago, the Bergen Record reported on a $1.1 million ad buy that America Leads, the PAC supporting Chris Christie, would be placing in New Hampshire and beyond. Now, a filing has added more color to that story.
On July 27, DC Media Buying shop Pinpoint Media LLC placed a seven-figure order for America Leads. The two buys break down as follows: one for $358,035 for broadcast and cable and the other for $741,030 for national cable, totaling $1,099,065.
America Leads is headed by Phil Cox and Doug McAuliffe. Cox got to know Christie when the governor headed the Republican Governors Association and hired him to be the RGA's Executive Director. McAuliffe is a former partner of Russ Schriefer, who did much of the media for both of Christie's successful gubernatorial campaigns.
The spot that America Leads is running, called "Glide Path," is assembled from footage of Christie playing to his strength in his favored town hall format. Speaking to a New Hampshire town hall, he tells the receptive audience "I'm the only candidate who has actually been responsible for fighting terrorism and has prosecuted terrorists and put them in jail."