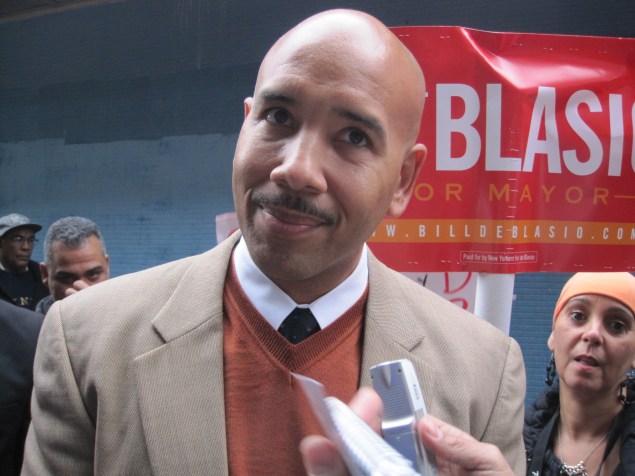 Bronx Borough President Ruben Diaz Jr. today attacked Dr. Mary Bassett, Mayor Bill de Blasio's Health Commissioner, for not enlisting the federal government's assistance in combating what the administration has called the largest outbreak of Legionnaire's disease in the city's history—a contagion that has so far only spread within the confines of the South Bronx.
Talking to radio host Brian Lehrer on WNYC, Mr. Diaz argued that Ms. Bassett should have requested help from the federal Centers for Disease Control in containing the proliferation of the illness, which as of last night had infected almost 100 people and killed eight. The disease has only affected the elderly and those with pre-existing conditions, but Mr. Diaz pointed out that the number of deaths has doubled in the last four days and the number of new cases has increased by 25 percent.
"I was a little perplexed when yesterday I read that the city's commissioner, Dr. Bassett, said that while she spoke to the federal government and the CDC, she did not ask them for help. I think that this is now a situation where all hands should be on deck," the borough president said. "Time is not our friend."
Legionella bacteria responsible for the sudden rash of the flu-like ailment festered in the cooling systems of several large facilities in the Bronx, where victims are believed to inhaled the pathogens in contaminated mist.
Mr. Diaz, a close political ally of Gov. Andrew Cuomo, also suggested bringing in assistance from Albany—perhaps a sore point for the mayor's administration given the ongoing feud between Mr. de Blasio and the governor. He said he had spoken on the phone with Mr. Cuomo yesterday about possibly having state inspectors get involved.
"We cannot wait. We need all hands on deck," Mr. Diaz said. "Maybe the state can come in as well, and test cooling systems outside of sort of the catchment area where we've seen the majority of these cases, not just in the Bronx but throughout the city."
High asthma rates in the Bronx, believed to be a symptom of numerous distribution hubs in the borough, may have left residents there especially susceptible. Mr. de Blasio's office and other elected officials held a town hall on the growing problem on Monday night, just days after declaring the disease was "no reason for alarm."
Mr. de Blasio's administration declined to immediately comment on the borough president's remarks, but said they would have an update this afternoon.