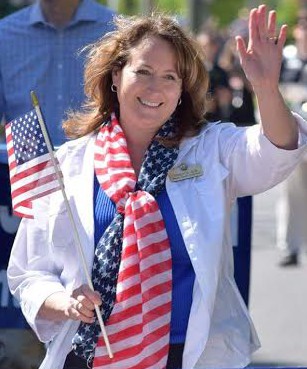 According to Bergen County Freeholder Tracy Silna Zur, who was elected to first term on the board in 2012, her reelection in November would mean continued positive progress in New Jersey's most northeastern county.
"I think we have shown a tremendous record of success," she said of the current Freeholder Board, which includes fellow Democrats Thomas Sullivan and Steve Tanelli who are both also up for reelection. "We have shown that we can be mindful of the bottom line while still making necessary changes."
As Silna Zur looks to keep her seat on the Board, her platform includes continuing her work to consolidate services in Bergen County. She is currently Chair of the Shared Services/Consolidation Committee.
"The realignment of the county police and Sheriff's Department was very successful," Silna Zur said. "I wanted to set out to be as efficient as possible, not hurt the police officers involved and engage in smart government."
While Republican challengers Ken Tyburczy, John Mitchell and Daisy Ortiz-Berger have all cited high tax rates in Bergen as the main reason they are running, Silna Zur believes that though taxes are high, the Board of Chosen Freeholders has done an acceptable job to ensure that the taxes in Bergen County do not reach unmanageable levels.
"We delivered zero tax increase in 2014 and only about a ten dollar tax increase this year," Silna Zur said. "Really, tax relief in Bergen County will come from shared services and doing more with less. We need to work in a bipartisan way and across the aisle."
Silna Zur believes that the chance to continue serving means the chance to advocate for the constituents that she feels need representation. For Silna Zur, this means continuing her work to increase services for those in Bergen County who live with disabilities.
"I am a staunch advocate for those with special needs," Silna Zur said. "I formulated a committee to address educational needs. I will continue to work on a strategic plan for those with disabilities. The bottom line is that we need to do more for them."
For Silna Zur, this means improving educational services and "focusing on abilities, rather than disabilities."
Another important issue to Silna Zur regards police body cameras. According to Zur, Bergen County needs a "strong body camera policy" to protect citizens and police officers alike.
Though this is Zur's first time as an elected official, she has a long history of service in Bergen County. She has served as a municipal prosecutor, a judge in Bergen County Central Municipal Court and a Public Defender in Englewood and Woodcliff Lake.
"I loved the public service side," Silna Zur said. "I really wanted to get back to that."