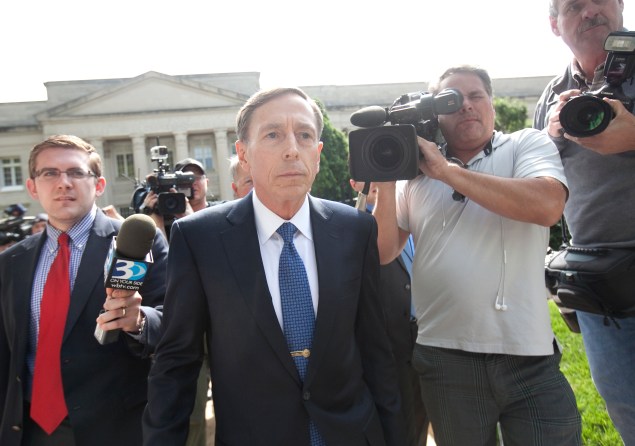 In April of this year, former CIA Director David Petraeus, one of the most accomplished military generals in our nation's history, was prosecuted and sentenced to two years of probation plus a $100,000 fine for giving his biographer classified material while they were working on the book. What was lost in the shuffle is that his biographer was a Reserve Army Intelligence Officer, who herself possessed a Top Secret clearance, and that no classified materials were ever published or provided to anyone who didn't have clearance.
Mr. Petraeus' plea agreement carried a possible sentence of up to a year in prison, and in court papers, prosecutors recommended two years of probation and a $40,000 fine.
U.S. District Judge David Kessler, however, increased the fine, in his words to, "reflect the seriousness of the offense."
The zeal with which the government prosecutors pursued Petraeus, and have pursued other Americans who have spent their lives and careers defending and fighting for this country in battlefields, and in the war against terrorism, has raised questions and concerns about selective and political prosecutions – in Mr. Petraeus' case, persecution.
But nothing amplifies, validates, and exacerbates those concerns and questions more than the government's inaction, and outright refusal to initiate a full-fledged criminal investigation into the shadow government and secret server of Hillary Clinton while she ran the Department of State.
Selective and political prosecution is a threat to every American.
In December 2004, after an impeccable 30-year career in law enforcement, and after being nominated by President George W. Bush to be Secretary of the U.S. Department of Homeland Security, I withdrew my name from consideration, declining to serve in the President's cabinet upon my own admission that I had failed to withhold employment taxes for my children's nanny over a two-year period. That revelation was met by a state grand jury investigation and resulted in two ethics violations to which I pleaded guilty. These were not felonies, but rather, unclassified misdemeanors, and the court imposed a fine.
Not content with my professional and personal embarrassment, my immediate efforts to correct my errors, and my loss of a Cabinet position, the Justice Department piled on. Prosecutors used my guilty plea in state court to ramp up a federal grand jury investigation on a parallel equaled in vengeance to their pursuit of Al Capone and John Gotti.
State investigators suborned perjury — ordering a city inspector general to testify falsely against me in a grand jury; federal and state investigators conspired to suppress exculpatory evidence that they were obligated to provide to my attorneys and me, and state and federal investigators threatened witnesses so badly that the witnesses couldn't distinguish reality from the prosecutors' insistence and theory of their case. And for context, my alleged crimes were false statements for the position from which I had withdrawn, tax charges, primarily concerning my children's nanny, and other charges that could have and should have been handled civilly.
I provide this context for one very important reason: The investigation against me didn't have anything to do with a U.S. Ambassador and three of his staff members being murdered in Libya. It had nothing to do with leaking classified material to unauthorized recipients; it didn't involve destruction of evidence or the obstruction of transparency in government by maintaining a secret server on which classified correspondence was communicated. It was about false statements or errors and tax charges, which for anyone else would have been handled civilly.
How is it that Secretary Clinton's server hasn't been seized as evidence?
FBI SWAT teams descended on Mr. Petraeus' home and the home of his biographer, but nobody is taking any action to search or secure the classified information on Ms. Clinton's server. Why haven't Grand Jury subpoenas been issued concerning her shadow government and secret server to everyone and anyone who communicated with her through her off-the-grid email system instead of through State.gov as required?  Why was she ever allowed to have a system that could bypass the Federal Records Act and the Freedom of Information Act? Her personal system could not possibly have been secured in compliance with federal law, and it certainly was not maintained to facilitate production of the documents and all records as required.
It seems to me that it will take the appointment of a special prosecutor to get to the bottom of this outrage. Everyone who wrote to her at Clinton.com about any government business knew that she was using a private email yet conducting government business. Does that make all who emailed her from the White House, the Department of Justice, the FBI, the CIA, and Congress itself complicit in allowing her secret record keeping?   Assuming that they used their government email accounts, as they should have, one way to recover Clinton's emails is to obtain them from the government servers for everyone who communicated with her. A special prosecutor appointed by Judge Emmet G. Sullivan could probably accomplish that in a few days—as did the Inspector General for the IRS.
The persecution of General David Petraeus, and the intentional inaction of our government to aggressively investigate what appear to be flagrant violations of U.S. law, which in all probability jeopardized our national security, are clear indications that selective and political prosecution are rampant in our country. That is a threat to every American.