Artist Mary Mattingly will be hitting the open waters again.
On the heels of her much-lauded 2014 piece WetLand–a watery utopic houseboat upon which the artist lives while it's moored in the Delaware River–Ms. Mattingly is preparing to embark on an even more ambitious piece.
The project, called Swale, will be a freely floating food forest placed in New York City's harbor. The piece, which will be created with collaborators and built from repurposed shipping containers, will stretch 50 feet across and will feature a gangway entrance, walkways, and an edible forest garden. The artwork will be open to the public and visitors will be welcome to help maintain the garden and to help collect fresh food.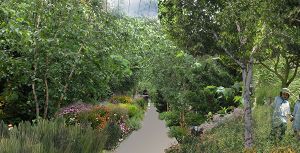 "Swale is art and it is also utilitarian, "Ms. Mattingly told The Observer. "As a public food forest on the water, it's about reimagining public spaces as places that can provide for some of our daily needs, and working towards that through building coalitions with organizations like A Blade of Grass, New York City schools, community groups, public parks, and individuals. We hope for a future that's less dependent on large-scale supply and waste chains and instead interdependently provides for some of our daily needs."
Students from Stuyvesant High School, Dwight-Englewood, and Fairfield University, as well as local gardeners, will be working on a base layer of wetland plants that will filter water from the river to help nourish edible plants.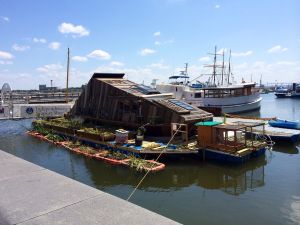 The massive artwork is still in the planning and construction stages, and nautical engineering designs are to be finalized by the spring. It is funded by a fellowship from A Blade of Grass.
Ms. Mattingly is a multimedia artist whose work focuses on environmental, economic and political change. She's a graduate of Parsons and the Yale Fellowship program and has had her work featured everywhere from Fox News to NPR over the years
Founded in 2011 by philanthropist and collector Shelley Frost Rubin, A Blade of Grass provides resources to artists who create work in the interest of social change. They support both individual artists and public programs.