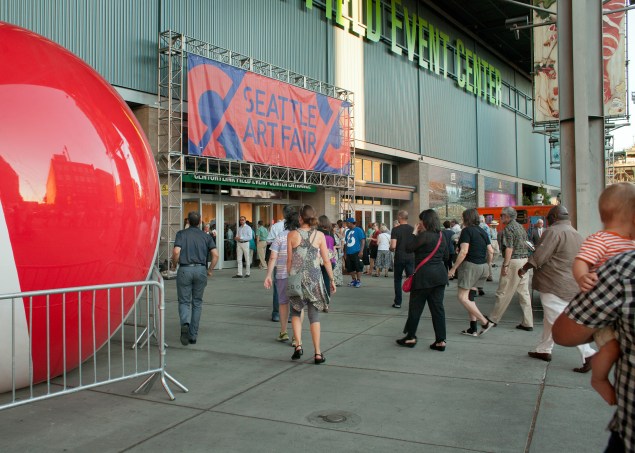 This past weekend, Seattle opened its first major commercial art fair which, according to fair organizers, was attended by over 15,000 visitors.
Spearheaded by Microsoft co-founder and known art collector Paul Allen, the inaugural Seattle Art Fair packed 60 exhibitors, from blue-chip dealers like David Zwirner and Gagosian Gallery to local veterans like Greg Kucera and Stacey Levitan, into the CenturyLink Event Center.
Works by Will Ryman, Ivan Navarro, Oscar Murillo, and Christopher Williams mingled with pieces by Japanese digital art collective TeamLab and New York-based artist Micah Ganske, whetting the appetites of tech execs—the city's main collectors.
Among the hungry collectors who flocked to the highly anticipated fair was Seattle real estate developer and impassioned art collector Bruce Blume. Mr. Blume is a third generation Seattlelite with deep roots in the area's arts community; his grandfather, artist Edwin Burnley, founded what is now the Art Institute of Seattle in the 1930s, and he is an active board member for the Seattle Art Museum and the Henry Art Gallery at the University of Washington.
Mr. Blume and his wife Anne first began collecting in 2005 when they began building a new home.
He told the Observer that while they initially began buying with the home in mind, they've essentially already filled the house. "Now, we've thought more about what interests us in terms of art for arts' sake; more of an investment in culture and history," he said.
"The bulk of collecting we've done outside of Seattle we've done at Art Basel Miami Beach," he said. But with their home built, he noted, "we're not motivated to go to ABMB anymore. We like going to artists' studios, other private collections, and smaller, funky galleries—it doesn't get much better than that."
About half of their collection was acquired through local galleries, and is focused on artists from the region, but the Blumes have also managed to snap up some impressive blue-chip artists, from a custom-commissioned chandelier made of bronze and copper by Claude Lalanne to a 2008 hanging sculpture by Olafur Eliasson titled Moving Star.
"I think the art scene in Seattle reflects its growth in intellectual and philanthropic activity. As a result of that, there are more people interested in art and who can afford it, and there are very nice pieces in the lower prices points, as well as significant artists at the mid range that are collectable," he told us.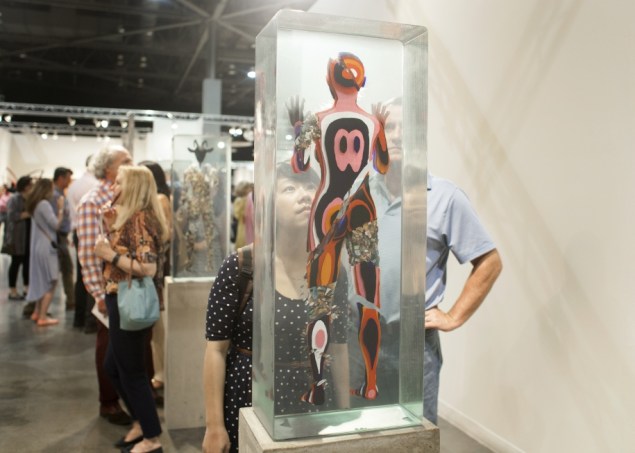 According to Mr. Blume, the fair counted collectors from such technology giants as Amazon, Starbucks, Microsoft, Costco, Zulilly, Zillow, Facebook, Boeing, and Alibaba.
And he didn't leave empty handed. He purchased a work by Dustin Yellin from Winston Wächter Fine Art.
"[I] feel fortunate to have purchased one of his works, as I know they sold all of his pieces," he said.
Dealer Stacey Levitan of Winston Wächter confirmed to the Observer that all of Mr. Yellin's sculptures and works on paper sold out.
"Our gallery did extremely well," she said. "Dustin curated the booth which was elegant and impactful, his was the only one person show at the fair so the work really stood out."
Mr. Blume summed up the city's attitude thusly: "My grandfather Ed Burnley would be proud…Can't wait for next year!"