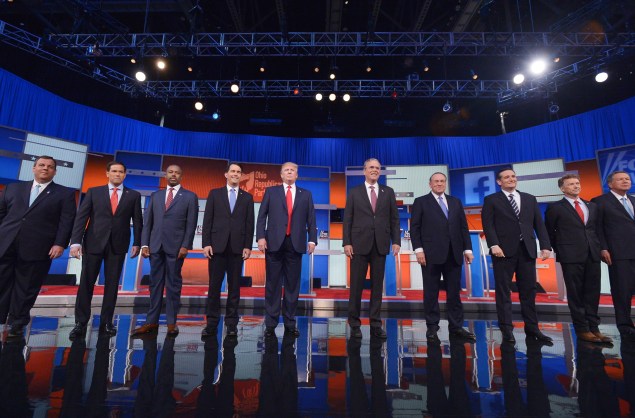 Ten candidates, two hours, and lots of spin: the first Republican presidential debate is in the books.
The top ten GOP contenders took one another on in a televised Fox News debate, just hours after seven other candidates who couldn't make it into the top ten faced off before an empty auditorium on the same network. The prime time event was decidedly higher energy—featuring a crowd that offered plenty of feedback and a panel of moderators that asked at times sharp and at times perplexing questions.
There was the party's front-runner in the polls, Donald Trump, whose first debate was being eagerly anticipated by many. There was the former front-runner, Jeb Bush, looking to pick up some steam. There were those who just made it in—embattled New Jersey Gov. Chris Christie and the new guy, Ohio Gov. John Kasich.
So how did it all shake out? Let the Observer break down what you need to know.
TRUMP DOMINATES AUDIENCE REACTION
After weeks of leading the polls, many eyes were on Mr. Trump tonight—some expecting Mr. Trump to implode, some hoping to hear more details about his policy proposals (taking on ISIS, building a wall at the border and getting Mexico to pay for it). Neither really happened—instead, Mr. Trump was, well, Mr. Trump. He got the most reaction from the crowd, by far—but that included both boos and cheers. He was jeered for saying, with a shrug, that he would not rule out running as an independent. ("I have to respect the person," Mr. Trump said of whomever the Republican nominee might be—if not him, of course.) He got cheers when, asked to defend calling women with whom he disagreed names like "fat pigs," he first joked that he'd only said that of Rosie O'Donnell and then saying both he and the country don't have time for political correctness. But going on to attack Fox news personality Megyn Kelly probably didn't help him much.
Mr. Trump also sought to take credit for the discussion of immigration—an issue some on the stage (and some on the night's earlier stage) have been working on for years and dominates news coverage. Pressed for details on evidence he said he had on the Mexican government sending criminals here on purpose, Mr. Trump cited what he was told by people at the border last week. He also provided a new detail about his proposed wall: it would include a door. "We need to build a wall, and it has to be built quickly. And I don't mind having a big beautiful door in that wall, so people can come in illegally."
It wasn't quite a win or a loss for the much-watched Mr. Trump, though it remains to be seen whether his brash persona plays as well with voters on a debate stage as it does elsewhere. One thing seemed certain: he did dominate the spotlight—as he has on television and everywhere else for the last few weeks.
JOHN KASICH DEBUTS STRONG
The Ohio governor was on his home turf, and it likely helped—but he also offered up impassioned defenses of his policies, some of which were at odds with his rivals, like his decision to accept federal funds to expand Medicaid. "I had an opportunity to bring resources back to Ohio to do what? Treat the mentally ill," Mr. Kasich said, who had been sitting in jails and costing more money. "I'd rather get them their medication so they could lead a decent life." He stumbled a bit on gay marriage—saying he believed in traditional marriage but thought the Supreme Court's recent decision to legalize gay marriage ought to stand, but then saying he would support his daughters if they were "being that," meaning if they were gay, a bit of inelegant phrasing. Nonetheless, he appeared levelheaded and calm, thoroughly above the fray.
RUBIO LOOKS GOOD
Sen. Marco Rubio had a good night, offering a strong defense of his lack of executive experience by saying the election cannot be a "resume competition." "If this election is a resume competition then Hillary Clinton is going to be the next president," Mr. Rubio argued. He offered strong opposition to the Common Core—differentiating himself from fellow Floridian former Gov. Jeb Bush, whose support of Common Core has been a weak spot. Mr. Rubio argued that federal recommendations never stay voluntary—"they will turn it into a mandate" and "force it down the throats of our people and our states." He also avoided being questioned about his role in the Congress' attempt to pass comprehensive immigration reform with President Obama—and he got to plug his new plan.
SPEAKING OF JEB BUSH…
If you subscribe to the theory that Mr. Trump will not last at the top of the pack, then Mr. Bush is the front runner—the most money, name recognition, strong polls. But he's stumbled on the trail and donors have doubted him on the stump. And tonight, he mostly bled into the background as other people had their moments, good or bad. He tried to pivot his unpopular Common Core support to discuss a more popular aspect of education—"challenging the teachers union and beating them is the way to go." He was ready for the question about a question he had repeatedly stumbled over—would he invade Iraq—but still seemed shaky and almost nervous at points. He didn't have much of an answer when asked why he sat on the board of Michael Bloomberg's charity when it gave money to Planned Parenthood (he was just there for the education reform, he insisted). In all, Mr. Bush just didn't have the big moment he might have wanted.
SCOTT WALKER IS 'AGGRESSIVELY NORMAL'
Mr. Walker, the Wisconsin governor known for taking on labor unions, didn't make mistakes, but he didn't have any great break-out moments either. He referred to a newspaper article that deemed him "aggressively normal" and that's largely how his debate performance went. When asked about exceptions for the life of a mother in abortion laws, which he opposes, Mr. Walker argued his opposition was mainstream and that there's always another option—which could help him with conservative voters but hurt him further down the line if he made it to the general election, with most Americans supporting the exception.
TED CRUZ HOLDS HIS OWN
Mr. Cruz came out strong on issues like sanctuary cities—with the Texas senator noting he'd written "Kate's Law," so named for a woman allegedly killed by an undocumented immigrant. He also sought to flip the script Mr. Trump used when he called elected officials in power "stupid." "It's not a question of stupidity, it's that they don't want to enforce the immigration laws. There are far too many in the Washington Cartel who support amnesty," Mr. Cruz said, kind enough not to name any names of people on stage with him. But, like Mr. Bush and Mr. Walker, he didn't dominate.
RAND PAUL THROWS PUNCHES, GIVES CHRISTIE A CHANCE TO PUNCH BACK
Mr. Paul, the Kentucky senator whose campaign has been struggling, threw out the first punch at frontrunner Mr. Trump. "This is what's wrong. He buys and sells politicians of all stripes," Mr. Rubio fumed early in the debate. Later, he tussled with New Jersey Gov. Chris Christie, featuring the night's best moments of cross-talk and candidate-to-candidate combat as they fought over provisions of the Patriot Act that Mr. Christie, a former U.S. attorney, said were necessary and Mr. Paul said were an affront to civil rights. Tossing those punches allowed Mr. Christie a chance to throw some of his own, and some landed. "When you're sitting in a subcommittee just blowing hot air about this, you can say things like that," Mr. Christie said. Mr. Paul went after Mr. Christie's famous post-Hurricane Sandy embrace with President Barack Obama: "I know you gave him a big hug, and if you wanna give him a big hug again, go right ahead." (Mr. Christie responded that the "the hugs I remember" are the ones he got from families who lost loved ones on 9/11.)
BEN CARSON AND MIKE HUCKABEE GOT JOKES
Dr. Ben Carson struggled for most of the debate until its end, when he landed a great joke about his career as a neurosurgeon. "I'm the only one to separate Siamese twins, the only one to operate on babies while they're still in their mother's womb, the only one to take out half a brain—although you would think if you go to Washington that someone had beat me to it," he cracked. "But I'm very hopeful that I'm not the only one who is willing to pick up the baton of freedom."
Mr. Huckabee, meanwhile, was eloquent through much of the night, if a bit outside the pack. He too brought a joke to close out the night, delivering a line that seemed to be about Mr. Trump: 'It seems like this election has been a whole lot on a person who has been very high in the polls, who doesn't have a clue about how to govern, a person who has been filled with scandals and could not lead," he said, with a pause. Then he added: "And of course, I'm talking about Hillary Clinton."
Disclosure: Donald Trump is the father-in-law of Jared Kushner, the publisher of Observer Media.