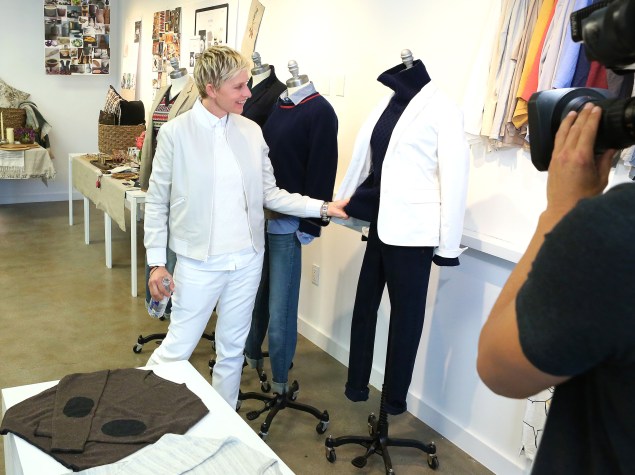 As far as iconic designers go, names like Ralph Lauren, Carolina Herrera and Oscar de la Renta usually come to mind. But Ellen Degeneres? Not so much. However, Bergdorf Goodman would have to disagree. They have booked a slot on the packed New York Fashion Week schedule for the talk show host to show off her clothing line, ED by Ellen and her home goods range, ED by Ellen Decorative Home.
Naturally, the humorous host had a few jokes to crack about her fashionable entrée, stating in a press release: "We originally wanted [to showcase the collection] during Shark Week, but I think this will be just as good."
The iconic New York department store will feature a pop-up shop both online and in-store, stocked with pieces from the Fall and Holiday collection. Additionally, a special display of the wares will be placed in one of the windows of the Fifth Avenue store.
Surprisingly, the prices will range from $800 to $3,750, which is significantly pricier than the current range offered on Ms. Degeneres' website. According to EDByEllen.com, the spring clothing collection starts at $40 for a Vintage V-Neck Tee and maxes out at $245 for a Merino Tailored Jacket. This elevated Bergdorf line, which will be available from September 8 to 30, will be made in Italian wool and wovens, as well as luxe cashmere. Expect the comedian-turned-designer to add in a few of her personal touches to the collection, resulting in masculine-inspired silhouettes and plenty of woven button-down shirts.
The home goods range, which will be housed on the 7th floor of the shop (from September 10 to 22) will also feature cashmere, in the form of throws and pillows. There will also be barware and other accessories to peruse, alongside some vintage items, which will be auctioned off by Paddle8, to benefit the Humane Society.
"We are proud that Ellen has selected Bergdorf Goodman as the only specialty store globally to launch her collection," said Joshua Schulman, president of Bergdorf Goodman and NMG International. "We are especially excited that she has worked with us to curate an assortment of luxury and vintage items with our customers in mind."
For Ms. Degeneres' daily viewers across America, it is likely that these luxury goods are well out of their price range. But no matter, as pieces from this successful female entrepreneur (whose earnings was quoted at $75 million by Forbes) will be accessible to her contemporaries, not her fans.