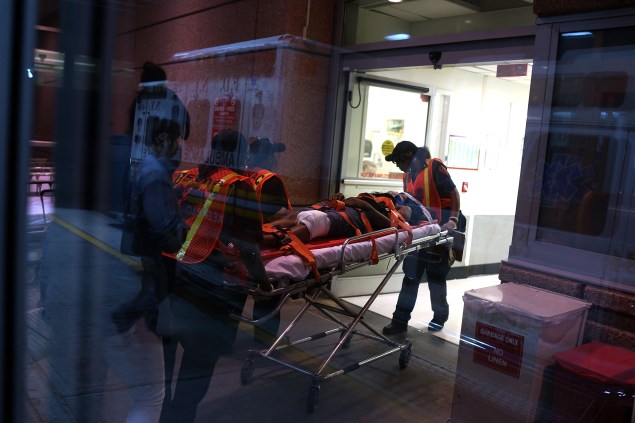 Too many people are receiving care in hospitals when they do not need to be there. This not only contributes to making our healthcare system the most expensive in the world, it leads to a worse quality of life and poorer health outcomes for patients. Now, some might be surprised to hear me say this. After all, I am the leader of the largest hospital workers' local union in the country. But I cannot sit silently when I know our current system is resulting in premature deaths and unnecessary suffering, especially in low-income neighborhoods and communities of color.
I hear the stories too often, from our members who see the problems on the front lines. The homeless man who comes to the ER over and over because he can't keep his diabetes under control without a stable place to live. The elderly woman who ends up dying in hospital after a month of painful procedures when what she really wanted was to spend her last days in the comfort of her own home, surrounded by family instead of beeping machines. The asthmatic child who doesn't have the medication or the tools to manage her disease and so spends her weekends in the hospital instead of playing outside. The man with heart disease who bounces right back to the hospital after being discharged because the pills he was prescribed were too expensive.
The answer is not simply less hospital care, but rather a fundamental shift in the health care delivery paradigm. Instead of incentivizing expensive procedures in hospital settings that only focus on treating disease once patients are already acutely sick, we must increase access to community-based care that emphasizes prevention, education, nutrition and the overall health of the patient.
Our union is supporting these changes, even as they are likely to result in fewer hospital jobs. We know it's the right thing for the health of our families and our communities.
Our system is good at delivering world-class care to the very ill. That's why people of means from all over the world come to be treated in U.S. hospitals, especially our teaching hospitals. And our union's members—from nurses and respiratory therapists to transporters and cleaners—are justifiably proud of their work. We will always need hospitals to deliver trauma care and treat severe disease. But we really have a "sick care" system, not a "health care" system. It is not designed to help people manage chronic disease, prevent illness or support comprehensive well-being. And these failures result in huge waste, estimated at between 21 percent and 47 percent of total health care spending. According to a 2012 article by Dr. Donald Berwick in the Journal of the American Medical Association, failure to coordinate care alone is estimated to cost between $25 and $45 billion per year. Over treatment is estimated to cost $158 to $225 billion a year.
Fee-for-service payments incentivize more procedures and visits rather than better care. Sadly, it is more lucrative for a health system to amputate the leg of a patient with uncontrolled diabetes than it is to help that person better manage their disease through outpatient coaching. Significant racial and economic disparities in health outcomes still exist. And we have failed to address the social determinants of health, like toxic housing and lack of access to healthy foods, that cause or exacerbate illness.
I am hopeful, however, that efforts to change this situation are finally taking hold. In New York State, the Delivery System Reform Incentive Payment (DSRIP) program is investing $6.2 billion over five years in the development of primary and preventative care in order to reduce avoidable hospital use. By the end of the same period, our state's Medicaid program has set a goal that 80 percent of payments will be "value-based," investing in higher quality at lower cost. On the federal level, the Affordable Care Act is encouraging innovation in care delivery and Medicare has followed New York's lead in setting a goal for value-based payment. By paying for better patient care outcomes, rather than just expensive procedures, these new payment systems will drive investment in primary and preventative care. Jobs in outpatient care are already growing at twice the rate of those in hospitals, and this sector is projected to add 670,000 jobs nationally by 2022.
Our union is supporting these changes, even as they are likely to result in fewer hospital jobs. We know it's the right thing for the health of our families and our communities. Frontline healthcare workers and community advocates have been involved in the transformation process, to make sure that every community–especially those that have traditionally been underserved—has enhanced access to quality health care. We are also working to ensure that the new jobs in the outpatient sector–community health workers and care managers as well as nurses, medical assistants and social workers–are quality jobs with living wages, training, good benefits and career advancement opportunities. These are jobs of the future, and they must be good middle class jobs for working people.
By transitioning to a rational, compassionate health care delivery system with a focus on preventative care, we can rein in costs, improve the quality of patient care and create a healthier future for everyone.
George Gresham is president of 1199SEIU United Healthcare Workers East, which represents over 400,000 caregivers and is the largest healthcare union in the country.