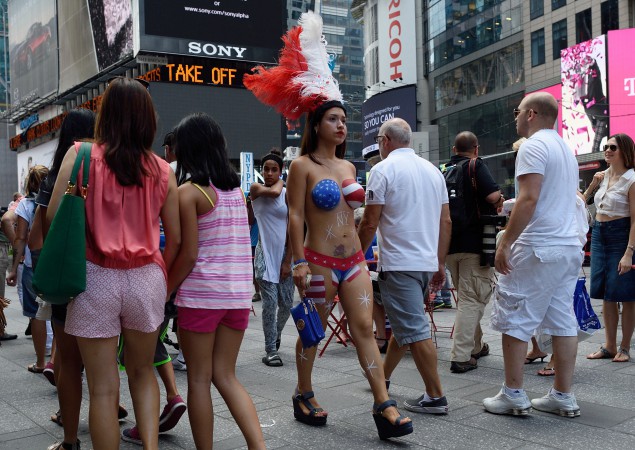 Completely crazy. Clearly illegal.
That's what former Gov. George Pataki thinks about the topless women in Times Square. And he's blaming Mayor Bill de Blasio.
"It should clearly be illegal, it's completely crazy," Mr. Pataki, a Republican, said in a radio interview yesterday.  "It is not right to have topless women basically trying to sell pictures in Times Square. It is wrong, it's illegal and it should be stopped."
A long-shot presidential candidate, Mr. Pataki told WABC's Rita Cosby that to see Times Square "backslide under the de Blasio administration as so many other things are, it's just very sad to me and wrong."
He added that other quality of life problems are also to blame on the Democratic mayor.  "There's no question his policies have contributed to an end to the reduction of violent crime, an end to the quality of life measures where we didn't have homeless or mentally ill people wandering the streets in numbers that seem to get higher all the time and it also is political correctness run amok," he said.
Karen Hinton, a de Blasio spokeswoman, immediately shot down Mr. Pataki.
"With all due respect to Governor Pataki, that is complete and utter nonsense," she said.
Going topless and panhandling is not illegal in New York, despite Mr. Pataki's claims. But Mr. de Blasio and other elected officials are looking for ways to limit the activity of the topless women, known as desnudas, who spray paint their bare chests and walk around Times Square in thongs. The controversy grew last week after the Daily News put the women on several front pages, raising the alarm bells of pols who fear Times Square is losing its family-friendly atmosphere.
To the shock of some of his allies, Mr. de Blasio suggested removing the Times Square pedestrian plaza as a way to crack down on the topless women and the aggressive panhandling of costumed characters. The mayor has formed a task force to examine the issue further; it will reveal its findings in October.